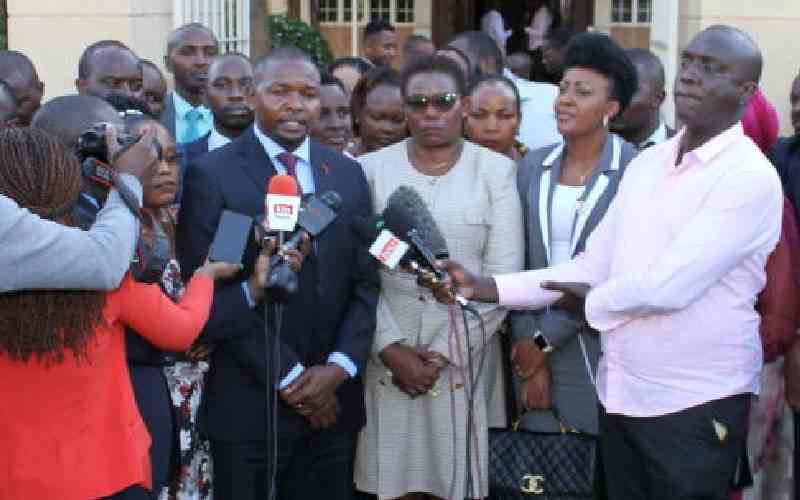 Controversy has rocked the county government of Meru after a vehicle assigned to Deputy Governor Mutuma Ethingia was reportedly withdrawn.
It was reported that the vehicle was withdrawn from his official fleet as he and his wife left a church service in Igembe, setting in motion accusations that the administration was targeting him.
There were claims an official trip to a foreign country by Rev Ethingia was cancelled, drawing anger from some residents from his Igembe backyard who claimed there was mistreatment of senior county officials from that region.
As claims of the split emerged the deputy governor skipped a cabinet meeting on Friday, with senior officials in Governor Kawira Mwangaza's administration accusing Ethingia of ignoring the crucial meeting.
County Secretary Kiambi Atheru, Kawira's Chief of Staff Harrison Gitonga and other members of the county executive, on Friday, emerged from the meeting and said they were fully behind the governor. They also dismissed accusations that the administration was undermining the deputy governor, and was targeting officials from his region.
However, the CEC in charge of Transport and Roads, Ibrahim Mutwiri, denied claims Ethingia's official vehicle had been withdrawn.
He said as far as his office is concerned, the deputy governor retained his official vehicle and driver, although he admitted that they confiscated some official vehicles, and were investigating drivers for misuse of the said vehicles.
"The deputy governor has an official vehicle and the driver assigned to him," he said and trashed the claims that the DG's vehicle had been withdrawn.
Dr Atheru, the County Secretary, urged the deputy governor to come out and clear the air, as rumours that his vehicle was confiscated created the wrong perception on Kawira's administration.
"We had a meeting of executives and chief officers. The deputy governor was invited but he did not come. He didn't send an apology to the governor. The official car of the deputy governor was not taken away from him," said Atheru.
Atheru added that claims that the administration was targeting Ethingia was unfortunate and assured residents the government is united.
Chief of Staff Harrison Gitonga said contrary to claims an official trip by Ethingia to the US was cancelled, there was no such planned event.
"No US trip was cancelled. We had no (planned) trip by the governor, deputy governor or any other official in the last one month," he said.
As claims of slight against the DG spread, Gitonga said they were creating the wrong perception.
Executives from Ethingia's Igembe sub-tribe came out of the meeting and rubbished claims that the administration was targeting officials from the region by transfers.
Water and Environment Executive Jack Muthamia, Education's Joseph Ithana, Cooperatives, Trade and Tourism Executive Harriett Makena, Public Service and Administration Chief Officer James Mutia, and his Finance counterpart Charles Mwenda, dismissed claims their Igembe region was being targeted.
Mr Ithana said job transfers should not create an uproar terming them a normal thing.
With the Igembe region boasting three of the 10 county executives, the officials said Kawira had been fair to them.
"Even the deputy governor is from Igembe," Ithana said.
"The Igembe region has a good share of senior officials. This government is representative. We are fully behind our Governor", Mutia said.
Chief of Staff Harrison Gitonga hails from Imenti while County Secretary Atheru comes from Tigania region.
The deputy governor however did not respond to any of the allegations.
Related Topics