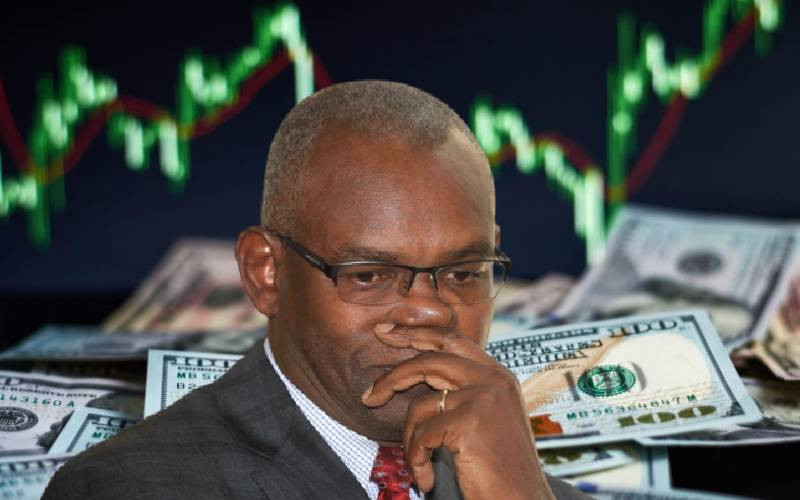 It will be baptism by fire for incoming Central Bank of Kenya (CBK) Governor Dr Kamau Thugge, with the shilling hitting a new record low of Sh139 against the dollar yesterday amid rising inflation.
The former National Treasury Principal Secretary is awaiting formal appointment by President William Ruto following his approval by Parliament as the tenth CBK governor on Wednesday.
Mr Thugge takes the CBK hot seat at a time when the country is grappling with a host of economic challenges, including spiralling inflation and a currency slump crisis.
At the same time, Dr Thugge has been invited to make a budget presentation before Parliament in his capacity as the incoming CBK Governor.
Dr Thugge, who is currently serving as senior advisor and head of fiscal and budget policy in the Executive Office of the President will replace Dr Patrick Njoroge, who is serving his second and final four-year term this month.
Dr Thugge, an ex-International Monetary Fund (IMF) economist, takes over the CBK role amid uncertainty over the country's fragile economy and inflation outlook.
Ballooning inflation, escalating borrowing costs, and a strong dollar have made repaying sovereign loans and raising money significantly more expensive for Kenya amid fears of default.
Inflation continues to hover outside the government's 2.5 per cent to 7.5 per cent range since breaching the upper limit in June last year.
The cost of living measure increased in May by 0.1 per cent on soaring food, energy and transport costs.
The inflation rate stood at eight per cent from 7.9 per cent in April when it had declined to a 10-month low at the onset of rains.
This is even as the shilling yesterday hit a record low against the dollar, piling further pressure on Kenyans already dealing with a high cost of living crisis that has plunged many into poverty and fuelled political unrest.
The depreciating shilling now threatens to pile fresh pressure on fuel prices, which have stoked public anger.
Central Bank of Kenya (CBK) data shows the shilling exchanged at an average of 139.1124 yesterday, setting up the country for more expensive imports, electricity and debt servicing distress.
The continued weakening of the local currency is expected to push up living costs, hurting households already subjected to high fuel and food prices, experts said.
"The costs of every imported input will rise," said Deepak Dave of Nairobi-based Riverside Advisory earlier on the expected impact of the economic fallout from a weaker shilling.
President Ruto in March appointed Susan Jemtai Koech as the new CBK Deputy Governor.
Analysts say the new CBK boss will require long-term experience to effectively steer monetary policy in an economy battered by the lingering effects of the Covid-19 pandemic, rising food and fuel prices fuelled by the war in Ukraine and soaring public debt.
A weak shilling is harmful to Kenya given it is an import-driven economy.
CBK says it does not seek to influence the direction of the exchange rate but only steps in to smooth out volatility.
Retail dollar buyers are paying up to Sh150 per unit in banking halls as the demand for the greenback continues to surge.
This is as the margin between the US dollar's printed rate by the regulator and the market rate for customers quoted by banks and foreign exchange bureaus continues to widen.
This bucks the trend and projections by the State that it would trend downwards on the back of the recently rolled out interbank market reforms and a State import oil deal.
Related Topics