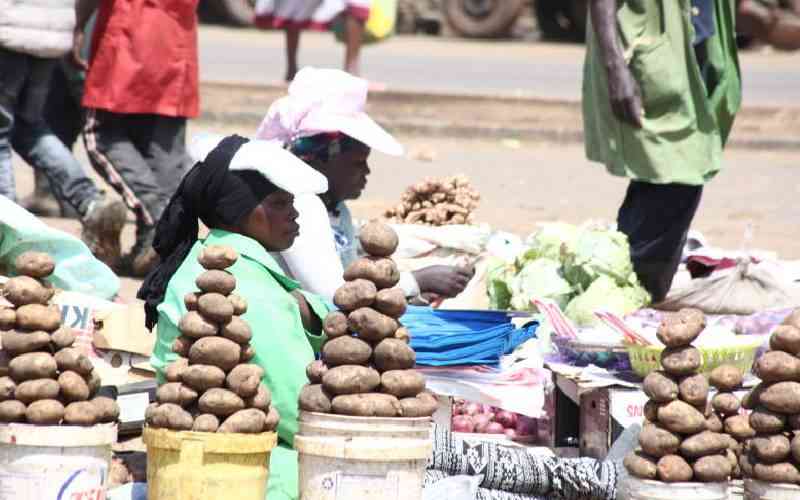 For the last two weeks, Shadrack Minda has found it difficult to get fish from his supplier due to the demonstrations called by Raila Odinga.
"I receive fish from Homa Bay but it has not been easy for two weeks now, especially on days protests take place," the fish vendor says.
He says prices of the fish and costs have also shot up. "Initially, I was using Sh10,000 daily, but now I use up to Sh15,000 to bring in the fish," he tells Sunday Standard.
Minda supplies fish in Narok and also sells in Nairobi's Embakasi area.
"Last Sunday, my supplier was complaining about the weather and security. He was not sure if he was going to supply me with fish because of security from Homa Bay to Nairobi."
This is the story for many traders in other parts of the country where protests have been heightened.
Celestine Were, a vegetable vendor in Nairobi, says she also feels the pinch of the protests on her business.
"It has affected me because I can no longer go to town early in the morning like I used to, to pick my produce," she said.
Opposition leader Raila Odinga has called for protests every Monday and Thursday, accusing President William Ruto of stealing last year's election and failing to control the surging cost of living.
Police have used tear gas and used water cannons to break up protests with at least three civilians and one police officer reported since the demonstrations kicked off on March 20.
Various businesses have been vandalised, according to police, incurring heavy losses. The Kenya Private Sector Alliance has put the losses at Sh3 billion per day, losses emanating from the destruction as well as lost revenue as businesses remained shut.
Like Minda, Were's suppliers too are afraid of the protests and reluctant to supply produce to her.
"The people who buy in bulk and supply to us from Gikomba market are not bringing in the produce because they fear the stock going bad," Were says, adding that customers are also fewer.
Minda says he is not making as much profit as before. "In a day, I used to sell between 40 to 50 pieces of fish, but now I am selling about 20 to 30 pieces."
He says his supplier is also being overcharged to bring the fish to Nairobi. "We are paying an extra Sh5,000 to get that fish here."
The vendor, who would get a profit of up to Sh3000 a day, says he has been making a negligible amount in the past two weeks.
"On Thursday, I did not make any sales because protests were brought to Embakasi where my shop is."
He further said that the traders he supplies fish to in Narok said that their businesses are not doing well, thus are not buying from him.
The small-scale traders are calling for a political resolution as they continue to count their losses following the nationwide protests over the cost of living, among other demands by opposition leader Mr Odinga.
"It has been bad, we hope for peace, we cannot do business without peace," Minda says.
Economist Samuel Nyandemo says demonstrations cause disruptions in business activities as customers are not there.
He says the impact of the protests is quite big as customers opt to stay indoors at such times.
"Trade volumes are also affected, it scares away suppliers and causes distortions within the market."
Dr Nyandemo further says small traders lose their capital when protestors steal from them.
"There is disruption of sales on the material day of protests, and this compromises the whole supply and demand chain," he says.
The demonstrations not only affect vendors, farmers too are on the receiving end.
Justus Muinde, a mango and orange farmer in Makueni who supplies to vendors in Nairobi, says his customers are not buying fruits.
"We have ripe oranges right now and we were expecting to have customers every week, but they are not coming," he says, adding that this is their harvesting season.
Business was good for him before the demonstrations. "We used to sell a kilo for up to Sh200 and traders used to call us for our produce, but now we are calling them and they are not buying".
Muinde says despite there being no demonstrations in Makueni, they still feel the pinch because their customers are in Nairobi.
"Traders from Nairobi are now bargaining for lower prices, they want to buy at Sh80 or Sh100 per kilo," he says.
This has led to unsustainable competition from other farmers and he fears that if the protests continue, they will continue to incur losses.
"Our oranges are ripe and perishable, we can't stock them like beans," he says.
Innocent Matara, a furniture trader at Fanicha Guru, a physical and online furniture store, says business has declined sharply.
"Last week, all our Kisumu clients who had made inquiries asked us to postpone the deliveries and ended up declining the order," he says.
The trader says they have had to close their workshop every Monday and Thursday due to the fear of demonstrations that might result to vandalism of their shop.
"Before the protests, I used to get more than 15 inquiries in a day, which resulted to at least a sale of three desks a day. This week, I haven't been able to make sales."
Matara, who makes deliveries across the country, says cross-town deliveries have been affected.
"A client had ordered a desk on Sunday, which we were parceling via Buscar delivery services, but it was not delivered due to the protests on Monday."
He says a delivery that initially took about 24 hours took about five days. He estimates they have lost around Sh50,000 worth of sales daily during the protests.
"Items ordered were not delivered on time due to unpassable roads and missing out on walk-in clients. We are crossing fingers for peace to prevail.
"Clients are afraid of using their savings in making purchases, and we are worried whether the furniture will reach them while intact," Matara says.
The small trader says that top of his worries is a loan that he is repaying through earnings from his business.
"The loan I service will be affected due to low sales, and as tensions escalate we won't make any sales at all," he says.
Business disruption
The Kenya Association of Manufacturers has said the protests have caused disruptions at different levels ranging from industry's access to materials as well as their delivery of products to the market and Kenyans ability to access products.
The protests, KAM noted, could have an impact on jobs while the disruptions on such areas as logistics had the potential to make worse the high cost of living that protestors are agitating against.
"This will adversely affect job creation at a time when our industries are grappling with increased cost of doing business," said the manufacturers' lobby in a statement.
It said disruptions caused by the demonstrations twice a week have significant economic ramifications to industries and businesses.
"From low productivity of employees whose safety remains paramount, to inhibited market and consumers' access, logistics and supply chains disruption, vandalism and closure of enterprises in the affected areas.
"This will ultimately affect all citizens, their income, and initiatives to build our economy," Kam said.
Related Topics