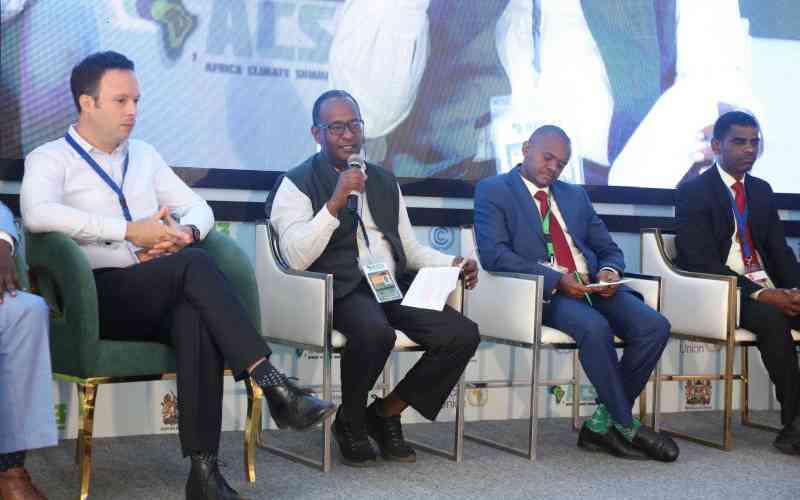 For Equity Group Holdings Chief Executive James Mwangi, climate action for businesses is not about treading the thin line between industrialisation and sustainability.
At least not for Kenya and the rest of the African continent.
Neither is it a question of cost.
"It is an investment decision," he says. "Or the way we look at it at Equity; it is investing in the right manner, the right way, and with the right tools."
Once you do that, he says, you avoid the pitfalls of the past.
The past is what governments and private sector across the globe are trying to undo by adopting sustainable practices, passing laws and international declarations, and drafting policies to save an already warm globe from boiling.
Kenya, like the rest of the African countries, has found itself in the middle of these measures heavily pushed by the West, who have already attained top global economic status with strong gross domestic product (GDP) numbers.
Most of these nations had their time during the 18th and 19th centuries to develop through the industrial revolution period that saw them ditch agrarian as the main economic activity.
This is while Kenya, like the most countries in the continent, are now in that phase, to industrialise, amid the deafening noise of global warming.
President William Ruto's administration has in place strategies to revamp industries among them sugar and cotton. A cotton development bill is currently before Parliament.
The push is to ensure manufacturing contributes 20 per cent by 2030 as per the target set by the Kenya Association of Manufacturers(KAM), from the current 7.2 per cent.
How then should countries like Kenya industrialise without causing harm to the environment?
Emil Berning, Danfoss Country Manager Sub Saharan Africa, told Financial Standard that there is more for a country like Kenya to gain if it approaches industrialisation from a sustainable lens.
Danfoss, a multinational engineering and technology company from Denmark, recently opened it's business in the country, which entails sustainable solutions in energy and agricultural space.
"Here is an interesting statistic on Denmark; since 1980, GDP of Denmark has increased 100 per cent but the energy consumption has only increased by six per cent and water consumption has reduced by 40 per cent," said Mr Berning.
He added: "I think there is a lot of learning and transfer of knowledge from Denmark and Danish companies for countries like kenya."
Danish Ambassador to Kenya Ole Thonke, confirmed this progress saying the country in the past two decades has made production more efficient and sutainable. This ranges from reduction in how much electricity is used to produce certain things to inputs.
"What we know, from the overall statistics of Denmark, is that we have had consistent growth in our economy and production in the past decades while at the same time, we have managed to reduce our carbon dioxide emissions," said Mr Thonke.
Dr Mwangi further explains that Kenya and the rest of the continent has an advantage in this new venture. This is based on the fact that there are no legacy systems on the continent.
"And if there are, they are not of scale," he says. "As such, the continent causes only two per cent of the bleeding because it contributes just three per cent of industrialisation.
He says as the globe is trying to retrace it's steps back to the 19th century, pondering on 'where the rains started beating', this means Africa as a continent has very little to undo.
"About 90 per cent of nature(in Africa) seems to be in a solid state. The question is: why don't we change our practices? Why don't we avoid the practices that cause bleeding?" he poses.
But adopting these practices is also not easy. Not many businesses, particularly manufacturers, know what it means by being sustainable.
Bidco Africa Chairman Vimal Shah notes that issues to do with climate action and sustainable practices are becoming more complex, especially with the emergence of trade of carbon credits.
"When you talk to manufacturers, they all speak of reducing plastics or removing plastics from the environment or replacing bulbs with LED(which are energy efficient) and that's it," said Mr Shah.
Mr Shah said that issues to do with climate have to be simplified.
Equity's Mwangi says that neither the government nor the private sector can bury their heads in the sand anymore.
"Governments have realised this is a very significant challenge and it seems to imapr all planning efforts. Looks like you cannot plan climate; climate chooses the direction," he says.
Related Topics