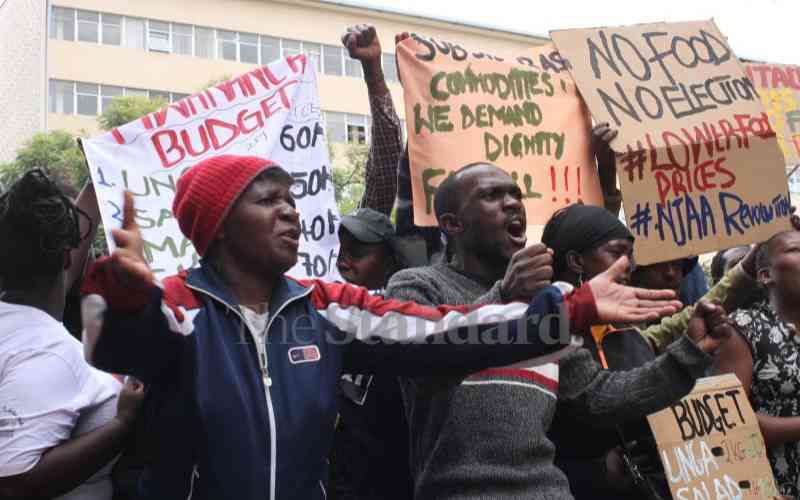 One of the reasons for the ongoing opposition-led countrywide demonstrations is high prices.
That prices have gone up is not in doubt; any frequent shopper can attest to it. But demos or no demos, will prices come down?
Let's be honest for once. It's unlikely that President William Ruto or Treasury Cabinet Secretary Prof Njuguna Ndung'u can order sellers to lower their prices.
Even when the economy was not liberalised, that never happened. One would have to reduce the cost of raw materials, other inputs and labour to reduce the final price of any product.
If you want the price of a 2kg packet of unga (maize flour) to fall to Sh100 from Sh200 per kg, you have to reduce the cost of maize, which would mean reducing first the cost of tiling land, labour, fertiliser, seeds, transport and taxes along the way. Who would ensure everyone lowers the price?
That applies to basics like bus fare too. Instead of trying to do all this, the market does it for us. Why would we want to return to a bygone era? Remember the command economy?
Simple solution
The apparent simple solution is to use subsidies. Let's go back To unga. If the market price is Sh200 and you want consumers to pay Sh100, you could pay the players in the supply chain Sh100.
But who gets it between the farmers, transporters, millers, distributors and retailers? How do they share it?
What if these players decide it's better to wait for subsidies instead of working? It becomes more interesting.
What if I buy that unga at Sh100 and sell it at Sh200? What if the price of one of the inputs into maize flour goes up? Will the subsidy or the price go up?
Now, the big question: where will the money to pay subsidies come from? We have debts and salaries to pay on top of all other government obligations.
Using the visible hand of the government to sort out an economic problem is unlikely to work. And the economists in Kenya Kwanza seem to know that. Do we fold our arms or throw them in the air? Add the fact that external factors are behind the price kikes, including the war in Ukraine, interest rate hikes in US and drought.
There are two factors we have control over in price increases. One is the political sentiments.
Political uncertainty raises prices as entrepreneurs make hay while the sun shines.
We have not done a good job of raising confidence in the economy after the polls. Demos are not making matters any better.
Two is corruption. When you make money without sweating for it, you are likely to misuse it and force prices up.
If a piece of land is going for Sh5 million, many may find it too expensive. But if you make a quick deal worth Sh10 million, and the owner says it's Sh7 million, you will snap it up.
This will set the price of such land at Sh7 million. Hardworking folks will pay the price of your corruption. Noted how we have been muted on matters of corruption?
Where do we go from here? I am an optimist, but we may have to learn to live with high prices for now. Maybe by the end of the year, the price could start coming down, helped by the rains.
We shall have settled politically hoping there will be no political shocks. The economic direction of the government will be clearer.
What roles will the government play in the economy? The repeal of paying taxes on exported services shows there could be other policy changes. We can use economic laws to reduce prices, in the long run. The demand is unlikely to go up overnight.
We should focus on the supply side. Can we increase the supply of food efficiently? Can we go beyond fertilisers to seeds and technology?
Can we mine our oil and make money from it? Can we shift to natural manure and wean ourselves off fertiliser?
Can we change our diets, and zone the country to grow what's climatically friendly not just maize? Why should we import cooking oil when sunflower and canola grow here?
Why not grow more wheat? More importantly, we must inject competition along the supply chains of these commodities, whether locally produced or imported.
Food and energy are some of the essential commodities whose prices have gone up and sucked in politicians. Other commodities have followed suit because of the interconnectedness of the economy.
In the long run, we have to restructure our economy to produce at an industrial scale, be it food or other commodities.
That would bring down the costs and give us money through exports. Subsidies, or price controls, are first aid. Worried about high prices? Please chill…
Related Topics