A good, prolonged moan and scream and new sex styles are among the reasons married men pay for sex outside the home, according to sex workers.A number of them who spoke to The Nairobian said that men are bored with women who just sleep in bed, terming them "logs.""They come to us because they want to hear us scream. Some even pay us more so that we can scream louder," a sex worker who preferred that we use one name, Njeri, based at Sabina Joy in Nairobi's CBD, said.
She said that ladies scream in many ways, and men enjoy the screams."You pay 700 shillings for one shot, but some men pay more to hear us scream louder."Stanley Ngara, popularly known as "the King of Condoms," who is known for championing safe ways of having sex among sex workers, says that sex workers have confessed that there are many weird reasons why men go after them.
He went on to say that many men are sent out for paid sex by their wives."I remember one telling me that the wife allows him to go out for sex since he takes so long in bed, and she is unable to satisfy him," Ngara told the Nairobian on the phone.He added that some women also send their men for paid sex as an expression of appreciation or a treat."I also learned that some wives also pay for their husbands' sex outside. So when we work hard to distribute these condoms, we are saving the families and our sisters who are sex workers," Ngara said.
Ngara added that some men and women were afraid of having sex at home when the children have grown up and are around."Women will wait, but most men will go out," said Ngara.Most of them who spoke to The Nairobian and requested anonymity said that a good number of their clients feared commitment and emotional connection.James, a frequent client at Sabina Joy, said, "Having a prostitute is cheaper than mpango wa Kando." "No commitment, no paying rent, no sorting small bills, and no late-night calls."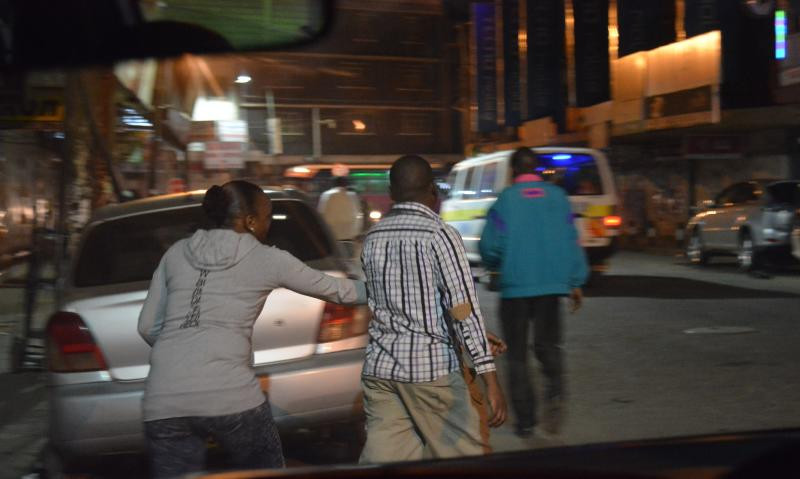 We look like their wives
A Thika-based sex worker who uses digital apps to reach her clients also told Nairobians that some men end up sleeping with them because they look like their wives. "When they see us, they see their wives and end up paying for sex," she said.She added that this is the group of men who remain loyal and will randomly call for a quickie."They say we resemble their wives, and even in some instances, after a long time, they ask us not to use condoms, and we request them to pay more or decline depending on how we have known them," she said.Ngara added that good food and beautiful families cannot keep men at home since some have money and want to spend."This one is arrogant, according to my girls. I can say it is arrogance driving them to have sex outside their homes," he said, adding, "The ladies love them since they are easy to spend and know what they want." They even make calls and plan ahead of time for a long sexual adventure."Jenifer, an education graduate who is based in Nairobi, said that most men pay for sex so that they can learn new styles."They want new styles and new things when having sex. They are out for sex adventures," she said.She went on to say that most married couples were desperate for sex, which drove a large number of them to seek their services."Some tell us that they no longer have chemistry at home, and that's why they come for our services," she said.She said that a number of wives were also nagging at home, forcing their husbands to seek their services."And we really thank them because that is why we are on the streets and we can't get jobs," she said. The lady said that some men who become regular clients of sex workers often develop feelings of romance and love."You can see him feel jealous when another client is around, and at times he even starts calling to check on you or sending tips when he is away longer," one of them said.
Related Topics