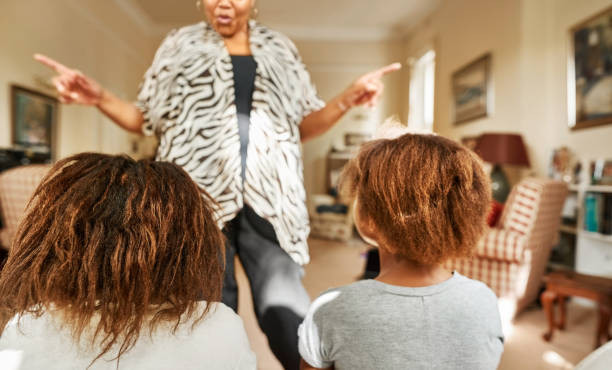 Sometime in March this year, a father was surprised when his three-year-old son started kissing him and asked him to unzip his trousers. He said he wanted to show him what they did with "aunty" when they were home alone, and to his shock, the father discovered that the house help had been sexually molesting his son. Alarmed by the discovery, the parents confronted the house help after reporting the incident to police and she admitted what she used to force the little boy to lick her private parts.
The house help, Susan Eseme, was on October 12 jailed for ten years by principal magistrate Agnes Makau after she admitted that she had a strange sexual urge which made her to intentionally and unlawfully force the minor to suck her breasts and private parts."Children need protection not only of the law but from people who take care for them. Such actions are illegal because the minors suffer mentally once they are exposed to sex before maturity and develop hatred against the opposite gender when they become of age," ruled Makau.
Psychological trauma
The magistrate ruled that it was inhuman and uncouth for the house help to subject the minor to psychological trauma by exposing him to her sexual pleasures at a tender age.This happened barely a week after another house help was jailed for five years on October 7 for feeding a five-month-old baby boy with her nasal mucus and vaginal discharges.Catherine Naliaka admitted that she used to insert her fingers in her private parts to scoop discharges which she would then give the baby to eat and lick her fingers. She committed the act at her employer's house in Fedha Estate, Nairobi, in July.
While sentencing Naliaka, Nairobi principal magistrate Festus Terer ruled that the act was uncouth, unacceptable and must be punished to deter other house helps from molesting young children left in their care. The incidents are an emerging worrying trend for parents who remain unsettled in their work places with fear of what the house helps they have entrusted with their kids could do to harm the young ones.
The magistrates noted that such acts leave parents with lifelong psychological trauma and that something must be done to deter the crimes. Maureen Atieno, the director of Mali Recruitment Agency for training and placement of house helps advises that parents should do a proper background check to ensure the person they are employing has the right character.
Proper background check
"The background tells a lot about the character of a house help. You should find out if the person was exposed to sexual acts at early age, her mental status, and whether she had been molested as a child because she might want to repeat what she experienced," said Atieno.She added that it is advisable to also contact the previous employer where the house help worked before and that moving into the future, parents should start asking for good conduct certificates just to be sure of the character of the person they are entrusting the care of their young children.According to psychologist Faith Nashipae, sometimes it its not practical to know the character of someone the first day you meet them, but that it best to try as much as you can to establish background information about domestic helps.
"It is always good to look at the background of the house help — like what she has gone through in life and the challenges she has faced. The best thing is to have a reliable bureau which does background checks and training for house helps," said Nashipae.
Pain in the privates
From the criminal cases filed in courts, sexual abuse is the most common molestation house helps subject the minors under their care.Just like Eseme and Naliaka who were jailed for sexually molesting young minors, Martha Bosire was handed a 15-year-jail sentence for sexually assaulting a 2-year-old girl by inserting her fingers on the child's private parts.
The house help had admitted before Keroka senior resident magistrate Simon Arombe that she sexually molested the young girl on several dates between November and December 2021 while they were left alone by the parents. According to the prosecution, it was the girl's grandmother who discovered the continued sexual assault when she noticed the minor had pain in her private parts, and upon examining her saw some bruises. The child was then taken for medical examination which confirmed that she had been sexually assaulted. When confronted, the house help admitted that she used to insert her fingers in the minor's private parts and that she used methylated spirit to treat the scratches before giving the minor sweets to buy her silence.
House helps have also been accused and jailed for not only exposing young children to explicit content but also involving them in child pornography.In one such case, a woman was shocked in Mombasa when she received a video from a strange number of her four-year-old son acting pornography with the house help.The house help, Edda Wakesho, was said to have been recruited to an online child pornographic channel where she acted with the minor and sold the content to online users.Wakesho pleaded guilty to the two charges of sexually abusing a minor and unlawfully producing an audiovisual pornographic material of her being in sexually explicit conduct with the minor which she distributed to the online site for financial gain.
Life imprisonment
Mombasa chief magistrate Florence Macharia sentenced Wakesho to life imprisonment for sexual act with a minor and an additional ten years in jail for sharing pornographic content of a minor.
"It was an inhuman act since the four year old boy had no idea of what was happening to him and now his innocence has been taken away by the house help. A life sentence in jail is justified for her actions," ruled the magistrate.In Kasarani, Nairobi, the parents and siblings of a 13-year-old boy could not believe that he had been introduced and got addicted to pornography to a point where he stole his sister's phone to secretly watch explicit videos. The details emerged in a case where a house help was jailed for eight years by Nairobi senior principal magistrate Esther Kimilu for not only exposing the minor to pornography but also committing sexual acts with him for almost eight months.
"The effects of her actions have psychologically affected the minor who now cannot live without having satisfaction from the opposite gender given that the victim has never recovered from being exposed to the indecent acts," ruled the magistrate.According to the prosecution, the boy's parents discovered the acts by chance when the sister's phone went missing and after being asked admitted that he had stolen the phone to watch pornography.
Related Topics