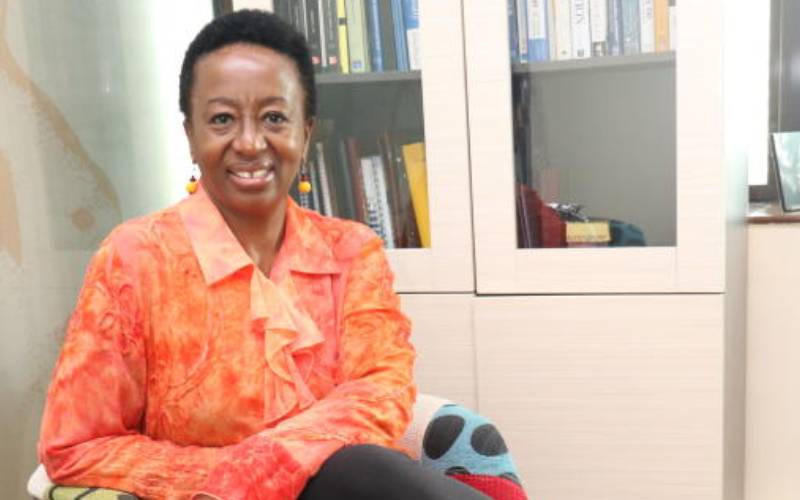 It is no secret that doing business as a woman is challenging. Access to credit without collateral is also a major setback.
In 2015, 61.8 per cent of women-owned businesses were unlicensed, and about 80 per cent of women were concentrated in informal trading. This is according to a 2020 economic report on creating an enabling environment for inclusive growth in Kenya.
"Access to technical skills, why was it so much harder 24 years ago?" Eva Muraya the Chief Executive of BSD Group says.
BSD Group is a brand communications and advertising agency comprising four companies - BDS East Africa Ltd, Avid PR, Whiteboard Advertising and BrandQuad Africa.
Based on her entrepreneurial journey, Muraya whose company ranks top 100 most loved brands by women, says the difficulty in accessing the market inspired her to start BSD Group.
Challenging the status quo was one of the factors that led to the founding of BSD Group. "The system had disenfranchised women's economic participation, intentionally or by whatever forces," says Muraya.
As contained in the Kenya Economic Report 2020, the Kenya National Trade Policy of 2017 shows that the formal trade sector does not offer equal opportunities to both men and women.
"As I matured as an entrepreneur, I realised I needed to step up and speak. I enjoyed the craft of innovating brands, communicating and managing brands, and I was not going to compromise that," Muraya shares.
In all her endeavours, she wanted to take with her the passion she had created and developed around women's economic empowerment.
Influenced by her entrepreneurial journey, Muraya woke up with an idea one morning on "how riding on the principle of capitalism is completely driven by competition."
Having the knowledge of brands, Muraya used this to show useful trends in women's buying behaviour and how companies can penetrate the market.
"The idea was to get women's voices heard, through a study that gathers their voices about what brands they love most and why," explains Ms Muraya.
She says women's voices around consumer behaviour had often been ignored, omitted, misrepresented, underrepresented and/or not even known.
Top 100 most loved brands by women
Muraya notes that in Africa, this particular study is unique to Kenya.
"This means ignoring women's voices as consumers is a global issue and we aspire to grow this study beyond Kenya," says Muraya.
According to Muraya, the impact of the Top 100 Most loved brands by women can be felt as, "boardrooms are now using our data to inform their operations at a distributor level, pricing level, packaging level. To improve their products and create new products".
This, for Muraya, was the exact intention of the study, to ensure policymakers use the data to inform policy so that the environment can be more enabling for women consumers.
BSD published its third study early this year on the most common characteristics of the brands most loved by women.
Brands that are price-sensitive understand distributorship and are respectful are loved by women.
According to Muraya, there needs to be more parity in the consideration of how to build a product or a service and to develop a brand.
She further notes: "We have been leaving out half the market in the development of products and services."
Muraya says brands that do not meet the cut for the top 100 most loved brands by women are, missing out on reputational equity.
"They are missing out on awareness, recognition and visibility. They are missing out on an awareness of driving or accelerating better operational and business performance."
For Muraya, brands need to be loved holistically by men and women. However, a majority of household budgets are driven by women.
Data on brands loved by women
Muraya notes that money is increasingly scarce and demands are many.
"You must be intelligent about how you employ your resources as a business. You can't use whims and psych, you want evidence, so as to stretch your shareholder dollar and succeed in giving the best return to your shareholder."
"You must use data. Time is such a high capital resource; you don't have time to make a mistake. You want data to help you mitigate risks. It helps you to recruit right, data helps you to communicate right, distribute right and reinvest right."
She adds: "The world has understood that data is the new economic currency. You must use data, every idea must be backed by data."
On why it's important to understand consumers in the economy, she sheds useful insights.
"Consumers are who keep us in business and give us employees. They buy our stock and they are invaluable," she says.
According to Muraya, women-led businesses do not necessarily have an edge over men-led businesses when it comes to attracting female consumers if no data is employed.
"If women-owned businesses are not using data then they are failing. Men and women leadership are often different, nonetheless, you must inject data in decision making."
From the 2023 data published by BSD's Top 100 Most Loved Brands by women, from a sample of about 13 million women in Kenya, 44 per cent of these are mothers. Further, one out of two of the mothers is single.
What is proper branding?
Muraya says to properly brand, one must differentiate their brand.
Muraya says that when you differentiate then you have a unique proposition that is associated with your brand.
"However, you don't just differentiate, you differentiate and make people aware of your brand. You can have a differentiated brand but you are not creating awareness," she explains.
Further, according to Muraya, branding is important because it delivers on familiarity.
"Don't just differentiate and build awareness, you must do it consistently. So that You are consistent about differentiating and building awareness," she says.
"Consistency delivers trust, trust drives conversation, a consumer should trust you enough to buy you. You don't stop there, you reinvent, and innovate to push value," Muraya says.
Mistakes
In her many years of experience, Muraya acknowledges that there are instances she went ahead of herself.
"I created disruptive ideas that the market wasn't ready for."
She notes that there will be challenges along the way, but one should rise above them.
Related Topics