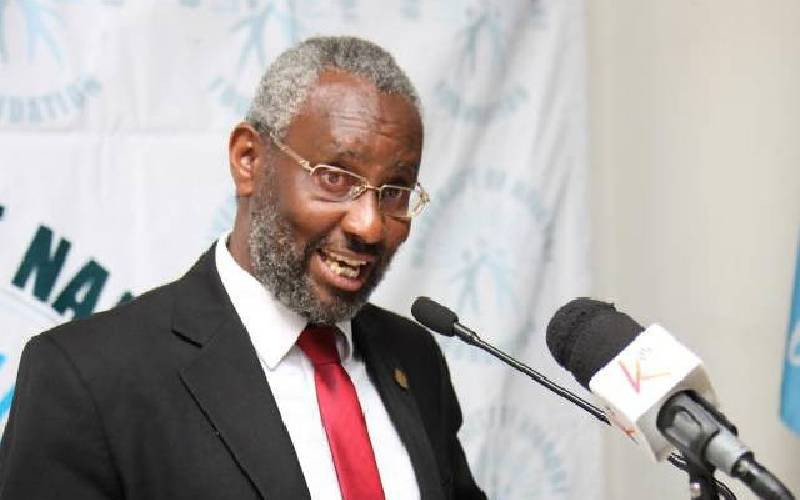 A University of Nairobi don has alleged political interference in the leadership of the institution.
On Monday, former University and Academic Staff Union secretary– University of Nairobi chapter– George Omondi, noted some forces were undermining the university leadership in the ongoing conflict.
"We have certain individuals who seem to be propelling their own interests,at the expense of the wider public good. We do not want to drag the name of the president into this matter," Prof Omondi said.
The conflict pits Vice Chancellor Stephen Kiama and the council led by the chairman Amukowa Anangwe.
Kiama had on July 28 sought six months sabbatical after falling out with the council.
However, Prof Omondi called for support for the university council, asking adversaries to take a back seat and give the council the respect it deserves.
He spoke during a press briefing in Nairobi.
This now deepens the leadership wrangles at the institution with a section of the staff supporting the VC while another faction is in support of the council.
Omondi further called on the council to set the records straight in regards to the leadership wrangles facing the institution; noting it was the supreme authority of the institution.
He argues that the council is the gatekeeper of the university's affairs and as such should be accorded respect.
Leadership crisis looms at University of Nairobi on Prof Kiama's return
"We do not expect any other level to interfere with the running of the university. If there are changes in leadership they should be communicated by council whose word is final because council is the governing organ of this institution," he stated.
He also asked the council to firmly deal with those undermining its authority.
"The council should come out now and immediately state what the current situation is. If anybody has acted in subordination of the council then appropriate action should be taken but there should be no fears, because council is the organ that provides justice to everyone." he said.
On September 2, the University of Nairobi Council called off a meeting that was set to discuss the return of Kiama.
A notice issued on September 1 convened the meeting after a closed-door meeting between Anangwe and Deputy VC in charge of Academic Affairs Prof Julius Ogengo who stepped in as the acting VC in the absence of Kiama.
The meeting was also attended by Chief Operations Officer, Brian Ouma.
Related Topics