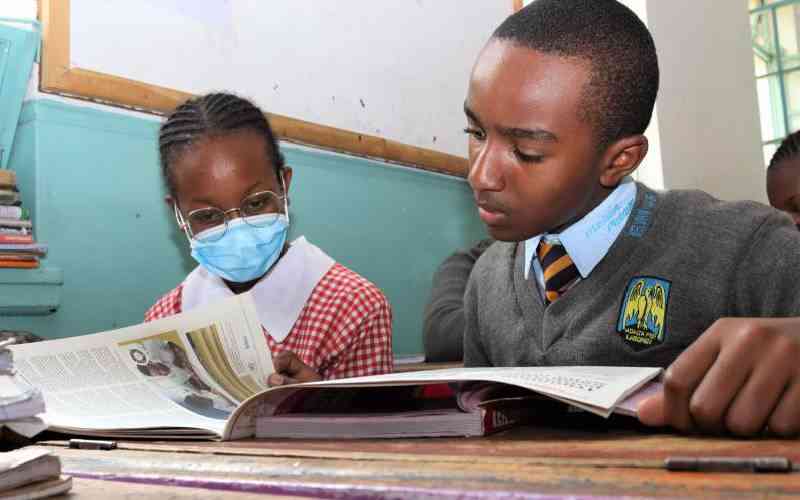 After debate on where Junior Secondary School (JSS) should be domiciled was settled, the other thorny issue was uniforms.
Education Cabinet Secretary Ezekiel Machogu spared the country back and forth arguments when he directed that the issue of uniforms for JSS be left to parents and school Boards of Management.
On admission day at Baraka Primary School, the principal Margaret Onyango urged the learners to respect everyone.
"Wearing a skirt or trousers doesn't mean you are above the rest in this school. You should remain respectful to everyone, including your teachers and colleagues in Standard Eight," Onyango noted.
Such is the dilemma that has come with Junior Secondary School remaining in primary school. We have sets of learners taking different curricula and, in some instances, wearing different set of uniforms.
"We have primary school learners in their red checked uniform, while their counterparts in Grade 7 have grey trousers and white shirts for boys,'' Onyango said.
Harvest View School Primary and Junior Secondary school director Nancy Phiri said it was hard explaining to the rest of the school why they had two different sets of uniform.
''We sat with the Standard Eight students and explained to them that they are transiting to high school while the Grade 7 students will have to stay in primary for two more years,'' she said.
Pamela Mang'oli, head teacher Kariobangi School, Primary and Junior Secondary said the school modified the current school uniform to come up with that for JSS.
''In lower classes, boys put on navy blue shorts, sky blue shirts with girls putting on navy blue dresses and and navy blue pullovers for both,'' she said.
''Junior Secondary, boys have changed to navy blue trousers, white shirts while girls dress in navy blue skirts, white blouses with both having maroon pullover and maroon ties.''
In its recommendations on the structure of junior secondary, the Presidential Working Party on Education reforms recommended that junior secondary students be given a distinct school uniform, to separate them from the rest of the learners.
There are other new elements that came with the system.
Mang'oli said while all learners are within primary school set up, Grade Seven learners will be referred to as students and not pupils, implying their elevated status.
She said Grade Seven learners will study 12 compulsory subjects.
"They will cover 12 compulsory learning areas and two optional subjects, making it 14 learning areas,'' Mang'oli said.
Under 8-4-4, Standard Seven studied nine subjects; Mathematics, English, Kiswahili, Science, Social Studies, Religious Education, Creative Arts, Physical Education (PE) and Life Skills.
Apart from the above subjects, new subjects have been introduced including Pre-Technical, Integrated Science, Business Studies, Agriculture, Health Science and Sports and Physical Education as core subjects.
''The Junior Secondary has a broader curriculum where we have 12 learning areas with several optional subjects. Considering the age of 13-15, it is intended to give the learners an opportunity to explore before they settle into the fewer pathways,'' said KICD CEO Prof Charles Ong'ondo.
Some of the requisite facilities are a Science Laboratory, Computer laboratory, and Home Science room.
These are critical in JSS learning and teaching.
Related Topics