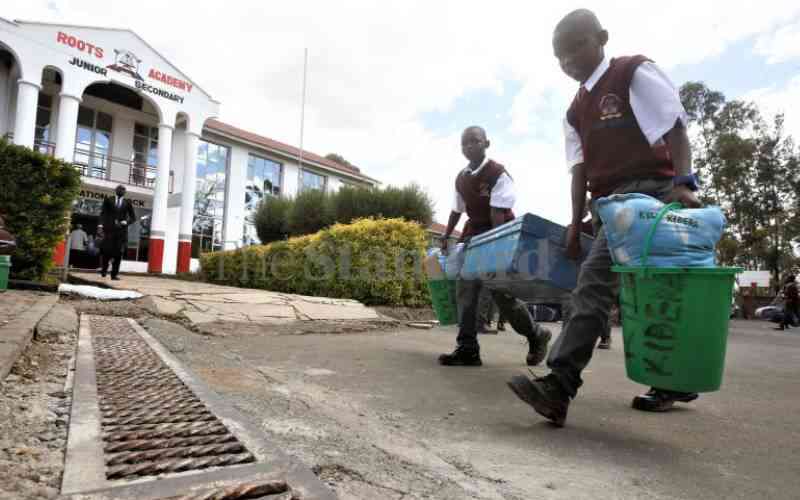 Mombasa County Director for Education, Peter Magiri, has warned that no parent should be forced to buy desks or school uniform from schools as they enroll children into Junior Secondary School (JSS).
Magiri said that the government will provide capitation for JSS and asked primary school heads to procure stationeries from suppliers as they await the monies to be disbursed by the government.
Parents have been complaining about high cost of admission as children began reporting to school on Monday this week.
Some of the requirements parents have been given include buying desks, uniform, 26 exercise books, 13 textbooks, photocopy papers and reams of paper.
"No child should be asked to buy a desk or books. The government is going to provide all these. What we are asking school heads to do is to procure the stationery from suppliers and they will pay once capitation money is disbursed," said Magiri.
Magiri was addressing school heads whose schools were approved to host JSS in the county yesterday, where he said that schools had no authority to sell desks and uniform, and urged principals to leave that to suppliers and traders.
"I wonder why you are asking parents to buy 26 books, yet their syllabus is yet to be finalised. How sure are you they are going to learn 26 subjects?" he posed.
Magiri further warned parents to be on the lookout for private schools that were not approved to host JSS.
Mombasa has 97 public schools, where 89 have been approved to host JSS with the remaining eight set aside as feeder schools.
The number of private primary schools stands slightly above 400, but only around 280 registered candidates for the inaugural Kenya Primary School Examination Assessment (KPSEA) conducted last year for Grade Six.
About 34,000 children who sat the examinations are expected to join junior secondary school in the county. He said that all schools approved by the government will be registered and issued with a registration certificate from the ministry.
"The county education board will start issuing registration certificates next week. Any school without a registration certificate is not a learning institution," he said.
He said the certificate will differ from the primary school certificate.
For instance, a school like Mlaleo Primary School will have a certificate for Mlaleo Primary School and another for Mlaleo Junior econdary school.
Parents have been lamenting about the high costs involved in admitting students to Junior Secondary School since the exercise kicked off on Monday.
Mr Duncan Juma, a resident of Maweni, said that when children transition from one level to another, school heads see this as an opportunity to cash in on desperate parents.
"It has always been the season for secondary school heads to celebrate all the way to the bank, their primary counterparts have learned it from them," said Juma.
"Looking at the requirements we are supposed to report with, as parents we feel overloaded," he added.
Juma expressed fears that the directive by Magiri was just lip service, alleging that some education officials were working in cahoots with primary school heads and that the directive will not be adhered to effectively.
"I don't believe that the directive given will be followed, this is a 'cash cow' season for them to 'eat'," he said. Patience Nyange, another parent, said that she never expected JSS was going to be expensive as government had promised that it was going to be free in public primary schools.
"The government promised to make education free for all children, why are we given a list with exorbitant amounts of money? Where do I get the money to purchase all these?" she asked.
Related Topics