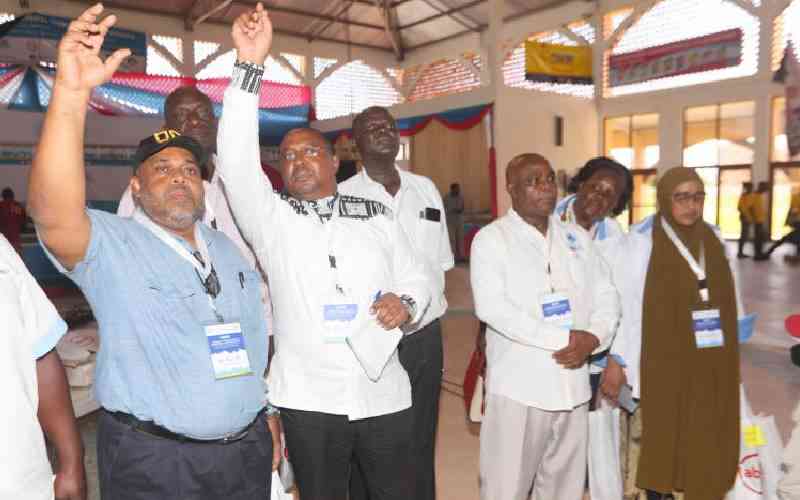 Primary school head teachers, who are in Mombasa for their annual conference, yesterday welcomed the President's decision to domicile junior secondary in primary schools.
The heads said most primary school teachers have acquired higher education and are ready to handle learners in Grades Seven, Eight and Nine.
Speaking at the Sheikh Zayed Children Welfare Centre in Mombasa, Kenya Primary School Head Teachers Association (Kepsha) Chairman Johnson Nzioka said more than 60 per cent of primary school teachers are university graduates.
"There is room in primary schools created by those who (sat their Kenya Certificate of Primary Education exam last week). Domiciling junior secondary in primary school has saved the government the agony of handling 100 per cent transition," he noted.
"We appreciate the presidential working party on education reforms for its report. What has come out is in the best interest of our children. This is our prayer well answered." Nzioka said they were hopeful the Teachers Services Commission (TSC) will hire 30,000 new teachers by January as it promised.
This year's conference – themed "Managing the transition of Competency-Based Curriculum for effective nurturing of each learner's potential" – is expected to be officially opened by President William Ruto tomorrow.
Education Cabinet Secretary Ezekiel Machogu, TSC Chairman Jamleck Muturi, CEO Nancy Macharia and Mombasa Governor Abdulswamad Nassir will address the conference.
Kenya National Union of Teachers (Knut) and parents wanted junior secondary hosted in primary schools while Kenya Post Primary Teachers Union (Kuppet) sought to have it anchored in secondary schools.
Peter Koigi, a teacher at St Elizabeth Primary School, said they are ready and preparing to handle Grades Seven, Eight and Nine learners.
Looking forward to what he described as a unique opportunity, Mr Koigi said the transition will be seamless now that teachers will have adequate time to familiarise themselves with secondary education.
"What we're looking for is that ability to spend a bit of time to reflect on what we've got in place and ensure that we learn those lessons to ensure that curriculum is as good as it can be and as exciting as it can be moving forward," he said.
Alternative Providers of Basic Education and Training (APBET) Vice Chairman Paul Wanjohi said schools are ready for the transition in January, adding that primary schools teachers understand learners better that their counterparts in high school.
"We do feel that we are in a good position as APBET schools. I think it's important that we really embrace this opportunity to host junior secondary in our schools,'' he noted.
Knut Secretary General Collins Oyuu said their recommendations were adopted by the taskforce.
"We are home and dry. We have scored highly in this game since most of our recommendations have been captured in totality. What we presented has been taken care of," Mr Oyuu said.
But Kuppet Secretary General Akelo Misori said domiciling junior secondary in primary schools will put more pressure on available infrastructure.
"Keeping children in primary school for longer does not increase a child's capacity to learn; the focus should be on providing quality teaching and learning in high school since high schools have the capacity compared to primary," said.
On the delocalisation of teachers, the Kepsha leadership said they were happy the controversial issues had been resolved.
"We are happy that delocalization is no longer an issue," said Nzioka.
Kepsha Deputy Secretary Mugo Gitonga said delocalisation should only be done at the individual level and not forced on teachers. "Delocalisation is good if handled at the individual level. Some teachers suffered after being delocalised while others do not wish to go back to their local areas after their transfer," he explained.
Related Topics