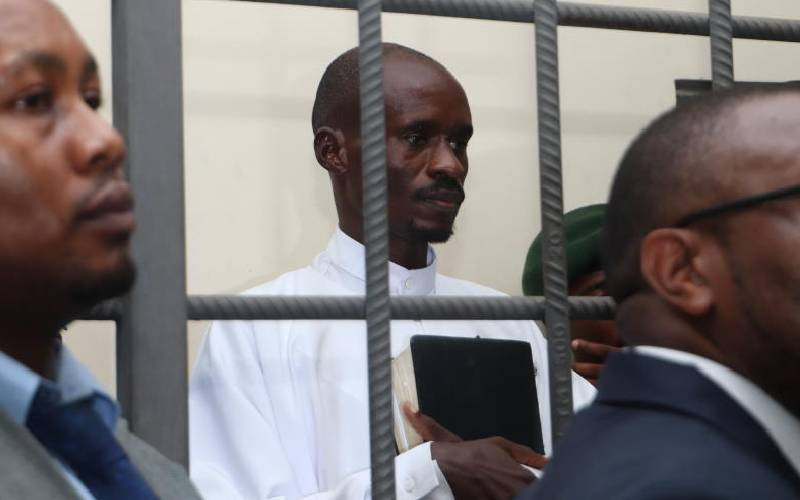 Embattled pastor Ezekiel Odero has filed a case seeking orders to stop the government from freezing 15 bank accounts belonging to his New Life Prayer Centre and Church.
Through lawyer Danstan Omari, Odero also sought conservatory orders stopping the Inspector General of Police and the Ministry of Interior from closing down operations at the church and TV station.
Omari the High Court in Mombasa on Thursday the allegations against his client are unsubstantiated, scandalous and untrue.
Odero also sought orders to stop interference with the religious activities or prayer sessions in the church complex.
He asked for conservatory order temporarily staying IG's communication, dated April 27, temporarily suspending the operations of the frequency operated by World Evangelism Television.
"In the interim and pending the hearing and determination of this application, this honourable court be pleased to issue a conservatory order temporarily restraining the respondents from taking adverse action against Odero or New Life Prayer Center and Church including the freezing of the church accounts in Cooperative Bank and NCBA bank," said Omari.
Odero has sued the Attorney General, Inspector General of Police, Director of Public Prosecutions, Communication Authority of Kenya director-general Ezra Chloba, Ministry of Interior and Directorate of Criminal Investigations.
Odero distanced himself from Paul Makenzi and denounced his teachings. He told the court that his association with Makenzi was only a one-time commercial meeting to acquire his TV station.
"I would wish to strongly disassociate myself from one Mr Paul Mackenzie as we do not have any close familial or friendly ties. Moreover, my teachings, initiatives and focus in and out of the church are completely at variance with those that Mr Mackenzie is feared to be advocating for," said Odero.
Odero was last week arraigned before Shanzu Law Courts with police seeking to detain him for 30 days in order to have him investigated for murder, aiding suicide, abduction, radicalisation, genocide, crimes against humanity, child cruelty, fraud, money laundering, being accessories before or after the commission of crimes.
However, on Tuesday, the magistrate's court ordered reduced the detention.
Odero said his church has always run the television station to the required standards and dutifully filed the relevant documentation with CAK.
Related Topics