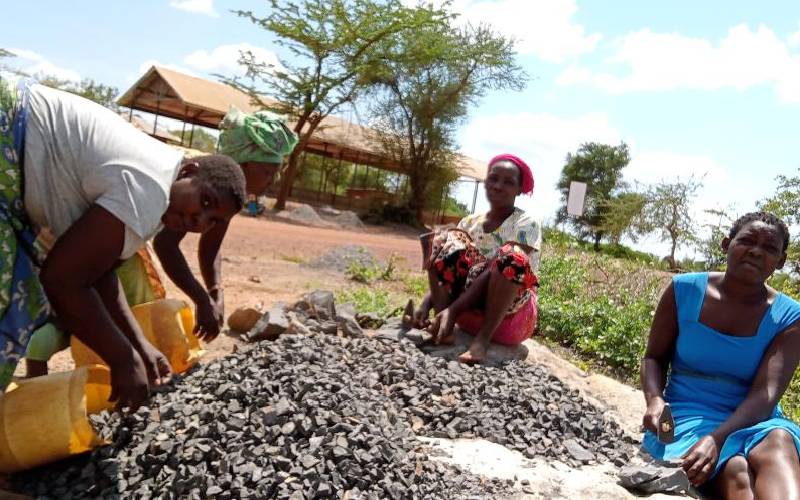 Tough times have pushed women from Kikwanguloni village in Ganze sub-county towards hard jobs to survive. They work as quarry women, crushing stones to earn a living.
The Kikwanguloni–Kachororoni quarry in Ganze near river Rare, about 15 kilometers from Ganze Girls Secondary School is where Agnes Kitsao, Magret Kang'ombe, Patience Kadzo and Salama Charo toil away.
Despite the blazing sun and dust, the women, know this is the only ticket out of poverty.
Ms Agnes Kitsao, 57, is a widow and a mother of eight. She has been crushing stones to make ballast for 15 years.
"I have fed and educated my children courtesy of this job. My husband died many years ago and I was forced to be the sole breadwinner," says Ms Kitsao.
Ms Kitsao wakes up at 5 am and is usually at the quarry by 6 am ready for work. "I make at least Sh10,000 per month. I have also been able to open a kiosk through the proceeds," she says, adding that sometimes the job leaves her physically drained.
A kilogramme of ballast goes for Sh15, while a tonne goes for Sh850, which is low considering the hard labour the workers have to put in.
Magret Kang'ombe, 49, has also been crushing stones for the last 7 years to feed and educate her children. "For the past seven years, I have been earning a living from crushing stones to produce ballast. I produce 150 kilogrammes of ballast every day, and sell a tonne of ballast at Sh850, though sometimes customers are hard to come by,'' Kang'ombe says.
Faced with drought occasioned by climate change, quarry business has become an alternative to farming in the area. Further, the high cost of living and unemployment has pushed more women to the quarries.
Salama Charo, 36, says she started quarrying two years ago when the drought worsened and being a farmer, she had no alternative.
"I used to depend on agriculture, but when the rains failed, I had to find a means to provide for my household,'' Charo said.
However, the job comes with many health challenges that have forced some of the women to abandon it.
"Some of my colleagues have developed visual and respiratory complications due to a lack of protective gear to help them protect their eyes, nose and mouths from the dust, Charo added.
Davis Wanje Sharia, a community resource person in Ganze, said there is a need for the government to come up with policies that ensure the mines are safe for women.
Mr Sharia notes the implementation of the Mining Act 2016 has been an ongoing challenge resulting in fraught relations among the mining companies, government, and local communities. "The Mining Act 2016 imposes blanket landowner consent as a requirement when applying for a prospecting license. This is extremely arduous and poses a high risk to investors of failure to comply with the law," says Mr Sharia.
Ganze MP Teddy Mwambire says the government should intervene and improve the work environment at the quarries.
"My office will help these women to earn a decent income. We have building and construction projects in Ganze. We will hold talks with the contractors so that we can give them tenders to supply ballast," Mwambire said.
Related Topics