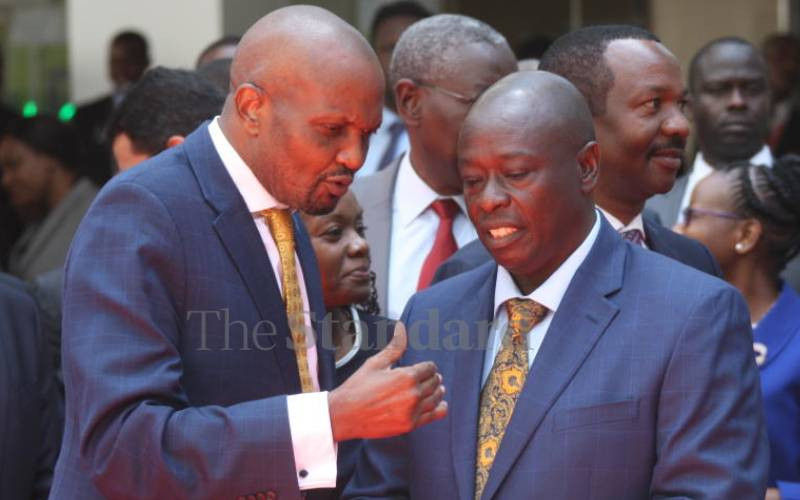 Even as Deputy President Rigathi Gachagua and Trade Cabinet Secretary Moses Kuria hummed on the string of togetherness and Mt Kenya's region's uncanny abilities to speak with one voice during the funeral of freedom heroine Muthoni Kirima on Friday, The Standard has learnt that covert efforts have existed with intent to tame Trade CS.
That no doubt points to a tussle over who will assume the role of Mt Kenya political kingpin, now that former President Uhuru Kenyatta has been ebbing away politically, leaving a vacuum that has been seeking to be filled - as the saying goes, power abhors a vacuum.
Deputy President Rigathi Gachagua, at the beginning of last week, met a section of Mt Kenya leaders to discuss the conduct of the CS for Trade, Industry and Investment.
Among the leaders who were present were MPs, Women Representatives and Senators who felt there was an emergence of factions that would block the Deputy President from emerging as the de facto kingpin of the region.
While some leaders have avoided the matter with others choosing to speak about it anonymously, Nyeri Senator Wahome Wamatinga, a close ally and confidant of Gachagua, confirmed the meeting to have been held.
He disclosed that among the deliberations included not responding to Kuria as they supported a review of the performance of key senior government officials 'which will happen soonest' with the intention to relieve CSs who have failed on their mandate of running their dockets.
"We concluded that we will not agree to be distracted by the noise as that will derail us from delivering our mandate. He (referring to Kuria) has failed in his mandate and that is why he has resorted to making noise to divert attention from his performance. The review will catch up on him soonest," Wamatinga told The Standard on the phone.
Disrupt agenda
According to Wamatinga, there was a plot by a few leaders within the government to disrupt the agenda of the Kenya Kwanza administration, a move he said would be thwarted so that they could deliver what was promised in their manifesto to the people of Kenya.
Another source who sought anonymity said in the meeting, that there was a proposal to 'finish Kuria politically' but it was abandoned since the push and pull would expose the Mt Kenya region.
"The continued reckless remarks by Kuria are a threat to this government and to our community which displays a don't care attitude about our community and is bad for our leader. For the sake of our cohesion out there, we decided to mount a spirited campaign to market Gachagua as our leader," a source noted.
The meeting came even as Gachagua warned Kuria and President William Ruto's Chief Economic Advisor David Ndii, who also hails from the region to be cautious and sensitive while addressing Kenyans.
He said in a statement released to the press that leaders should address Kenyans with decorum and humility.
But unbothered, Kuria would the following day, take to his X account (formerly Twitter) to defend his remarks where he wrote, "As Minister responsible for private sector mine is to advise business based on science, not voodoo."
On Friday, during the burial of Field Marshal Muthoni Kirima, the script played out well when leaders presented Gachagua as the region's kingpin dismissing those out to create division.
The leaders who drummed up support for Gachagua included Nyeri Governor Mutahi Kahiga, Nyeri Senator Wahome Wamatinga, MPs Kanini Kega (Eala) Wainaina Njoroge (Kieni) Dancun Mathenge (Nyeri Town) Eric Wa Mumbi (Mathira) among others.
"Let us reduce infighting, let us understand that Gachagua is our leader and when we walk together, we shall win, let us shun creating factions which are not necessary and healthy for our community in the 2027 elections," Kega said.
But when Gachagua rose to speak, he presented himself as 'Kuria's political father' who would bring him back to the fold whenever he went astray. He dismissed claims that there was a succession tiff between him and Kuria.
"I'm the Deputy President while Kuria is our worker, how can we fight?" he said.
And despite Gachagua's assurance that all was well and there was no infighting, he urged the community leaders to unite and told them that their unity was their strength.
He warned those who may want to walk alone that 'buffaloes don't walk in a herd because they love each other but because of the impending danger'.
"An army without unity is split with one club, that is how we shall be divided if we are not together,' he said.
Kuria who was at the event played to the script of the local leaders by acknowledging Gachagua as his boss.
Earlier in the week while presiding over the launch of the County Aggregation and Industrial Park in Laikipia County, Kuria seemed to have a section of leaders supporting him.
Political turmoil
Laikipia Governor Joshua Irungu and the area Senator John Kinyua had vowed to stand with him should he face any political turmoil.
"We shall stand with you even if you will have to carry your cross for anything," said Kinyua.
"By coming here, you have proved to stand with us as a county and as Mt Kenya region, he who caters for your interests in times of need is your friend and we shall reciprocate with kindness in case of anything."
Irungu added: "When you need us, we shall be right there to stand and support you because you have been good to us."
On his part, Kuria called on the community to stand by his side and said he had the courage to discharge his duties diligently to alleviate poverty in the country.
While quoting the serenity prayer that talks about letting go of situations beyond your control and taking action towards things within your control, Kuria said he was ready to advise traders based on truth.
"God, grant me the serenity to accept the things I cannot change, the courage to change the things I can, and the wisdom to know the difference. I have the capacity to do so but I can't cure the worldwide problem because I don't have an oil well in Gatundu," he said.
Related Topics