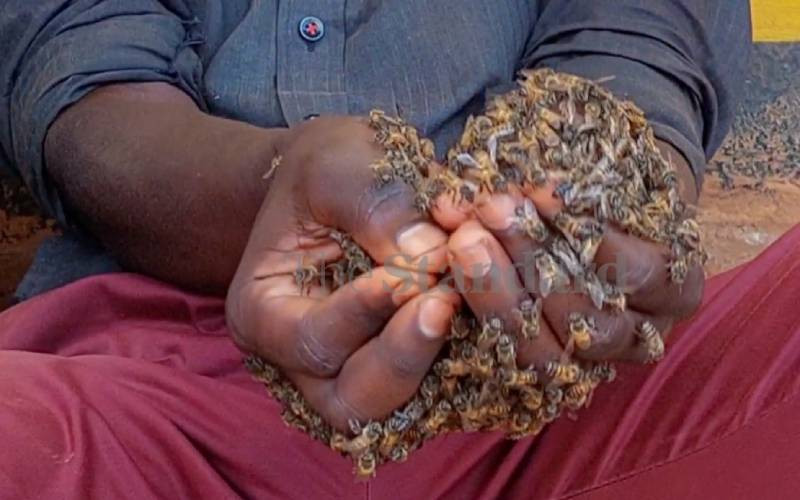 There was drama at Makutano trading centre in Embu County on Saturday after two suspected thieves were arrested following a bizarre intervention of a witch doctor.
Business in the trading centre came to a standstill in the evening after the suspects presented themselves to the police while dragging a cow which they had allegedly stolen.
In tow was a crowd of agitated residents baying for their blood and demanding the arrest of the alleged rustlers. A swarm of bees was stuck on the hand of one of the suspects.
At Makutano police station, the police had a hectic time controlling the assembled crowd witnessing the unfolding oddity.
Suspected cattle thieves allegedly surrender themselves at Makutano Police Station, Mbeere South, with bees on their palms before a witchdoctor 'exorcises' them. pic.twitter.com/xHRSTyP0Bd
— The Standard Digital (@StandardKenya)
November 6, 2022
The bizarre incident took a turn after a man spotting a red robe and a fly whisk strode into the station demanding an audience with the owner of the cow while claiming he had 'spiritual powers' to set the two men free.
Dr Baba Nyota
The alleged witch doctor, "Dr" Baba Nyota, claimed he had set the bees on the suspects for stealing the cow and would only release the two after the cow's owner showed up.
Like clockwork, a middle-aged woman - Lillian Wairimu, minutes later, stepped forward claiming she was the owner. To prove ownership, Wairimu produced an OB number as a record that she reported the theft to the police at the station on Monday.
"I made a report here after they stole my cow. However, after a few days, I decided to seek the witch doctor's services," said Wairimu, who later recorded a statement with the police.
Satisfied, Dr Nyota unleashed paraphernalia, among them a bottle filled with eggs, to 'perform a ritual on the suspects', as the crowd watched in bewilderment.
Upon chanting what he posed as incantations, the swarm 'disengaged from suspects' hand' and were collected in a bag by Dr Nyota.
Confirming the incident, a police officer not authorized to speak to the press, said the suspects were detained to aid in investigations.
"This is quite strange, but, now that we have the suspects in our custody, the law will take its course," said the officer.
Staged?
Some people were, however, not convinced and believed that the 'witch doctors' intervention was staged and that the whole thing was a theatrical move to prey on the vulnerable.
For starters, not all bees sting.
It has also been demonstrated that a colony of bees can be moved by transporting the queen. If the queen doesn't feel threatened, the rest of the swarm just follows along; surrounding her, and keeping her safe and cool.
Related Topics