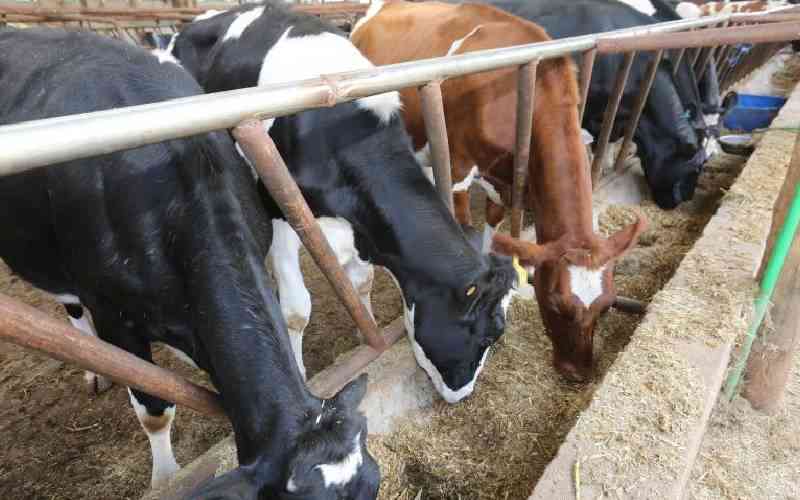 Kenya's anti-trust watchdog said on Friday it had opened an investigation into an alleged cartel among animal feed manufacturing companies to limit competition for livestock feed.
The Competition Authority of Kenya (CAK), said the key objective of the market inquiry is to assess "the market interactions, market structures, market outcomes, and other factors that may be affecting competition in markets along the animal feed value chains."
The probe is expected to recommend interventions that will support sustainable growth and competitive markets for a robust animal feeds sector, it said.
"The specific objectives are to assess—the prices, costs, and quantities produced, supplied, and purchased at different levels from inputs supply to production and sale of different animal feed products; the market shares, concentration, ownership relationships, joint ventures, and marketing agreements for the different products and services related to animal feed and its inputs (and) different terms and conditions of supply for feed producers of different sizes," said CAK acting Director General Adano Wario Roba in a public notice published in the Kenya Gazette.
The probe comes at a time when Kenyan farmers are grappling with high cost of animal feeds.
Price fixing and output restriction are illegal under the Kenyan Competition Act - the law that guides market conduct in the country - since they hinder competition in the market.
Competitive markets allow consumers to benefit through lower prices, increased choice, and quality of goods and services.
The prices of animal feeds have skyrocketed, hitting farmers hard and leading some farmers to abandon farming or pass on the higher input prices to their customers.
Some manufacturers have also closed shop amid low demand from farmers due to high prices while some wholesalers have opted to diversify their sourcing from neighbouring countries to mitigate the high cost.
The CAK probe will also look into barriers to entry and growth of smaller feed producers, information availability and any information exchange practices by companies, associations, and other formal or informal groupings relating to animal feed and its inputs.
CAK will also investigate arrangements, including licensing and other supply terms, which may affect the sourcing and supply of animal feed including breeding stock and animal feed as well as trade flows of feed constituents, including maize, soybeans, and derived products.
The watchdog will also investigate what may be affecting the flows from other countries in the Common Market for Eastern and Southern Africa and East Africa Community regions.
"In conducting the study, the Competition Authority of Kenya shall hold such number of meetings and key informant interviews in such places at such times as it may consider necessary for the proper discharge of its functions; and may receive views from all stakeholders through oral and, or written submissions from any person with relevant information," it said.
It added, that members of the public with relevant information are invited to submit oral or written submissions to the watchdog within 21 days from September 29.
To bring down the prices of animal feeds, the government has made several duty waivers over the years.
In December 2021, the government, for instance, exempted import duty on yellow maize, soya bean, soya bean meal, cottonseed cake, sunflower seed cake, white sorghum and fish meal until the end of October 2022.
According to Egerton University's Tegemeo Institute of Agricultural Policy and Development, poor animal husbandry, mainly because of poor feeding practices, has led to low livestock productivity.
"In part, the high costs of commercial livestock feed, the unfriendly business environment for trade in livestock feed, and the weak regulatory environment have affected the availability, affordability, and utilisation of quality commercial feeds to grow the livestock value chains," said the thinktank in a recent study.
"This has resulted in increased competition from imports for livestock products and animal feed from neighbouring countries."
Related Topics