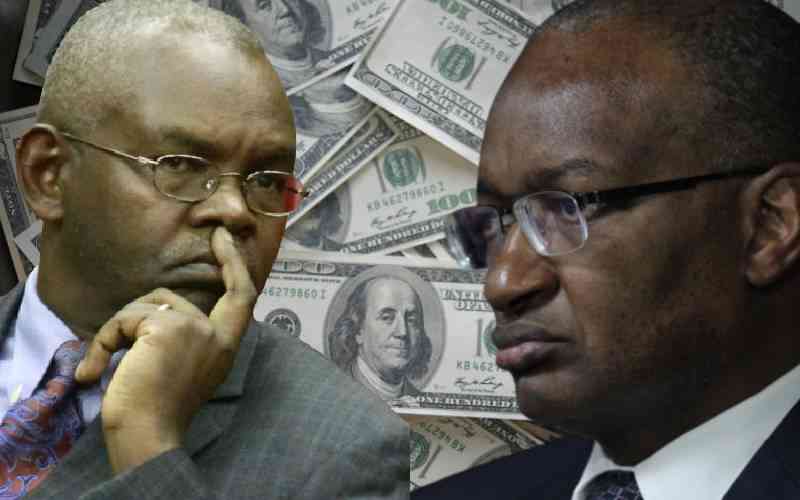 Outgoing Central Bank of Kenya (CBK) Governor Patrick Njoroge yesterday questioned the benefits of a key proposal championed by his likely successor Kamau Thugge.
Dr Njoroge's sharp contrasting view from Dr Thugge, who has been nominated to take over from him, on the benefits of a proposed local dollar bond gives a glimpse of the competing schools of economic thought by the two ex-International Monetary Fund (IMF) economists.
The 62-year-old Dr Njoroge, an ex-IMF adviser and devotee of the conservative Roman Catholic group Opus Dei, will hand over to Dr Thugge, a former Treasury Principal Secretary, pending Parliamentary approval later this month.
Dr Thugge, who is currently serving as senior advisor and head of fiscal and budget policy in the Executive Office of the President, told a parliamentary vetting panel on Tuesday he plans to push for local dollar bond issuance once confirmed for the job to ease pressure on the shilling.
The former Treasury mandarin argued it is worth pursuing the issue of a local dollar-denominated bond, given foreign exchange deposits of about Sh1 trillion in the banking system.
"One of the things that I would like to explore with the National Treasury is the possibility of actually issuing a dollar-denominated bond, the way we issue an infrastructure bond, and we structure it and sell it locally," he had told Parliament during his vetting, underlining some of his monetary policy ideas he hopes will help reshape the battered economy.
Holding dollars
"If we can get those Kenyans who are holding dollars in their deposits to buy into it… we will have a possibility of actually increasing the liquidity of dollars in the system but also building up foreign exchange in the Central Bank."
But the outgoing Dr Njoroge said yesterday at a post-Monetary Policy Committee (MPC) briefing that the plan would not be a quick fix to the country's foreign exchange woes.
"I think there's a lot of considerations that need to be put in place and it isn't sort of a slam dunk, sorry to use that expression, it's not sort of a surefire thing," said the outgoing CBK boss.
"There are many issues that that one needs to consider, and I think the point here is that maybe the one thing to mention is when this is raised, it's generally raised in the context of oh, there's a lot of deposits, people holding a lot of dollars etc. And I don't think that actually this is fully well understood."
Without mentioning his predecessor's name, Dr Njoroge said the concerns of idle piles of foreign exchange currency are misplaced.
"The concerns in a sense of this being the foreign currency deposits in my view, or in our view, as a Central Bank, (is) misplaced," he said.
"There is no free foreign currency that is sitting somewhere in somebody's account."
Dr Njoroge said the dollar plan would also fan dollarisation in the Kenyan economy, adding that some countries had gone that route only to face challenges ahead.
President William Ruto named DrThugge as the next governor of the Central Bank two weeks ago.
Dr Thugge takes over the CBK role amid uncertainty over the country's fragile economy and inflation outlook. Ballooning inflation, escalating borrowing costs, and a strong dollar have made repaying sovereign loans and raising money significantly more expensive for Kenya amid fears of default.
The shilling has weakened against the dollar, fuelling the high cost of living crisis.
Related Topics