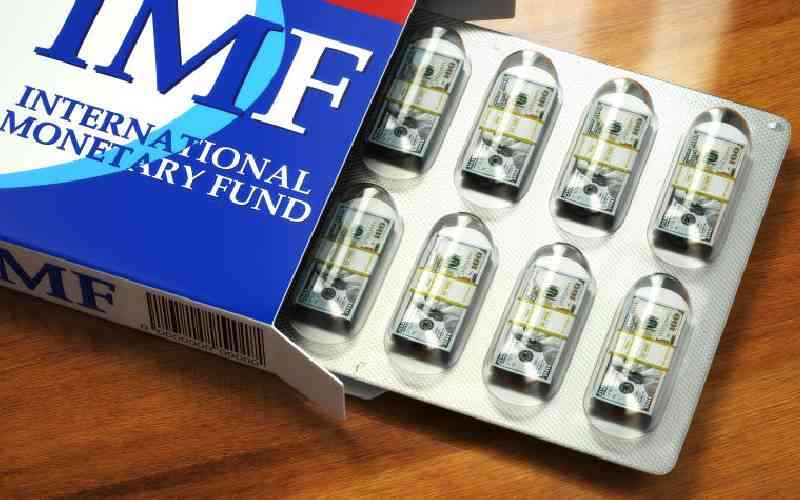 The International Monetary Fund (IMF) is worried a global funding squeeze that has hit Sub-Saharan Africa could suppress the region's growth to 3.6 per cent in 2023, amid the need for governments to take further measures to prevent a collapse.
Kenya, whose policy lending rate has been adjusted upwards as inflation remains at 9.2 per cent, could see a real gross domestic product (GDP) growth of 5.3 per cent in 2023.
This is after recording 5.4 per cent in 2022 and 7.5 per cent in the post-Covid recovery rally of 2021, and will also feel the pinch of the funding squeeze.
With persistent global inflation and tighter monetary policies leading to higher borrowing costs for Sub-Saharan African countries and placing greater pressure on exchange rates, the squeeze could "force countries to reduce resources for critical development sectors like health, education, and infrastructure, weakening the region's growth potential", IMF warns.
In its Regional Economic Outlook for Sub-Saharan Africa 2023, IMF says consolidating public finances and strengthening public financial management, allowing the exchange rate to adjust, containing inflation and ensuring that important efforts to fund and address climate change do not crowd out basic needs like health and education could be key interventions to stabilise these economies.
"The funding squeeze aggravates a protracted trend that has been years in the making," reads the report in part. "The interest burden on public debt is rising, because of a greater reliance on expensive market-based funding combined with a long-term decline in aid budgets."
It notes: "The lack of financing affects a region that is already struggling with elevated macroeconomic imbalances. Public debt and inflation are at levels not seen in decades, with double-digit inflation present in half of the countries—eroding household purchasing power, striking at the most vulnerable, and adding to social pressures."
Massive strains
Coming out of a period where debilitating external factors have contributed to massive strains on economies, growth in the region in 2023 will be dependent on hard decisions that governments make.
A marauding Covid-19, which led to closures of industries and job losses, was followed by the Russian invasion of Ukraine and global inflation, and for net importers, a significant blow to economies.
East Africa experienced the worst drought in 40 years, food inflation soared and as public debt also ballooned, funding became more scarce.
In February this year, President William Ruto complained about the Global South's struggle to acquire funding meant to combat climate change, with countries in the region more affected. He decried expensive, and often hard to access, funding saying these countries paid up to 100 times more for the loans than their counterparts in the global north.
"The multilateral financial banks and the entire international financial system has not been just, fair and accountable," he said.
"As things stand today, the current financial setup favours the global north against the global south. All sovereign States that have gone to the international financial market are paying anywhere around 10 per cent. "Our compatriots in the global north are paying anywhere between 0.05 per cent and 0.1 per cent."
President Ruto asked for reforms in the fund allocation framework, complaining that the international financial system favoured polluters and punished those who emitted the least but suffered the most.
IMF says estimates suggest that 132 million people were acutely food-insecure in the sub-Saharan region last year. "In this context, the economic recovery has been interrupted. Growth in Sub-Saharan Africa will decline to 3.6 per cent in 2023."
It says that amid a global slowdown, activity is expected to decelerate for the second year in a row.
"Still, this headline figure masks significant variation across the region. Many countries will register a small pickup in growth this year, especially non-resource-intensive economies, but the regional average will be weighed down by sluggish growth in some key economies, such as South Africa."
Reduced access to funding could further jeopardise the situation, forcing countries to reduce resources for critical development sectors like health, education, and infrastructure, "weakening the region's growth potential," IMF says.
But governments could prioritise revenue mobilisation, better management of fiscal risks, and more proactive debt management.
"International assistance remains also critical to alleviating governments' financing constraints. For countries that require debt re-profiling or restructuring, a well-functioning debt-resolution framework is vital to creating fiscal space," IMF advises.
International community
It also says that the monetary policy should be steered cautiously until inflation is firmly on a downward trajectory and projected to return to the central bank's target range. Climate finance provided by the international community must come on top of current aid flows, it says.
Kenya's government debt as a percentage of GDP is expected to be at 66.6 per cent in 2023. It was 67.9 per cent in 2022. This figure was 46.7 per cent between 2011 and 2019. Sub-Sahara's average for this year is expected to be 55.5 per cent.
With the difficult funding environment for the region "likely to remain and become a key feature of the new normal," according to the report, the region's countries are projected to have some of the world's highest interest bills relative to revenues, exceeding 50 per cent in a few cases in the next few years.
As such, countries have to better manage their spending and increase their collections, with policymakers in Sub-Saharan Africa tasked with adapting to an environment with tighter financing conditions, which has two important implications for the conduct of fiscal policy.
"First, debt vulnerabilities (already elevated) are likely to worsen. With rising borrowing costs, countries may find it challenging to refinance their existing liabilities and roll over longer maturities.
"This could create liquidity problems, which may, over time, raise solvency questions in some cases. Second, policymakers will struggle to cover even the most essential expenses for basic services, let alone securing financing for further progress toward the Sustainable Development Goals," IMF says.
Mentoria Economics' Chief Economist Ken Gichinga says Kenya, and other countries in the Sub-Saharan region, need to bring into place progressive tax policies instead of going heavy on austerity measures, which could cut out crucial services to citizens.
He says the government should consider investments in productivity gains with the few available resources, which can be done "through targeted budget allocations to some of the key sectors" and which could cure inflation and boost growth.
"We have seen the tightening of monetary fundamentals, with an increase of interest rates, which reduces cash in circulation," Mr Gichinga says. "That has negative effects on business; they might struggle and we could run into high rates of unemployment.
"If we can rethink our tax policy, we can raise significant revenue without hurting businesses. We however lack well-developed, progressive tax policies here."
He says revenue collection to GDP is less than 20 per cent for many countries in the region. "Compare that with some developed countries where this tax revenue to GDP is well above 30 per cent."
Many countries in Sub-Saharan Africa spend more on servicing debt than they spend on crucial services such as health, he says.
Related Topics