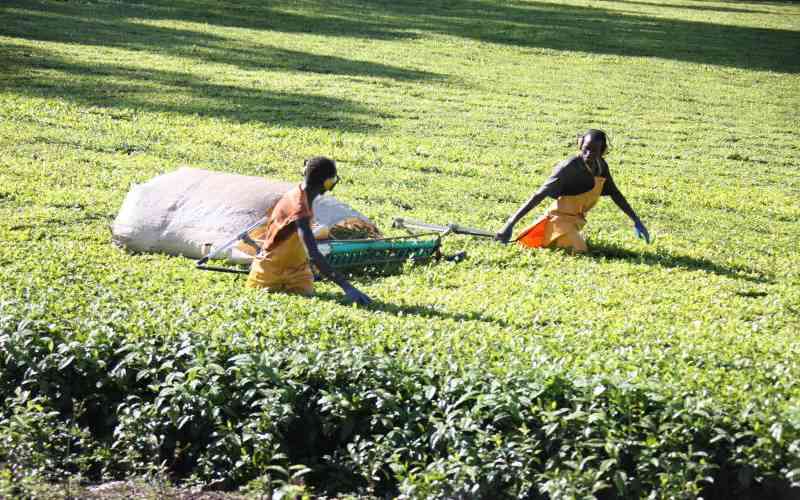 Tea farmers in Mt Kenya region are counting losses after drought suppressed tea harvests by 33 million kilogrammes in February.
The Kenya Tea Development Authority (KTDA) announced that some 99 million kilogrammes were harvested over the same period last year, even as the drought took a toll on agriculture, not just in the region, but the country at large.
KTDA chairman David Ichoho, speaking at a farmers' fundraiser in Embu East, said the persistent drought has greatly affected tea production, which has translated to losses for farmers.
"The last two months, January and February, have been very difficult for the tea sector. That was a lot of tea that we lost in just one month," said Ichoho. He said the shortage of US dollars has also affected the export and sale of tea to the major markets, including Pakistan.
Ichoho said their recent visit to Pakistan with Agriculture Cabinet Secretary (CS) Mithika Linturi is already bearing fruit.
"In the meantime, we have engaged local banks on ways they can avail US dollars to help open up markets. We want to ensure the dollar is available to tea buyers. It is good to note that there is a high demand for Kenyan tea in Pakistan, among other countries," said Ichoho.
He said KTDA and the Tea Board of Kenya are working together to down the cost of production for factories. This will involve agreements that will ensure the farmer does not lose out, Ichoho said.
"So far, we have received six versions of such agreements from various factories, which we have forwarded to the Tea Board of Kenya. We are requesting them to expedite the process. The most important part of the agreements will be to ensure the tea farmer is given the first priority," the official said.
Lucy Wachira, a tea farmer from Othaya, said farmers made huge profits in previous years, but the drought had complicated their lives.
"Before the drought, I could harvest about 2,000kgs of tea. However, I am harvesting as few as 10kgs after tea bushes on my four-acre farm dried up," Ms Wachira said.
"I was earning about Sh6,000 per month. However, that has come down to as little as Sh460. And with the current high cost of living, we cannot afford food or even school fees," she added.
Peter Wachira, another farmer, called on the government to drill boreholes in tea-growing areas so that farmers can irrigate their farms during the dry seasons.
"We have never experienced such a drought before. I only depend on tea farming for my survival. I wish we had an alternative source of water," he said.
Patrick Ngunjiri a tea farmer and company secretary for Iruia-ini, Chinga and Gitugi tea factories, said the prolonged drought hit farmers hard.
"Most rivers in this area have dried up as a result, forcing tea factories to buy power from private companies. This has drastically increased the cost of production," said Ngunjiri.
Related Topics