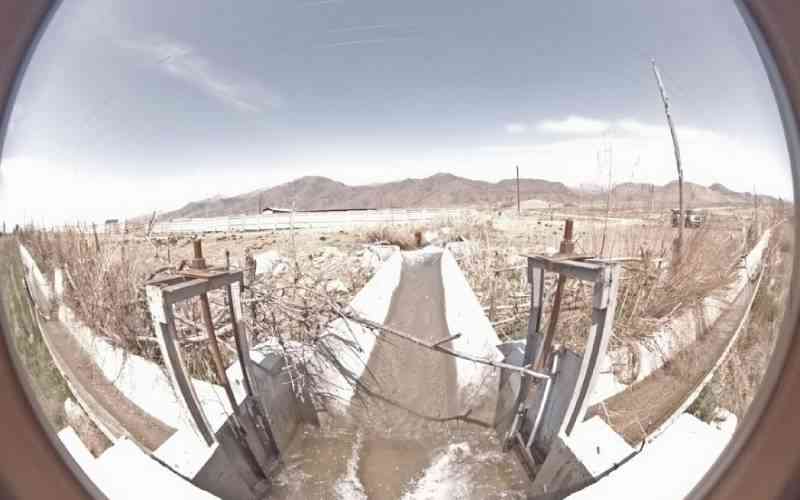 "The precious merchandise of many foreign countries is stored up here. The soil is rich and productive, and yields abundant harvests. The forest trees afford a thick vegetation, and flowers and fruits are plentiful."
The excerpt from "The Great Tang Records on the Western Regions" written by Chinese Buddhist monk Xuanzang in 646, a narrative of his 19-year journey through China and neighboring areas, vividly depicts a richly-endowed Samarkand, one of the most important transit points on the ancient Silk Road linking the East to the West.
The legendary route activated more than 2,000 years ago bore witness to interactions between China and Central Asia through tradings of merchandise and flows of ideas. Now, the footprints of camel caravans have faded away, but cooperation and exchanges between the two sides have remained and become ever thriving.
Bread and butter, and a better life
Water is life, and with water anything is possible. But for Kyrgyz farmers like Evgeny Yakovlev, there was a time when getting water became a big problem.
"Water is not enough. (We have) constant queues. It is very difficult to get water in a timely manner," said Yakovlev, who has been growing crops for 15 years in a village called Kara-Oi, which lies on the northern shore of Kyrgyzstan's Issyk-Kul Lake.
Yakovlev has four hectares of land, on which he nurtures about 1,000 cherry, apple and pear trees, as well as clover and barley. Every summer, Yakovlev needs to water his plants at least three times a day, but the old irrigation system built decades ago could not deliver enough water.
To solve the water problem in Kara-Oi and villages alike, the Kyrgyz government initiated a project in May 2018 allocated from a Chinese grant to reconstruct the country's irrigation system.
Under the project, a reservoir was built by China Railway No.5 Engineering Group Co., Ltd in Kara-Oi with a capacity of 470,000 cubic meters of water. A total of 330 hectares of undeveloped land were put into operation, and the water supply was increased on an area of over 1,000 hectares.
"Before, it was very difficult with water ... Now it's better. We are grateful to the builders," said Arstanbek Zhundubaev, head of the Water Users Association of Kara-Oi.
Ensuring a good life for the people means going beyond water, food and other daily necessities to touch on the experience of life, for example, by making journeys safe and sound. And this is exactly what China and Kyrgyzstan have been cooperating on -- since 2001, about 300 km of roads and more than 10 bridges have been built and reconstructed with joint efforts from both sides.
"More than 20 years, China Road and Bridge Corporation has been implementing large projects in Kyrgyzstan in the road industry," said Ulan Uezbaev, deputy director of the Department of Transport and Road Infrastructure Development of the Bishkek Mayor's Office. "During the implementation of projects, the company also hired citizens of Kyrgyzstan, who learned a lot. I hope that our cooperation will continue."
"This is the street where my sister and I walk ourselves to school each morning," Kasyet Azamatovna, a young girl living in Bishkek, pointed to the newly-paved road outside her front door.
"Look how smooth and neat it is!" she said, bubbling with excitement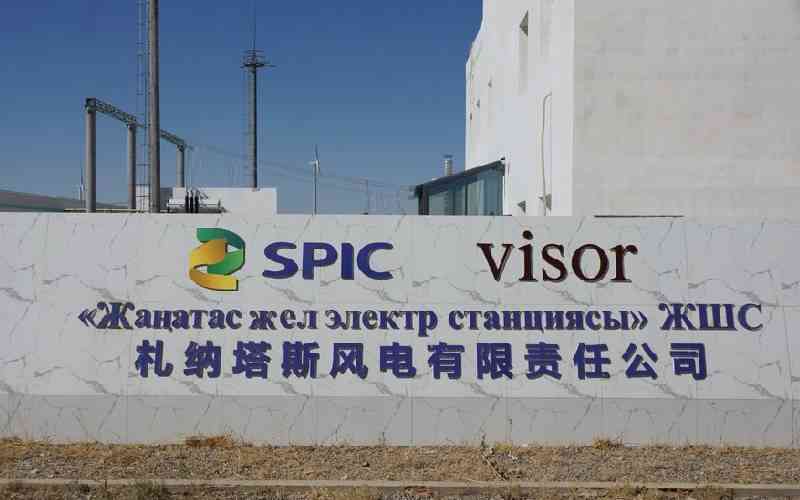 . Go green together
Maksat Abilgaziev, 33, is a Kazakh born and raised in Zhanatas, a run-down town in the country's south that was once the thriving center of phosphate mining and fertilizer production.
In 2020, Abilgaziev quit his electronic engineering job at a local phosphate mine, and became a wind power engineering trainee at the Chinese-built Zhanatas wind farm, one of the largest of its kind in Central Asia.
"Our Chinese friends have brought equipment, investment, technology and experience to Kazakhstan. They have also cultivated clean energy talents in our country. The wind power projects have created jobs and tax revenues for Zhanatas, bringing the town back to life," rejoiced Abilgaziev, whose income has more than doubled in three years.
The studious and industrious man, now a senior at the wind farm, told Xinhua that it was the dream for a better future that prompted his decision for a career change.
Clean energy, including wind power, is what the future holds for Zhanatas, and Kazakhstan at large and what the future should look like, he said.
"We should pursue the new vision of green development and a way of life and work that is green, low-carbon, circular and sustainable," Chinese President Xi Jinping said at the opening ceremony of the Belt and Road Forum for International Cooperation in May 2017. "We propose the establishment of an international coalition for green development on the Belt and Road, and we will provide support to related countries in adapting to climate change."
To put words into action, China has fully integrated the Belt and Road Initiative with Kazakhstan's "Bright Road" new economic policy, and launched 52 cooperation projects with the Central Asian country, with the Zhanatas wind farm as one of the flagship projects.
Put into operation in 2021 with a capacity of 350 million kWh of electricity annually, the wind farm is expected to save about 110,000 tons of standard coal per year and reduce greenhouse gas emissions, compared with thermal power plants.
Another signature project of green cooperation between China and Central Asia is the 100 MW solar power plant seated in the town of Kapchagay in southeastern Kazakhstan's Almaty Region. The plant, jointly invested and built by a Chinese enterprise and Kazakh partners, is one of the largest photovoltaic power generation projects in the country, reducing carbon emissions by 160,000 tons per year.
"With more green cooperation, I believe that in the future, the sky will be bluer, the water will be clearer, and the earth we live on will be cleaner," said Abilgaziev.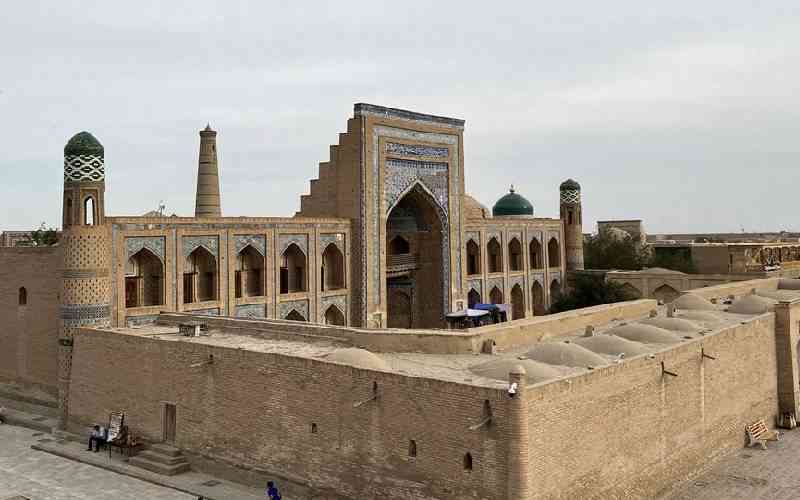 Handshake of cultures
On a refreshing autumn day in September 2022, Xi held talks with Uzbek President Shavkat Mirziyoyev at the International Conference Center in Samarkand, during which a small gift was presented by China to Uzbekistan. The gift turned out to be a miniature of the ancient city of Khiva, which celebrates the two countries' joint efforts to restore the cultural heritage of the ancient Silk Road.
"The preservation and restoration of historical sites in Khiva, a project launched during my visit to Samarkand in 2013, has been successfully concluded, further augmenting the charm of this ancient city," Xi said in a signed article published on Uzbek media ahead of his state visit to Uzbekistan.
"I'd give a bag of gold to visit Khiva," goes a Central Asian saying.
Located in southwestern Uzbekistan, Khiva, a shining pearl on the ancient Silk Road, was built in the 10th century and inscribed in the UNESCO World Heritage Site list in the 1990s. However, due to disrepair, some ancient buildings of the cultural relic sustained damage in varying degrees.
Following Xi's Uzbekistan visit in 2013, China and the Central Asian country announced they would be working together to restore the Amir to'ra madrasasi, the Hasan Murod Qushbegi Mosque and their surroundings in Khiva. A Chinese team arrived at the site in May 2014, and with expertise and dedication to preserving history, the team members had overcome difficulties and successfully completed the restoration work with a minimal intervention approach.
"Our Chinese colleagues do their work very carefully, with love and with all their soul, and try to keep everything in its original form," said Abdullayev Masharib Saydamatovich, deputy director of Center for Promotion of Science of Uzbekistan Academy of Sciences. "Cultural cooperation with China does not stop there. It continues, and restoration work has been singled out as one of the main directions."
True, joint restoration on Khiva only stands as one of the many epitomes of cultural and people-to-people exchanges between China and Central Asian countries. Another dazzling example is the Luban Workshop in Dushanbe, a Chinese vocational workshop program training talents in Tajikistan. The workshop, officially going into service in November 2022, is the first of its kind in Central Asia.
"China's Luban Workshop is recognized as an international vocational education brand worldwide. We believe that Luban Workshop will be of great help to Tajik Technical University in training talents in measurement, green energy and heating, and can promote cooperation and exchanges between the two universities in all aspects," said Shahriyor Sadullozoda, vice rector of Tajik Technical University.
(Xinhua reporters Zhang Jiye in Astana, Guan Jianwu in Bishkek, Li Ao in Tashkent, and Han Liang, Sun Hao and Chen Yin in Beijing also contributed to the story.)
Related Topics