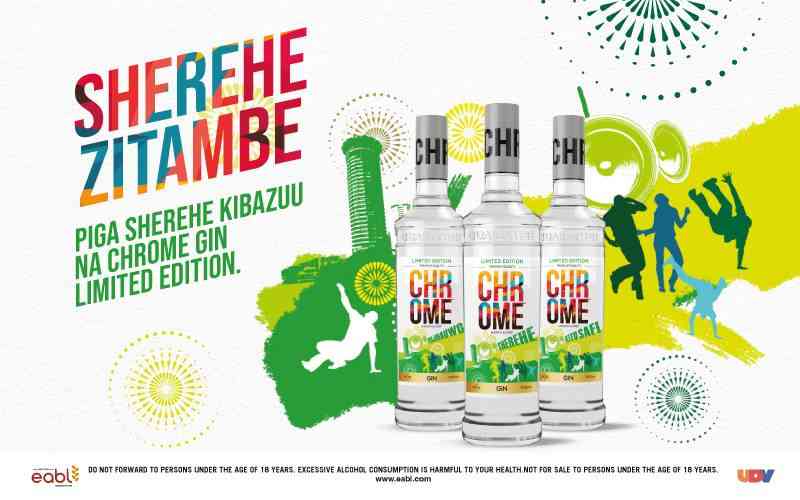 Chrome is currently one of the most popular spirits brands in Kenya among 18 – 24-year-old alcohol consumers in Kenya. Chrome has a trendy and vibrant character that creatively connects with the youth and street culture. This is seen from the product packaging, the billboards and adverts to the Kenyan artists Chrome has chosen to work with.
This year, to keep the look fresh, Kenya Breweries Limited spirit brand Chrome, launched a limited-edition pack for its gin variant on Jamhuri Day weekend at the Nakuru Athletics Club. The new pack features messaging that speaks to the attitude and vibrancy of the brand.
To appeal to the young demographic, the Limited-Edition pack features three messages that highlight Chrome's street celebration theme. These are Sherehe, Kujinauwo and Kitu Safi. These LEPs are on sale now and will available through to March 2023.
The LEP was created to create excitement in the market and give Chrome consumers a new funky bottle with an updated, Limited-edition design. The limited nature of the pack makes it a good gift for consumers to give to each other as a gift, to collect, or simply to share with friends and loved ones during this festive season.
Jamhuri Day weekend saw the entirety of Nakuru painted green as the brand hosted an elevated sherehe to introduce the brand-new limited-edition packs to shelves. This party took place at Nakuru Athletics Club and featured a host of Kenyan talent such as Bensoul, Nviiri the Storyteller, Ssaru, Femi One, Ndovu Kuu and more Nakuru-based artists.
According to brand manager Victoria Mbugua, the launch of this limited-edition pack will serve to elevate Chrome's brand philosophy of encouraging customers to stay true to themselves.
It encourages their customers to stay true to themselves and their roots while assuring them of the guaranteed quality the brand offers.
She adds that they're looking forward to seeing customers collect and share the limited-edition pack during the festive season, even going into the next year. Loyal Chrome customers are assured that nothing about the drink itself has changed. The packaging just became so much more exciting.
The vibrant change is part of the Street Filosofia campaign that seeks to honour the fact that consumers of Chrome come from different regions. It captures the essence of where they come from and a celebration of the values instilled in them as a result, making them the people they are today. Street Filosofia is a campaign that distinctively lives true to the Chrome brand's trendy and vibrant character and creatively connects & resonates with the consumers' street/hood culture.
Interested? The Chrome Limited-Edition Pack will be available at all outlets where Chrome is available, depending on stock availability.
Written by Grace Gikonyo.
Related Topics