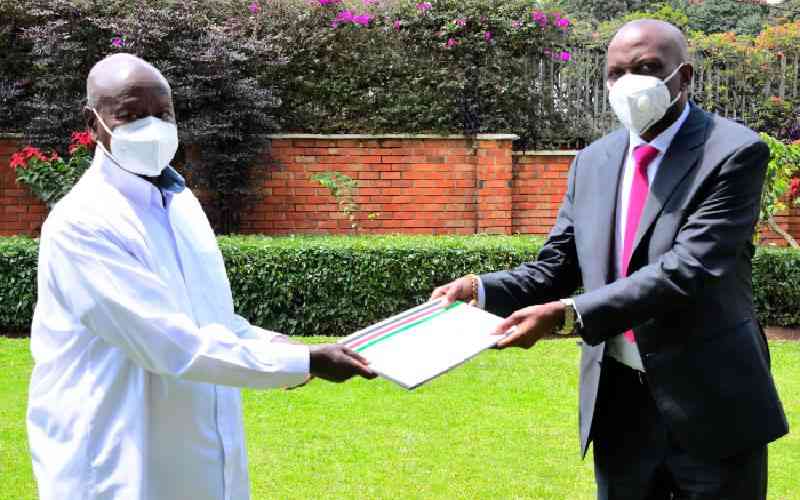 Uganda's President Yoweri Museveni on Friday, January 27 hosted Kenya's Trade Cabinet Secretary (CS) Moses Kuria at the Nakasero State Lodge in Kampala.
According to President Museveni, Kuria delivered President William Ruto's message on Kenya-Uganda trade agreements.
"I received Moses Kuria, Kenya's Cabinet Secretary for Investments, Trade and Industry, who called on me at Nakasero State Lodge this afternoon (Friday, January 27) and delivered a message from President William Ruto. I thank Ruto for opening the [Kenyan] market for our milk, eggs and chicken, among others," President Museveni said on Twitter.
In late October 2022, President Ruto announced plans to lift the March 2021 ban imposed by President Uhuru Kenyatta's administration on Ugandan agricultural produce.
The Kenyan government said at the time that it was protecting its farmers from being disadvantaged by the cheaper produce from Uganda.
When President Ruto assumed office, and subsequently toured Uganda in October, he suggested that the ban on farm produce from the neighbouring nation would be lifted.
"It is our place as leaders and citizens of the East Africa Community (EAC) to work together to transform our borders which today stand out as barriers and convert them to bridges so that goods, people, and services can move across this East Africa without any impediments," Dr. Ruto said on October 9, 2022 during his address as the guest of honour at Uganda's Independence Day celebrations in Kampala.
"There is absolutely no reason why food cannot be available in our region. If there is food in Uganda, it should find its way to Kenya. If there are opportunities in Kenya, Ugandans should be able to access those opportunities," added Ruto.
The ban on agricultural produce from Uganda, especially milk, maize and eggs, saw a significant reduction in the volume of trade between the two nations.
In late October, President Ruto reiterated his decision to lift the ban on farm produce from Uganda.
Speaking at a function of the Kenya Association of Manufacturers (KAM), President Ruto said: "Uganda should bring cheaper milk here because they can produce it more cheaply. We should [also endeavour] to add value to our milk."
Related Topics