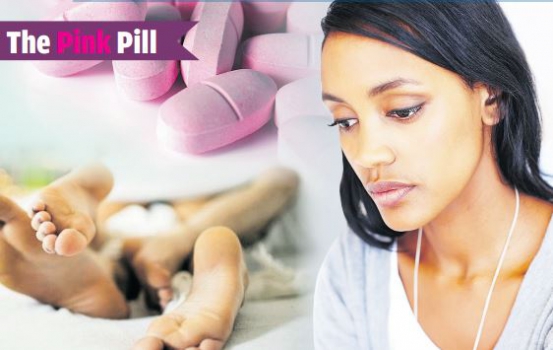 The approval of the female 'viagra' pill has brought to the fore a matter that, at least in Kenya, has remained a conversation in doctors' consultation rooms.
Medical experts appreciate that women have for long suffered in silence due to the condition they attribute to a variety of reasons.
And despite lack of national data, which compounds the problem of understanding and appreciating the matter, global estimates indicate that low sexual drive is present in one out of every five women.
In Kenya, gynaecologists The Standard on Saturday spoke to, confirm that about three in five (an average of 60 per cent) of women who pay them a visit per day complain of complications related to low sexual desire at one time.
Consultant psychiatrist Lukoye Atwoli estimates that one in every two women on mental health treatment reports low libido at one time due to medicines side effects.
This debate comes a month after the US Food and Drug Administration approved flibanserin, to be sold under the name Addyi starting next month, for treatment of hypoactive sexual desire disorder (HSDD) among women in their 40s.
The pink pill got the approval after two failed attempts, but came with caution that it can only be used by women who have not attained menopause, and would only be available from certified health care professionals and certified pharmacies to prevent misuse.
Addyi was initially meant to treat depression but researchers noted that women who used it reported enhanced sexual desire, proving that it could be considered to treat sexual dysfunction.
Medics define low sex drive as a sexual dysfunction if the person feels "significant distress" and the problem has lasted for at least six months and Kenyan experts believe it should be treated via sex therapy and behaviour change.
While warning that this drug should not be equated to the male viagra, Kenyan doctors agree that discussion on the key causes of low sexual desire and how to tackle it should go beyond doctors' confines. The root cause of the problem must be confronted, they say.
"Medicine is not the answer. We have counselling for couples, behaviour change and therapy to address the core cause," says Prof Atwoli.
Kenyatta National Hospital head of Reproductive Health Department John Ong'ech says low libido is largely attributed to professional and personal stress in women across various age groups.
Dr Ong'ech says low libido in women is a multi-dimensional issue that can be addressed by examining the causes of the condition and dealing with problems than settling to popping the pill.
"Stress at home and work can affect anyone and when it begins taking a toll on you, your sexual health is also adversely affected," says Ong'ech adding that a candid conversation with your psychiatrist, clinical psychologist and reproductive health expert will eliminate the need to take this pill.
Obstetrician and Gynaecologist Simon Kigondu notes some women have reported a decreased sex drive while using some hormonal contraception whereas others are affected by medical conditions like those of the heart, diabetes and depression.
"Low libido factors are emotional, physical & medical. Women will have intervals of low libido at various stages in their life and in their cycle but its how it is treated that makes all the difference."
Side effects
Dr Kigondu says the approval of the drug is a boost to the current treatment, which is a prescription of a multivitamin pill known as Ginsomin that boosts the immune system and increases the body's resistance to stress and fatigue.
However, he cautions that the users of the new drug will have to be assessed and advised on the already noted side effects, but dealing with psychological causes is better.
"The drug is for a specific condition that is rare yet it should be addressed with equal seriousness to lessen strife and frustrations in relationships," says Kigondu.
Low libido has also been attributed to deviant nutritional lifestyles that undesirably affect sexual health.
Adopting a healthier diet is key to boosting low libido. Some of the foods believed to boost libido include brown rice, nuts, and fish that contain vitamins B3 and B6, seafood and spinach. Exercise has also been cited as important in maintaining health and happiness, besides increasing sexual desire.
And as a rush to the pharmacy is made in other corners of the globe for this pill, health experts in Kenya say tackling psychosocial factors that affect libido is better, than medication.
The promise of the pill's 'magic' has also attracted critics globally who called for concerted efforts from those in the medical field to consider hormonal changes, aging and change in relationships as significant contributing factors to low libido in women.
However, despite seeing women with low libido Ong'ech insists that Addyi is not a solution for Kenyan women and its introduction in Kenya presents a fertile ground for potential abuse.
"There is no magical bullet to low sexual desire. We need to work on the root cause of stress," he says.
Ong'ech calls for more homegrown solutions to deal with low sexual desire in women. He further warns that marketing of the pill as the female version of the viagra is deceitful because it works differently from the male pill, by targeting receptors in the central nervous system to improve sexual desire compared to viagra in men that affects blood flow to the genitals.
Atwoli agrees with the reproductive health expert on the viability of the new drug in Kenya that in as much as there are psychological factors, a magic pill to treat low libido is not the solution.
That the new libido pill targets women in their 40s who have not attained menopause is another reason that doctors root for a psychosocial management. But Kigondu sees the brighter side of the pill. It will help heal relationships that are often broken by low libido.