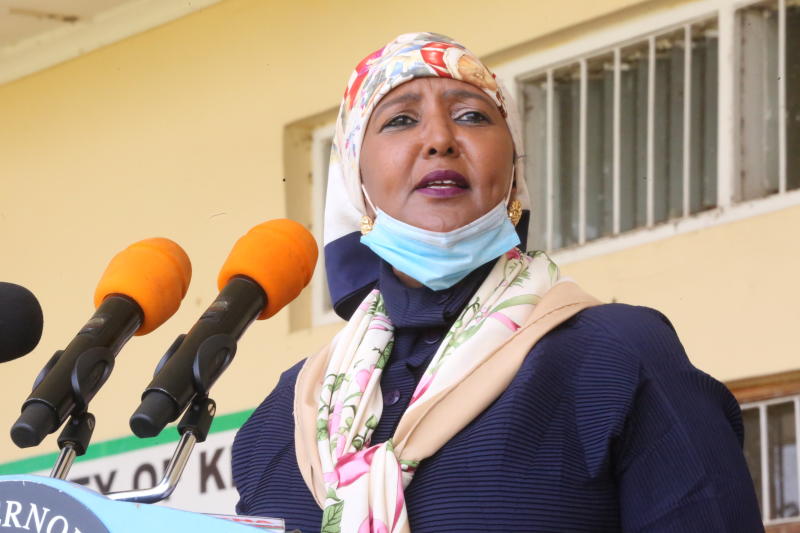 Sports Cabinet Secretary Amina Mohamed has appointed an Advisory Committee that will draw up protocols required for the resumption of sporting activities in the country.
Sporting activities in Kenya were halted in March as the nation took steps to stop the spread of covid-19 that has wreaked havoc around the world.
The committee will comprise of senior officials from the Ministry of Sports, Culture and Heritage and its agencies, experienced federation managers, medics and also representatives.
In a statement released on Tuesday, the CS said the committee, which will be headed by the Chief Administrative Secretary in the Ministry, Hon. Hassan Noor Hassan, is expected to engage all key stakeholders and collect their views on ideal protocols to be put in place before resumption of sports activities.
"Members are expected to recommend protocols that should be applied ahead of permitting resumption of sports, review and make recommendations on any other matter that may affect resumption of
sporting activities," the Cabinet Secretary said.
The Committee's Terms of Reference also include a review of global trends in resuming of sporting activities and exploring the possibility of the resumption of sports activities in the country.
"We are grateful to the Cabinet Secretary for Health, Hon. Mutahi Kagwe for assigning two senior officers to support the Ministry draft the resumption of Sports protocols. I call upon all stakeholders to engage with the Committee as and when they are called upon to do so and urge their indulgence to pause any activities until the protocols have beenfinalised and issued, " CS Amina added.
A report from the team is expected to be presented to the Cabinet Secretary by July 10, 2020.
Below are the Members of the Advisory Committee:
Hon. Hassan Noor Hassan – Chief Administrative Secretary, Ministry of
Sports, Culture and Heritage, Chairperson,
Mr. Pius Metto, Director General, Sports Kenya,
Ms. Rose Wachuka, Policy Advisor, Ministry of Sports, Culture and
Heritage
Dr. Walter Ongeti, Strategy Advisor, Ministry of Sports, Culture and
Heritage
Mr. Japson Gerald Gitonga. Ag. Commissioner of Sports, Ministry of
Sports, Culture and Heritage
Ms. Agnes Oluoch, President National Paralympic Committee of Kenya,
Dr. Naim Bilal, CEO, Kenya Broadcasting Corporation,
Mr. Elias Makori, Editor (Sports), Nation Media Group,
Dr. Wycliffe Makanga, Sports Medic,
Dr. Doreen Odhiambo, Ag. CEO Kenya Academy of Sports,
Dr. Japhter Rugut, CEO, Anti-Doping Agency of Kenya,
Ms. Rose Wasike, Registrar of Sports,
Mr. Barnabas Korir, Athletics Kenya
Mr. Francis Mutuku, Secretary General NOC-K,
Ms. Christine Mangwana, Head of Legal Ministry of Sports (Secretary),
Mr. Kweya G. Obed Matuli, Sports research scientist
Dr James Ochola Ondiege, Sports Medic
Ms Sylvia Kamau, Sports expert
Mr. James Odongo, Head of Planning, State Department of Sports
Mr. Francis Odera, Principal Accountant, State Department of Sports
Mr. Felix Ochieng, Administrator
Mr. Gamaliel Omondi, Ministry of Health Representative
Mr. Festus Karani, Ministry of Health Representative