President Uhuru Kenyatta has challenged local tennis administrators to make the discipline a public sport.
The President was speaking during talks with visiting International Tennis Federation (ITF) President David Haggerty at State House, Nairobi, on Wednesday evening.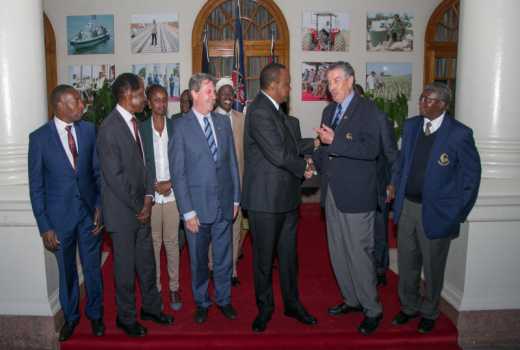 The ITF president presided over the groundbreaking ceremony of a tennis project in Kasarani on Wednesday before opening the ITF East Africa High Performance Centre (EAPTC) along Masaba Road in Upper Hill, Nairobi.
While committing his government to help put up an ambitious Sh1 billion facility in Kasarani Sports Stadium, Uhuru urged tennis officials to take the game to the people.
"Tennis has not been available to our people. We want to make it a public sport," he said.
The President said it was high time Kenya followed the example of the US, where many tennis champions honed their skills in public courts rather than exclusive clubs for the well-to-do.
The President said even though the Government had allocated 10 acres of land worth Sh300 million for the project, besides Sh30 million for the first phase, the budget would come up for review in the new financial year, with more funds being allocated.
"Making tennis a public sport will inspire youths and that is what is important for us," the President said.
Finance committee
Haggerty said ITF would in the next one month disclose how much they would donate to the project after the finance committee meeting in London in two weeks' time.
"We are committed to the cause, but we must first figure out the details and specifics of the project," said Haggerty.
Earlier on Wednesday, Haggerty opened the EAPTC in a ceremony attended by National Olympic Committee of Kenya President Paul Tergat, Confederation of African Tennis President Tarak Cherif, ITF London office Project Administrator Frank Couraud and Tennis Kenya President James Kenani.