Unfavourable China-Kenya trade leaves Sh380 billion gap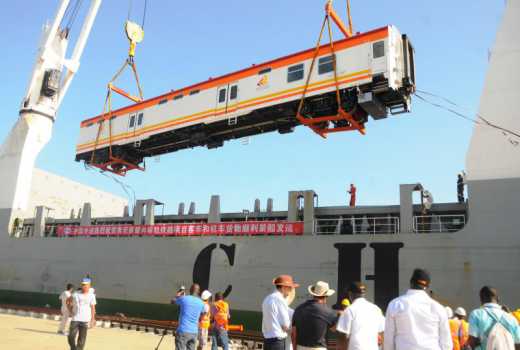 A walk around Nairobi's streets may give an impression that Chinese merchandise may have been in the country for decades - virtually filling all aspects of the lives of many Kenyans.
China has, however, not always been the leading source of imports for Kenya.
The country became the leading source of goods into Kenya in 2015, following her aggressive marketing strategy as well as a focus on the close ties with the East in the initial years of the Jubilee administration.
This saw imports from China grow faster. By 2017, they accounted for over a fifth or 22.6 per cent of all goods coming into Kenya.
According to Kenya National Bureau of Statistics (KNBS), the value of imports from China in 2017 reached Sh390 billion, a 20 per cent jump from Sh337 billion in 2016. This is against the total imports of Sh1.7 trillion during the year.
China as a source of imports for Kenya is in comparison to India that stood at Sh170 billion in 2017, a 17 per cent decline from Sh205 billion in 2016. India was the largest exporter to Kenya in 2014.
The country has however sustained a declining trend since 2014 when the value of imports from India stood at Sh264.5 billion, which was in comparison to China's Sh248.6 billion in the same year (2014).
India has been a source of medicine, medical equipment and refined petroleum.
Among the factors that have resulted in the rapid growth of imports from China include the cheap prices of Chinese goods, aggressive marketing of products and services by its Government abroad as well as Chinese contractors snapping mega infrastructure projects that are built using Chinese equipment and raw materials.
Jubilee administration's focus on the East in its initial years came after the West disapproved Uhuru Kenyatta's and William Ruto's candidature.
This was due to their cases at the International Criminal Court. It may have also helped firm up China's trade grip on Kenya.
Despite such huge growth in the value of goods to Kenya from China, exports to the Asian country have not kept pace. In 2016, Kenya exported goods worth Sh10 billion.
The dismal export earnings from China can to an extent be due to a tactless approach in how Kenya has engaged the Far East nation. According to a recent McKinney report, Kenya was identified among the African countries that are yet to figure out how they can take advantage of their relations with China.
"Kenya, Nigeria, and Tanzania do not yet have the same level of engagement with China as Ethiopia and South Africa… These three governments recognise China's importance, but they have yet to translate this recognition into an explicit China strategy," said the report.
"Each has several hundred Chinese firms across a diverse set of sectors, but this presence has largely been the result of a passive posture relying on large markets or historical ties; much more is possible with true strategic engagement."
Kenya imports a mix of goods from the Asian nation but the importation of Standard Gauge Railway equipment last year may have contributed to the surge in the value of imports.
Chinese imports to Kenya have more than doubled over the last five years, growing from Sh167.2 billion in 2012 to last year's Sh390 billion.
The imports by Kenyans are in comparison to the rest of Africa, where though trade is still skewed in favour of China, the gap is not as big as it is in the case of Kenya. African countries in 2016 imported goods worth $88 billion (Sh8.8 trillion) and exported goods with a value of $39.9 billion (Sh4 trillion).
African countries that are major exporters to China and helped reduce the trade gap include Angola, South Africa, the Democratic Republic of Congo and Zambia, that sell minerals and oil to China. Angola's exports reached $13.9 billion (Sh1.4 trillion) in 2016.
Major Chinese imports to Kenya include electronics, motorcycles, motor vehicles spare parts, furniture and clothes.
Other than imports, China has a stronghold of Kenya in other areas including being the single largest lender to the country, with debt owed to the Asian giant standing at over Sh250 billion.
Chinese firms have also made inroads across different sectors in Kenya, particularly in the mega infrastructure projects. The overwhelming presence of China in Kenya and Africa, as well as the imbalanced relations, has seen western power caution Africa.
The most recent of such warnings to African to scrutinise the deals they get into with China was by the immediate former US Secretary of State Rex Tillerson during his last official duty, which was a visit to Africa.
"We are not in any way attempting to keep Chinese investment dollars out of Africa, they are badly needed. However we think that it is important for African countries to carefully consider the terms of these investments," Tillerson said.
"We witness the model that the Chinese follow, they do not bring significant job creation locally, they do not bring training programmes that enable Africans to participate more fully in the future and often times, the financing models are structured in a way that the country when it gets into trouble financially loses control of its own infrastructure or resources."
"Our message is for countries to consider carefully what the terms of those agreements are and not forfeit any elements of sovereignty as you enter into these agreements with China."
Tillerson's comment vexed China, which fired back and accused the West of reneging on its commitments to Africa.
"Developed countries should deliver on their commitments to Africa and develop their relationship with a view of supporting Africa's peace, development and prosperity instead of making irresponsible remarks on African countries efforts to pursue their own development and ongoing cooperation with other countries," said China's Minister for Foreign Affairs Wang Yi.