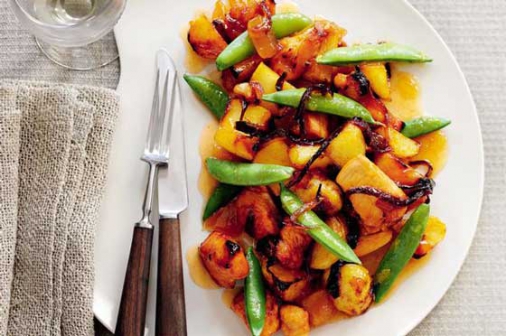 This healthy yet effortlessly yummy will make it easy to stick to your diet plan
Serves 4
Ready in about 40 minutes
900g baby new potatoes, cut into small bite-size pieces
4 skinless chicken breast fillets, cut into bite-size pieces
1 large red onion, finely sliced
Salt and freshly ground black pepper
4 level tbsp Sharwood's Mango Chutney
280g sugarsnap peas
Preheat your oven to 200°C/Fan 180°C/Gas 6. Place the potatoes, chicken and onion in a roasting tin and season well.
Mix the mango chutney with 4 tbsp water and add to the chicken.
Cook in the oven for 30-35 minutes, stirring in the sugarsnap peas for the final 5 minutes. Divide between 4 plates and serve.