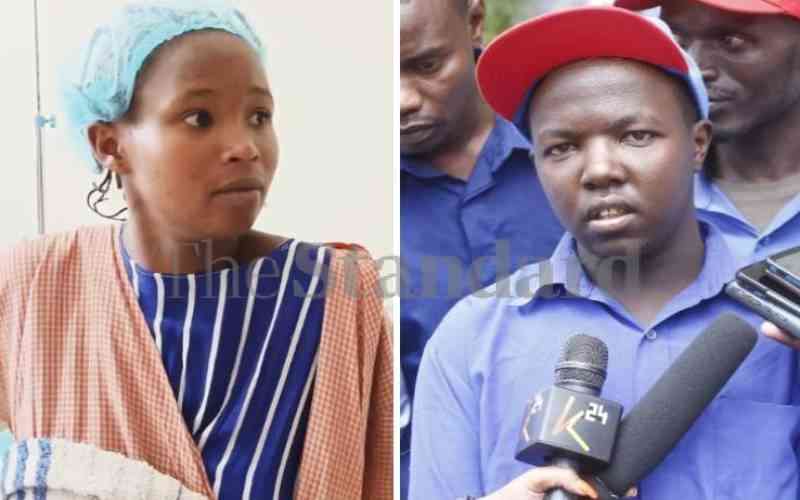 Simon Ndungu, a 28-year-old man from Bahati in Nakuru County who works as a driver for 2NK Sacco, is now a father of six.
His 25-year-old wife, Margaret Wairimu, gave birth to five babies - four girls and a boy - at the Nakuru Level 5 Hospital on Tuesday, January 31.
Wairimu was admitted to the facility on January 27, when she exhibited pregnancy complications at 25 weeks (slightly over six months).
The Medical Superintendent of the Nakuru Level 5 Hospital Dr. Asha Maina told The Standard that they had to conduct Caesarean Section delivery on Wairimu to save her life and her children's.
The newborns, who are underweight and pre-term, are currently under medical watch, said Dr. Maina.
"The babies, who are in incubators, had immature organs," said Dr. Maina.
Incubators are important medical equipment that provide controlled environments, including temperature, to support the development of premature and ill babies.
Dr. James Waweru, the lead obstetrician at the Nakuru Level 5 Hospital, told The Standard that a pregnancy of multiple babies occurs when a woman has one egg splitting into several, or when she releases multiple eggs simultaneously.
Wairimu's husband, Simon Ndungu, says he's now a father of six - five daughters and one boy.
"Our first born child is a 4-year-old girl. Following the birth of the five babies, my wife and I now have six children," he told The Standard.
"I thank God for making me a father again. Many people wish to get children, but they are unable to for one reason or another. Some people steal newborns, others visit the witchdoctor's den to get children, to no avail," he said.
"I'm urging the well-wishers out there, or even the County Government of Nakuru to help me raise the five extra children. Without help, it will be difficult for sure bringing them up," added Ndungu, whose spouse is a housewife.
According to Ndungu, prenatal visits indicated that his partner was expecting three children, and not five.
"During the prenatal visits, scans conducted on the mother suggested that she was expecting triplets. It appears the extra two children couldn't be seen under the scan," he said.
"I had not prepared to be a father of five more children at once. Yes, I'm shocked by the new development, but happy nonetheless."
Ndungu, a 2NK Sacco driver, said he was transporting passengers to Nairobi on Tuesday, when he was informed that his spouse had gone into labour, prompting him to hand over the vehicle to another driver.
"When I received a call informing me that my wife was due for delivery, I cancelled the trip and returned to Nakuru," he said.
Ndungu's co-worker Joshua Kamau told The Standard that the 28-year-old has been a key pillar to his wife and child.
"He is young but very responsible," said Kamau.
"We will support him as much as possible. Being a father of six with little income is not easy," added Kamau.
Related Topics