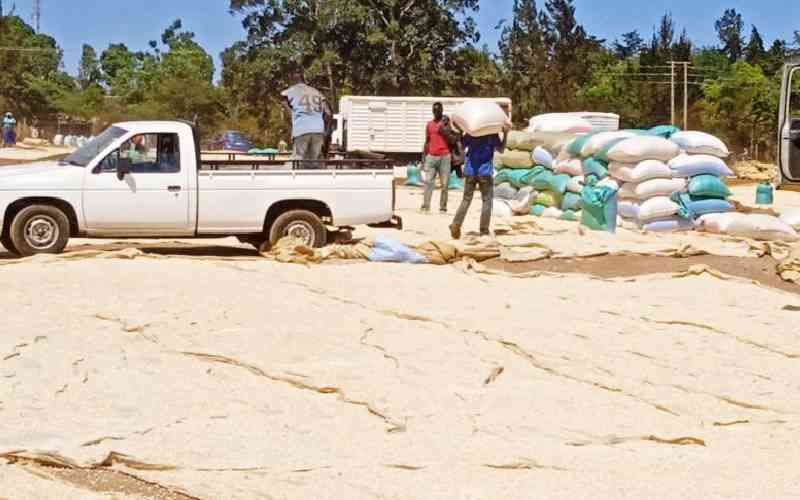 Maize production in Nakuru County fell by 15 percent in 2022 with low rainfall and high prices of farm inputs blamed for the drop.
As a result, consumers have been warned to brace for shortage and harsh times with the prices of maize flour expected to rise further.
This came as farmers challenged the government to increase the number of subsidized fertilizer bags that an individual is expected to get before the planting season.
This emerged during a farmer's field day in Ndondori area where farmers were challenged to prepare their farming programme in advance to avoid losses like last year.
According to John Kamanja from the Ministry of Agriculture, maize farmers were adversely affected by the high prices of fertilizer and seeds.
"Many farmers opted to plant without fertilizer as a bag was going for between Sh6,000 and Sh7,000 and many could not afford this," he said.
The senior officer admitted that this had played a role in the drop in the harvest with the ongoing drought worsening the situation.
"Maize production in the county dropped by 15 percent and this was attributed to the poor rainfall pattern and planting the wrong seed variety," he said.
Kamanja was however optimistic that things would be different this year after the government promised to supply farmers with subsidized fertilizer.
The agricultural officer noted that if well prepared, one acre in the county had the capability of producing between 18 and 30 bags of maize.
"We are asking farmers to register with the Chiefs so that they can get in time the subsidized fertilizer which the government has promised," he said.
One of the top farmers Joseph Ndung'u admitted that the high cost of farm inputs had affected the harvest from his six acre farm.
He noted that in a good season, he was harvesting a total of 80 bags adding that he managed to get 10 bags last year.
"The high prices of fertilizer were the main reason for the drop in maize harvest and we hope the government will address this," he said.
This was echoed by another farmer Purity Muthoni who termed 2022 as the worst year for farmers due to the harsh weather which affected food security.
"Due to the economic challenges we did not use fertilizer in planting maize and the crop performed dismally due to the erratic rainfall," she said.
Related Topics