Home
/
Easy recipe: A treat for your eyes and tummy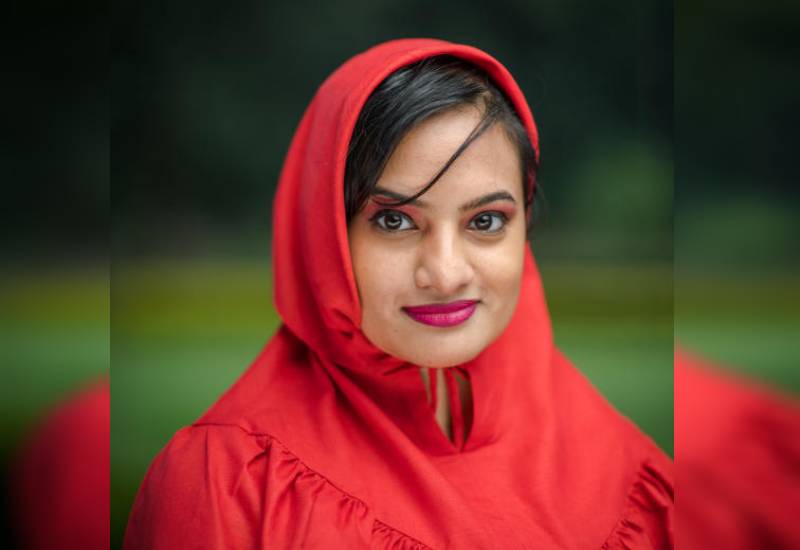 Zahra Jalalkhan, chocolatier and pastry chef at Choco Bot, shares the recipe that recently won her an award at a cooking competition.
Rainbow charlotte royale cake
Preparation Time: 2½ Hours (excluding chilling and setting times)
Serving: 4 to 5 pax
Preparation steps: 6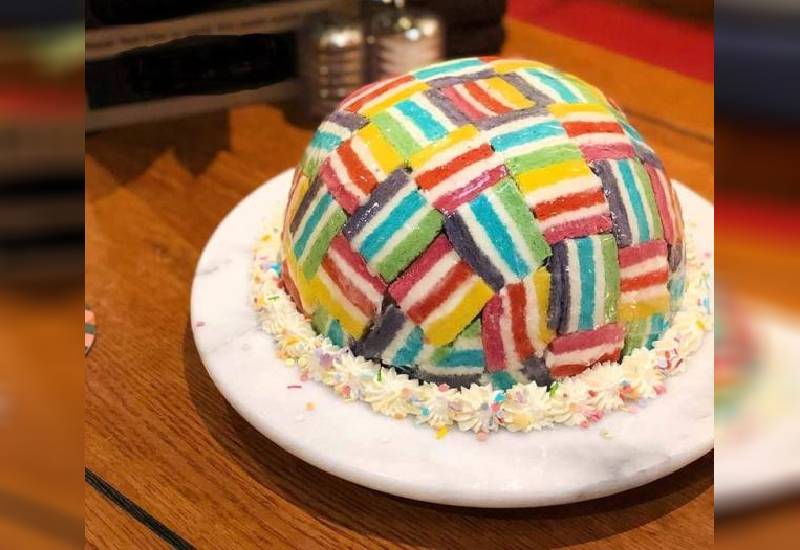 Step 1 – Preparation of the Rainbow Sponge Layers
Ingredients:
8 eggs (separated into yolks and whites)
40 grammes caster sugar (first measure)
80mls milk
80mls oil (vegetable or any other neutral oil)
1 teaspoon vanilla extract
60 grammes plain flour (sifted)
60 grammes corn flour (sifted)
Salt (pinch)
2/3 teaspoon cream of tartar
120 grammes caster sugar (second measure)
Liquid food colourings in purple, blue, green, yellow, red, and pink - 10 drops, 1 tsp each
Method:
1. Preheat the oven to 160°c. Prepare three baking trays and parchment paper. Grease the trays with butter or shortening and line the trays with the prepped parchment paper.
2. Whisk the egg yolks and the first measure of sugar until light pale yellow. Add the oil, milk and vanilla and whisk until incorporated. Next, add in the plain flour and corn flour and whisk until you have a smooth batter without lumps.
3. Next, whip the egg whites until frothy. Add in the salt and cream of tartar and whisk whilst gradually, adding the second measure of sugar until you have a glossy meringue with stiff peaks.
4. Add half of the meringue to the egg yolk batter and whisk gently to combine. Then fold in the remaining meringue using a rubber spatula.
5. Divide the batter into six bowls. Put 1 tsp of food colourings of choice per bowl.
6. Pour two of the prepared coloured batter per baking tray and bake in the oven for 15-20 minutes.
7. Once baked, allow the sponge cake layers to cool, rimming away any unwanted edges.
Step 2 – Preparation of the Butter Cream Frosting
Ingredients:
2 cups powdered sugar
½ cup of butter or margarine
1tsp of vanilla extract
Few drops of orange juice
Method:
1. Place the butter/margarine in a bowl and whisk, gradually adding in the powdered sugar until incorporated.
2. Add in the vanilla and orange juice and whisk for three to five minutes to get a pale fluffy texture.
Step 3 – Preparation of the Vanilla Whipped Cream
Ingredients:
1 cup (240mls) cold heavy cream or heavy whipping cream
2 tbsps confectioners' sugar or granulated sugar
1/2 teaspoon pure vanilla extract
Cream of tartar (pinch)
Method:
1. Whip the heavy cream, sugar, and vanilla extract for about three to four minutes until medium peaks form.
2. Add in cream of tartar and whisk to stiff peaks.
Step 4 – Preparation of the Strawberry Infused Jelly
Ingredients:
1 cup (200 grammes) superfine sugar
2 cups (600mls) room temperature water
Strawberry essence
1/4 cup (75mls) cold water
11 grammes powdered unflavoured dairy gelatin
5 Fresh strawberries
Method:
1. Place 1/4 cup cold water into a small dish and sprinkle the powdered gelatin into the water, leaving it untouched for up to five minutes.
2. Place the sugar and two cups room temperature water in a large saucepan and bring to a boil. Boil vigorously for five minutes and remove the pan from the heat and let it cool.
3. Stir in the gelatin-water mixture and simmer gently (do not allow to boil) until the gelatin has completely dissolved. Add in the strawberries essence.
4. Transfer to a mold and place into the refrigerator to set. Midway between setting, add in the fresh strawberries. Leave to fully set overnight.
Step 5 – Preparation of the Chocolate Mousse
Ingredients:
1 cup cold heavy cream
3/4 chocolate chips or coarsely chopped chocolate
Method:
1. Heat 1/2 cup of the cream for one minute. Add 3/4 cup chocolate chips and stir to combine. Set the bowl aside for five minutes to allow the chocolate to melt.
2. Whisk the chocolate and cream together until smooth. Set aside to cool.
3. Place the remaining cold cream in a bowl and whisk until stiff peaks form.
4. Fold the whipped cream into the cooled chocolate mixture with a large spatula in three additions.
Step 6 – Assembling the Rainbow Charlotte Royale Cake
Method:
1. Spread the buttercream over the sponges, sandwiching the assorted colours between one another into stacks. Leave to chill in the fridge till the cream firms up.
2. Portion each trimmed stack into 2-inch-wide portions to get 'finger sandwiches'. Slice each 'finger sandwich' into 1/4-inch-thick squares.
3. Select a deep glass bowl and place the sponge layer square in the middle, and subsequently place the alternating squares in a weave pattern around the central square, neat side down. Once built up, cover with cling film and chill for 15 minutes or till firm.
4. Once firm, spread a thick layer of whipped cream all over the inside and chill for 15 minutes. Thereafter add in the strawberry jelly alongside the fresh strawberries. Allow it to chill for 15 to 20 minutes.
5. Once firm, pour in the chocolate mousse until 1/4 inch below the rim of the sponge line and place the remaining sponge squares over the top and cover with cling film. Let it chill in the fridge overnight.
6. Once the Charlotte Royale has chilled, tip the bowl over a 12" cake stand. Slowly remove the bowl and peel off the cling film from the Rainbow Charlotte Royale. You can then decorate the outside by piping a border using a cream of your choice and garnish it with fruits or anything to your liking.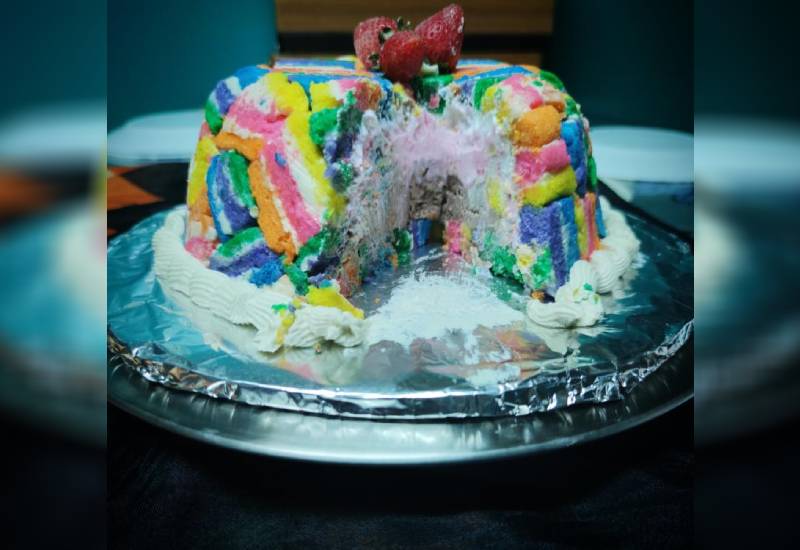 Related Topics