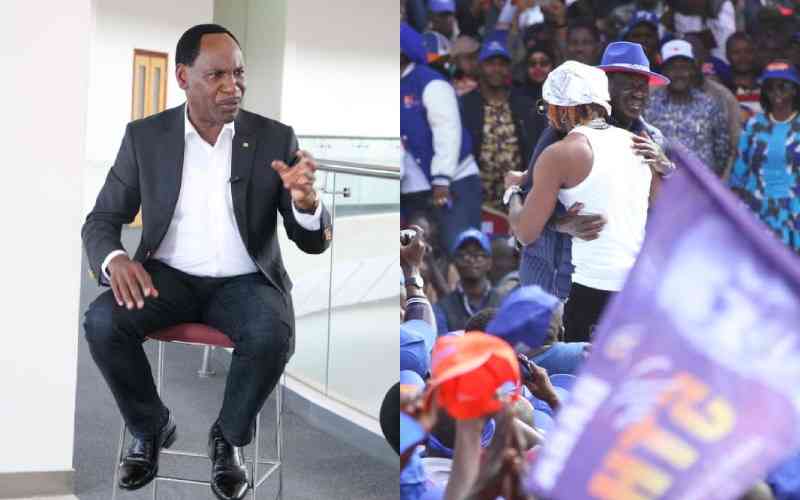 Diamond Platnumz has been trending for three consecutive days now following his performance during an Azimio rally at Kasarani Stadium over the weekend.
A number of Kenyan musicians were far from pleased with Raila Odinga's team for inviting a 'foreign' artiste to grace his final political rally ahead of the polls. Demeaning? Maybe maybe not.
Music Copyright Society of Kenya CEO Ezekiel Mutua has now contributed to the discussion, putting into perspective why both Azimio and Kenya Kwanza's events were headlined by non-local artistes; Diamond and Solomon Mkubwa respectively.
"Sad that at critical and defining events like the final 2022 Presidential campaign rallies yesterday, it was non-Kenyan musicians who brought the curtains down.
"Diamond Platinum [sic] was the show stopper at Azimio's rally at Kasarani while Solomon Mkubwa was the crowd puller for Kenya Kwanza in Nyayo Stadium. So why was it not Kenyan artists getting the premier slots? Was it that our music is low quality to fit such occasions or do we lack negotiation skills?" he asked.
Mutua revisited a previous incident this year when renowned boy band Sauti Sol threatened to take legal action on Azimio for using their song 'Extravaganza' without their permission during the unveiling of Martha Karua as Odinga's running mate.
"The former Prime Minister Raila Odinga's social media accounts have without license nor authority used one of our more popular original compositions, 'Extravaganza', as a soundtrack to the announcement post of the running mate.
"We did not license this song to the Azimio la Umoja campaign neither did we give any consents for its use in the announcement of their Vice-Presidential candidate," read part of the statement.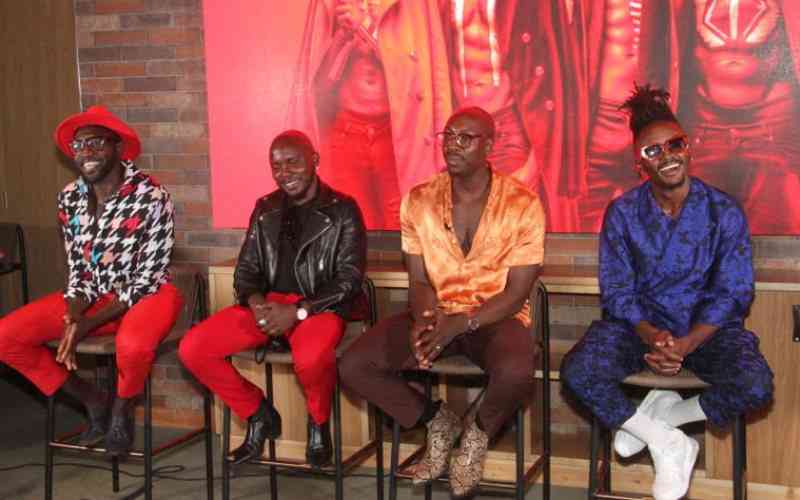 According to the MCSK boss, the matter should have been resolved quietly since the copyright body had licensed Odinga's team to use music owned by its members.
He called on Kenyan entertainers to conduct a self-evaluation and look at the broader picture if local music is to be given the respect it rightly deserves.
"There's more to music than money. This debate reminded me of the 2002 craze created during the Mwai Kibaki presidential campaign by the use of the song Unbwogable by Gidi Maji Maji.
"Whether there was monetary gain or not, the two musicians stepped into a historical moment and their song defined the campaign that led to the end of the 24 years Moi rule and ushered in the much desired political change," he wrote.
Mutua said MCSK is striving to ensure local artistes are appreciated but a lot still needs to be done.
On inviting foreign musicians to Kenya, the former KFCB boss said there must be policies to ensure they pay higher rates to perform and the money collected can be reinvested to build a much stronger industry.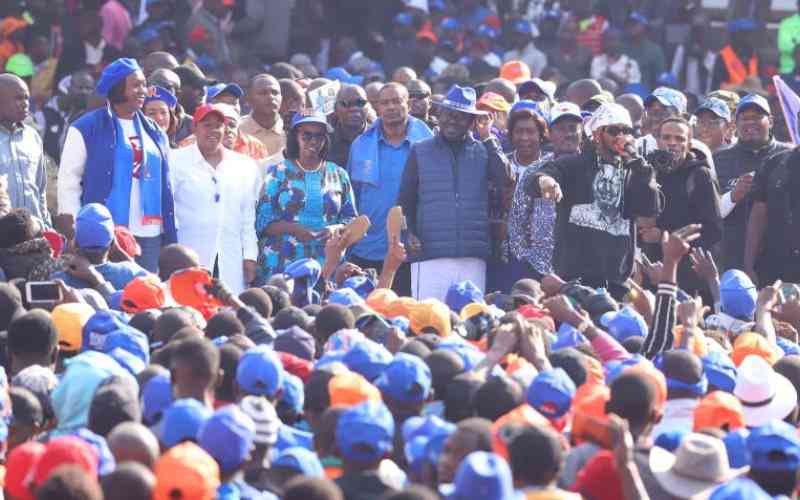 "While we cannot stop anyone from engaging foreign musicians, there must be a policy to ensure that such foreigners pay higher rates for licenses to perform here and that such monies go to build our industry. To achieve this, we need unity of purpose and we need policy.
"Nowhere in the world has the music industry grown when artists act selfishly and individually. My dream is to see a united music industry that will be a force to reckon with. As long as we remain divided, politicians, even the Government will do what top political parties did yesterday and feel nothing about it. Change must begin from within," he wrote.
Related Topics