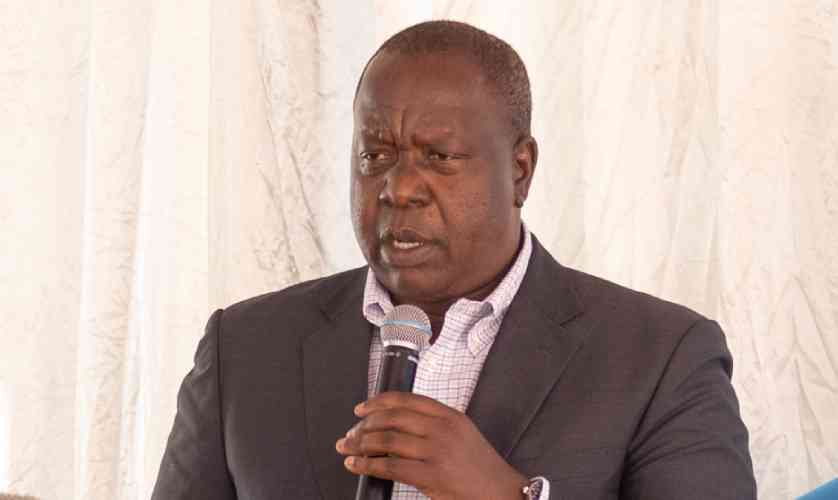 Former Cabinet Secretary for Interior and Coordination of National Government Dr. Fred Matiang'i has maintained that some government projects were initiated during Uhuru Kenyatta's regime but the current regime is taking the credit.
Matiang'i who was speaking at the late Prof. George Magoha's home in Lavington, Nairobi, eulogized Magoha as forthright in undertaking critical projects.
"Prof. Magoha was so committed that he actually travelled to Uganda himself. Because when we were looking at various systems around, we thought we could borrow a leaf from here and there. That which was so close he was so committed that he travelled himself. He said he didn't want hearsay. He came here, brought the report together with a critique on what we would do and we had a very enjoyable time doing a hard and pleasurable task of remaking the education sector,"
Matiang'i further proceeded to narrate how the late Magoha reformed the sector, handling projects such as the National Education Management Information System (NEMIS)
"We live in a country where people are so dishonest, they love lies and behave as if nothing happened yesterday and are now lecturing us about things they think they are new. If Prof. Magoha had not served at the Ministry of Education, your Excellency [former President Uhuru] your plan for National Education Management Information System (NEMIS) would not have worked," said Matiang'i.
The former CS further criticised those he said were taking credit for former President Uhuru Kenyatta's projects.
"And let nobody take credit for this. This (NEMIS) was President Kenyatta's plan together with the World Bank and that's how we got where we are at the Ministry of Education. Your plan on expansion of school infrastructure through 20,000 classrooms would never have worked," said Matiang'i.
On his part, Kenya's fourth president Uhuru Kenyatta said he was not concerned about what the administration was saying about him.
"People may say whatever they want to say. They will speak, but they will go back to the truth. Let them say what they want. They will come back there. One who doesn't have anything else to say must just speak. Let them blabber, we will continue with our own business." said Uhuru.
Uhuru and Matiang'i were speaking after visiting Prof. George Magoha's home where they were accompanied by other former cabinet secretaries like Treasury's Ukur Yattani and ICT's Joe Mucheru.
Related Topics