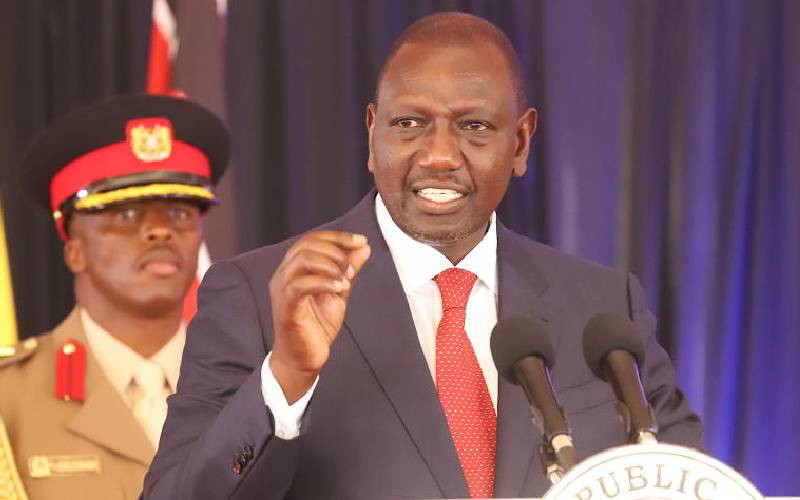 President William Ruto's government is now fully constituted following the swearing in of 51 Principal Secretaries yesterday.
Their appointments were gazetted on Thursday after the National Assembly concluded debate on their vetting reports. The exercise had been delayed following a petition that sought to bar MPs from vetting them.
Ruto presided over the fete at State House where he issued a stern warning to the officials, demanding that they must deliver.
He told the PSs that they are expected to diligently expedite their duties to serve Kenyans and not take their new postings to be private positions.
"The jobs and responsibilities and positions you have been given are not private, family or community position but opportunity to serve the entirety of the people of Kenya. I expect every PS to diligently work to the best of their ability to serve the 53 million Kenyans," he said.
Ruto laid bare the fact that Kenyans had high expectations of his administration and the burden of delivery squarely lay on the shoulders of the PSs who must work as a unit.
"We must work in a manner that creates the synergy to build around the strengths of each and every one of us. I want to promise that as team leader that I will work with each and every one of you to deliver to the people of Kenya," observed the Head of State.
However, appointment of Chief Administration Secretaries is still awaiting a decision by the courts.
Ruto also disclosed that over 3.5 million people had registered on the Hustler Fund platform and Sh700 million loaned out as of 7am yesterday.
"I am happy that we are seeing the trend of payment even as Kenyans borrow. We are starting the journey as a country to a single digit credit regime that will ensure that citizens have access to affordable credit so we can use it to drive the economy of our country and the progress of our nation," said Ruto.
The President also delved into the Competency Based Curriculum (CBC) promising to lower its cost.
"We must however not dump our children in school and leave them to teachers. They are our responsibility and we should follow through, "he added.
Related Topics