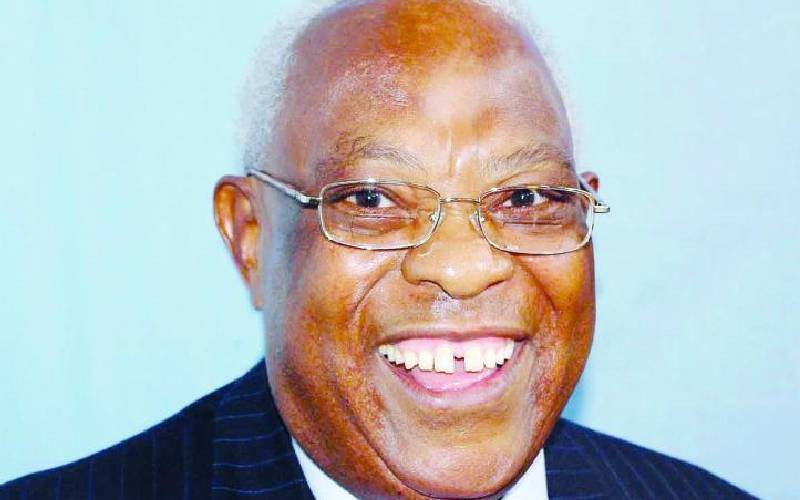 There are tycoons and then there is Stanley Munga Githunguri.
The peasant boy who metamorphosised into a real business mogul at the height of Kenya's golden age had a knack for ripping apart the rule book and writing his own.
The man with a genial smile who wore his long white hair like a mane not only altered Nairobi's skyline but also defined how business was transacted, never losing sight of his money.
And woe unto anybody who wanted to blindside him in a deal.
Githunguri started off as a District Officer but was never cut for the civil service since he had a penchant for questioning orders he perceived to be idiotic.
While serving as DO in Chuka, Meru, Eastern Provincial Commissioner Eliud Mahihu had a dislike for him and disdainfully referred to him as an American cowboy.
When Mahihu sought to discipline the young Githunguri by transferring him to Isiolo for refusing to furnish his house with "presidential' curtains, Githunguri defied him and instead worked his way to the Coast where he would later launch his first business.
Close to Jomo
When he transitioned from the civil service, Githunguri ventured into banking after he was employed by the National Bank of Kenya where he ultimately rose to be chairman.
There have been murmurs about Githunguri's close relationship with Mzee Jomo Kenyatta. He was in effect, the president's teller.
Stories abound about how Githunguri would be driven to State House armed with a safe stashed with cash and executive pens and sheaves of cheques for Kenyatta to sign.
Here, Githunguri would open the safe and count out the exact figure Kenyatta wanted. He would also receive cheques for the president's personal bank account.
Duncan Ndegwa, Kenyatta's private secretary, has chronicled in his memoir Walking in Kenyatta Struggles: My story, how the president loved staring and feeling freshly minted bank notes.
During this golden era, when Gema, an association of powerful politicians and businessmen mainly from Kiambu and Central Kenya reigned supreme, Githunguri had a special place in Kenyatta's inner sanctum, "the Kiambu Mafia."
The chairman of Gema (Gikuyu, Embu, Meru Association), Njenga Karume, has described in his memoirs Beyond Expectations: From Charcoal to Gold, how Githunguri was arrested for stealing money from his bank.
"At one time, Githunguri who was chairman of the National Bank of Kenya was accused of stealing the institution's money and arrested. The following morning, I phoned (Charles) Njonjo and made an appointment, and went to his office."
Karume, accompanied by Attorney General Charles Njonjo's deputy James Karugu pleaded for more than an hour for Githunguri to be freed on bond. Njonjo insisted that Githunguri had to face the music for stealing.
"Every time it seemed like I was about to give up, Karugu would stamp his foot down on mine under the table. I almost screamed out in pain because I suffered from gout," Karume writes.
Special bond
That Githunguri and Karume had a special bond is not in doubt. Gema had an ambitious plan of recruiting 20,000 members. Each member was expected to pay Sh5,000. This money, sources say, was given to Githunguri for safekeeping.
There have been questions about what happened to the money and where the interest it had accrued was banked but Githunguri and Njenga are no longer around to offer answers.
Coming at a time when coffee was smuggled through the Kenya-Uganda border, Chepkube was a password to riches and racketeers flocked to the border in search of the commodity, Githunguri covertly financed some traders and made a fortune from the smuggling racket.
Some of his millions minted from coffee and the sale of maize inspired his most iconic investment, Lilian Towers near the University of Nairobi. Its design was inspired by the cereal trade and explains the building's uncanny resemblance to a maize cob.
The construction on a plot Githunguri bought from Kenyatta was not without controversy. First, when he realised that bylaws then could not allow him to construct more than six floors, he ran to his godfather.
Godfather issues orders
A trembling Nairobi mayor, Andrew Ngumba, was instructed by the head of state to approve the plans which proposed to have 16 floors and submit them to State House. He was then told to repeal the 1954 bylaw.
When Kenyatta breathed his last on August 22, 1978, Githunguri's fortunes changed. Long after Njonjo was thrown out of power in 1983, the banker's sins came back to haunt him.
An overzealous public prosecutor, Bernard Chunga, sought to revive Githunguri's crimes and prepared 20 counts of theft and violation of foreign exchange regulations.
The billionaire however challenged the prosecutions, saying since the charges had been withdrawn by the attorney general, it was malicious to revisit the same issues four years later.
This case elicited one of the most poetic judgments rendered by three judges of the Court of Appeal led by the then Chief Justice, CB Madan.
The court of Appeal comprising chief justice Madan, DK Aganyanya and Evans Gicheru said the proceedings arising from Githunguri's application had put the constitution on the anvil and would be a milestone in the legal history, observing that Kenya, Africa and the world were watching them.
"The delay is so inordinate as to make the non-action for four years inexcusable in particular because this was not a case of no significance, and the file of the case must always have been available in the Chambers of the Attorney-General.
"It was a case which had received notable publicity, and the matter was considered important enough to be raised in the National Assembly."
The court concluded: "Stanley Munga Githunguri! You have been beseeching the Court for an Order of Prohibition. Take the order. This Court gives it to you.
"When you leave here raise your eyes up unto the hills. Utter a prayer of thankfulness that your fundamental rights are protected under the juridical (sic) system of Kenya."
'Stella Awinja'
During the construction of Lilian Towers in 1984, disaster struck after a building stone cascaded down to the sidewalk, landing on the head of a third-year engineering student, Stella Muka Awinja.
Stella was standing beneath the balcony erected over what was a bus stop to Westlands outside Lilian Towers.
And although she died before she graduated, Stella somehow contributed to engineering for a campus hostel named after her. It also became standard practice for construction sites to erect a shield to protect people from being hurt by building materials.
Five years ago, a governor who had been living at a penthouse in Lilian Towers discovered that behind Githunguri's genial smile lay a ruthless businessman. When the governor failed to pay rent, the water and electricity were disconnected.
During his last days, the wily billionaire who owned Tassia Coffee Farm, Tassia Estate as well as Ridgeways Shopping Mall, and an unfinished 30-room "state house" in the wilds of Ruiru, was afflicted with myriad diseases including dementia.
There were signs of cracks in his empire as some of his children tried to position themselves by going to court for a slice of the kingdom when the inevitable finally happened.
Related Topics