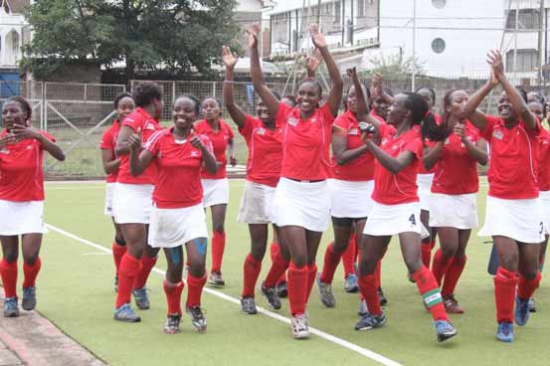 National women's hockey team continued with their winning ways as they beat Zimbabwe 2-0 in the ongoing Africa hockey Cup of Nations-cum-Olympic qualifiers at the Randburg Hockey Stadium in Johannesburg, South Africa.
This was Kenya's second win at the biannual event. In their opening match on Friday, they beat Namibia.
Two first half goals from Orange Telkom's Terry Juma and Audrey Omaido were enough to get the 1980 Olympic champions Zimbabwe out of Kenya's road to Rio. The Kenyan hockey queens need to win all their round-robin matches if they are to make their Olympic dream come true.
Veteran penalty corner expert Juma did not disappoint as she seized the first opportunity in the fifth minute to successfully convert the short corner and give Kenya an early lead. Midfielder Omaido gave Kenya a 2-0 lead in the 25th minute as she beat Zimbabwe's shot-stopper Jordyn Clipstone to earn her second goal of the tournament.
In the first match, Kenya beat Namibia by the same margin and Omaido scored in the 24th minute. Her Orange team mate Lilian Aura had given Kenya the lead in the 20th minute.
Kenya will face Tanzania tomorrow.
In the men's contest, Kenyans begin their quest for the Rio ticket today against Nigeria in pool B and will be hoping to emulate the women and secure victory against the West Africans. In another pool B match, 2013 silver medalists Egypt will tackle Tanzania.
In an interview before leaving for South Africa, the men's national team head coach Meshack Senge said he will be eyeing victory in their opening tie as it will improve their chances of getting to the knockout stage.
"A victory in our first match will be a plus for us, our main objective is to seal the Olympics slot in order to achieve it we have to make it to the last four, then we can fight for the finals," Senge said, adding that a lot was at stake for the Kenyan men, who are eyeing a return to the Olympics having made their last appearance in 1988.
Related Topics