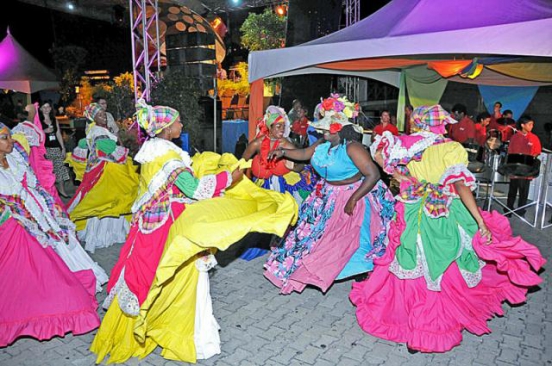 Most people overlook the gorgeous Caribbean twin islands of Trinidad and Tobago but those who holiday there praise the best sights, spell-binding scenery, marvelous beaches, charming and friendly people of this country.
Fondly called Trinbago, this island country, which is situated off the coast of Venezuela in the southern Caribbean, is an ornithologist's paradise because of its 400 varieties of bird species.
The island's recorded history goes back to its sighting by the famous explorer Christopher Columbus in 1498.
The country is a multi-cultural mixing pot as Spanish colonisers, French planters with their African slaves, the English, indentured Indian and Chinese labourers, Lebanese and Portuguese traders who had settled there, left footprints of their existence in places of worship, street names and foods in Port of Spain, it's capital and business hub.
There is more to this vibrant cosmopolitan city than its world famous Carnival — lively rum shops, exciting nightlife, a rich culinary scene, a cutting-edge fashion industry and of course, thrilling adrenaline-pumping outdoor adventures.
There is no shortage of urban adventures and as with many Caribbean nations, Trinbago's capital sits on a stunning coastline. This is the place to spend five perfect days of holidays.
It is also the home of the country's oldest churches, government buildings, public parks and educational institutions.
Cabildo Building is a law museum and national heritage site which houses documents that chronicle the development of Trinidad and Tobago's legal system.
Walking past the imposing Royal Prison, another throwaway of Trinidad's colonial justice system, you arrive at the National Museum and Art Gallery.
The 123-year-old museum was originally called the Royal Victoria Institute. It is home to precious works of local art that range from gallery works of the 19th century artist Michel Jean Cazabon, artefacts from various years of carnivals and historical displays.
The museum gives one peep into the country's heritage, history and development. Some 20 minutes away from the museum is The Emperor Valley Zoo and the Royal Botanical Gardens — one of the oldest in the world — that cover 25 hectares of beautiful landscaped grounds, a picnic area, an orchid garden and more than 700 species of trees from around the world.
A perfect way to end the history-themed day was to stop over at Brooklyn Bar, believed to be over 100 years old, for cold drinks and spicy piping hot doubles which is Trinidad's national dish.
Three ferry services operate from Port of Spain — the inter-island ferry takes travellers to the neighbouring smaller island of Tobago.
Water taxis also travel to Trinidad's second largest coastal city of St Fernando and Chaguaramas, the hub of leisure and nightlife.
The three-hour trip to Tobago is very enjoyable and offers spectacular views of Trinidad's densely forested north coast.
There is a wonderful view of the Temple in the Sea, a quarter of a mile off the west coast of Trinidad.
This magnificent Sewdass Sadhu Shiv Mandir Hindu Temple, built on a piece of unused swamp land, is an extraordinary monument.
Its construction started in the colonial era, but it was completed in 1995.
This temple is the testimony to the spirit of one ordinary man and his bicycle.
Engineers had ridiculed him for his plans to build the temple in the sea.
Villagers from nearby Waterloo remember Sewdass Sadhu, an indentured Indian labourer who bought empty oil drums and single-handedly filled them with concrete and tied them together with steel to make the temple's foundations.
This man's tenacity and devotion to create a place of worship is part of Trinidad's folklore and the temple has withstood tides, breezes and neglect over the years.
Though Sadhu died in 1978 with a half-completed temple, Trinidadians took over in 1994 and completed this amazing monument which juts into the sea.
Port of Spain is also known for its boisterous carnivals and loud steel bands.
On carnival day, there is an explosion of colour, revelry and creativity as revelers dance to pulsating music and display unparalleled stamina for partying. You would be called a party-pooper if you just stand on a corner to watch. Local music — soca and calypso — play prominent roles in carnival celebrations.
The stunning spectacle is further enhanced by the gaudily-dressed locals who are clad in bikini tops and fluorescent sweat shirts.
Port of Spain is known as the shopper's destination and is rightly considered the best shopping city in the region.
There are all types of shops, from the high end malls such as the West Mall, to markets in various parts of the city.
Just as in any other country, visitors are advised to be wary of crime as petty criminals prey on foreigners.
Related Topics