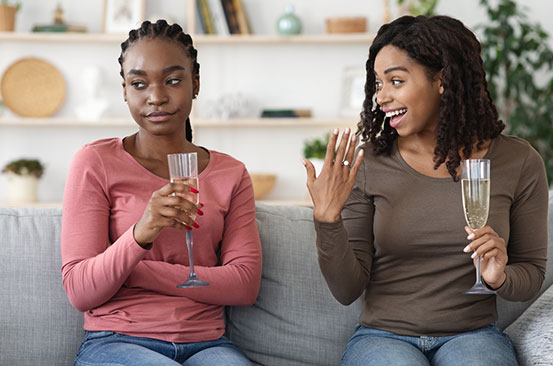 It's no surprise that once in a while our friends will achieve feats that they had been working towards and we have to show our support and be happy for them. It's also not uncommon for us to feel envious even jealous whenever our friends talk about their achievements. These feelings can make you feel like a bad friend because the normal thing will be to rejoice with your friend.
But let's face it. We're human and when a friend has a baby, gets a new job, marries that amazing man, and you've been longing for the same or similar, it can be difficult handling envy and jealousy while cheering them on.
If you've found yourself in this position, read on for tips on how to deal with envy and jealousy in your friendships.
1. Acknowledge your feelings
One of the things I learnt in therapy is that it is good to acknowledge all your feelings, good and bad. Refusing to accept how you feel is like lying to yourself and allows these feelings to grow building mountains out of molehills.
Instead, have a conversation with yourself, don't worry, this is healthy too. Tell yourself that it's okay to feel that way. Be compassionate with yourself, like you would a friend who was grappling with the same emotions. Don't berate or judge yourself. Voice your feelings and why you feel that way.
2. Find out why you feel that way
READ MORE
After you have acknowledged your feelings, ask yourself why you feel envious, jealous or both. Another lesson I learned in therapy is that your feelings are your mind's way of communicating a deeper problem. That envy or jealousy that you feel could be trying to bring to the forefront thoughts you have about yourself, where you think you should be and where you are. When you engage your feelings you will be more in control of them and able to deal with them. It will also reduce the chances of you lashing out.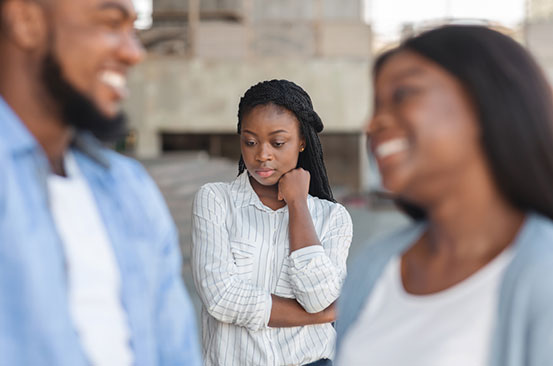 3. Take action
Once you know why you feel jealous or envious, start to do the work to get yourself to where you want to be. Focusing on productivity is a great way to help your brain pay attention to something more positive and one that will help you get closer to your goals and stop feeling jealous of your friend.
4. Think of ways to support your friend
Even as you have these negative feelings, you still want to support your friend. This might not be easy when all you can think of is why them and not me. When you sit down and write down ideas of ways that you can show your friend that you're happy for them and want to support them, it makes it easier to find things that you're comfortable doing. If hearing your friend constantly talking about how good life is, set boundaries and reduce how frequently you talk. You can even unfollow them on social media and choose when to speak to them when you feel up to it.
5. Remember how much the friendship means to you
It's so easy to focus on the bad times even when you have had so many good memories. Perhaps this friend was there for you at your lowest, you had a fabulous trip together or you were job-hunting buddies. These were moments in your life when you felt the true strength of your friendship and you're probably glad you had your friend there along the way. When jealousy and envy crop up, remind yourself of the good times, the ways you have supported each other in the past and how important this friend is to you.