Esther Muchene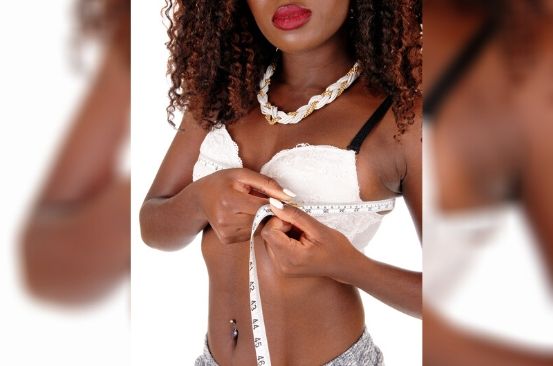 The first things we look for in bras are colours, designs and just the general size at most. There's not much thought that goes into how they actually fit and at the end of the day when you come back home, all you want to do is take off that bra as quickly as possible, because it's been very uncomfortable.
We don't realize that most of us are wearing the wrong bra size. With that comes risks that are more than just the discomfort you feel. You can experience prolonged back problems and bad posture. It can even trigger premature sagging in some women.
Aside from the health problems, the wrong bra size just doesn't look right. I know many women have been accustomed to choosing any bra they assume is the perfect size only to realize that they've been wrong all along.
Any discomfort on the back or on the straps, an ill-fitting bottom band or spillage is a sign that you need to switch things up. And if you have blisters or rashes on your skin, because of the squeezing, it's time to throw your old bras away.
It's good to get yourself measured by a professional and if you can't, you can do it for yourself. Here is how.
Wear a non-padded bra and get a tape measure to do a chest measurement for your band size. Place the tape right below your breasts and align it so that it's completely straight. Wrap the measuring tape round so it fits perfectly to get an accurate measurement. It shouldn't be wrapped too tight. If you get a measurement of 28 to 29 inches, you're in the 32 band size range and 30 to 31 inches is the 34 band size range and so on.
Next, is to measure your cup size. Line to measuring tape along the widest part of your bust and use your nipples as a guide. Again, you need to ensure that you've placed the tape measure properly, in a straight line.
Write the measurements down and round off the number to the nearest if your measurements weren't whole numbers.
Subtract the band measurement you got from the cup size and find out what difference you get. If the difference is one inch, you should look for the A range, if the difference is two, the B range and if it's three, the C cup range.
This method is often hard and you might end up with the wrong measurements so maybe you should get someone to help you out. Also, sizes vary in different countries which is confusing.
The last step is to check how it fits.
The straps shouldn't dig into your shoulders, the band should be on the same level all round-it shouldn't ride high up in the back and you can move around to see how it fits, the area between the cups should be flat and you should be able to hook it to the tightest hook so that you have more room as the bra expands with time.
And that's it.