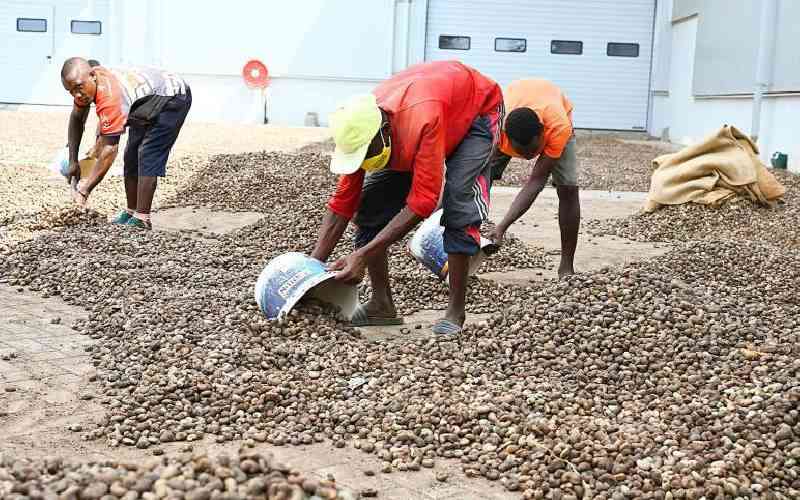 Ms Kadzo Tumwa, who works in a cashew nut factory, has been de-shelling nuts for five years without protective gear. She says her back and throat hurts and her fingers have dermatitis, as most of her colleagues. She also has an atopy.
Her role requires that she sits in the same position for most of the day and repeatedly strikes the hard outer shell of the nut. She says the pain is usually worse in the evenings, when weeping sores start to appear. Washing does little to alleviate the agony, it just opens old wounds.
Many of the factory laborers are not given gloves and protective gears during handling of the cashew nuts.
"There is no other way. I have to do this kind of work," she says. In her experience, it is the buyers and processors who reap the rewards from the industry. Kadzo, a mother of five and a widow in Misufini village has been deshelling nuts in different factories within the county for a half a decade to support her family after the demise of her husband.
Workers, mostly women, are employed without contracts, with no guarantee of a steady income, no pension or holiday pay, they are mostly paid according to the kilogrammes of shelled cashews they produce daily. Kadzo gets Sh17 per kilogramme. This means that even if she reaches an output of 10kg a day, her total earnings would amount to Sh170 a day.
"When we go home and wash our hands, we see the boils on our skin. It takes about a week for them to heal. But as the old ones heal, new ones keep coming," Kadzo says
The salary is meagre, and barely enough to survive, she says. Sometimes they take a break of up to one month when nuts run out.
When the State-owned Kenya Cashew Nut Limited died collapse three decades ago, many individuals opened private owned factories. This factories gave job opportunities to villagers although many are working under a poor environment.
Some factories resort to unregulated labour practices to reduce production costs. At the same time, many nut suppliers have opted to exploit cashew shellers where working conditions are less regulated. During the deshelling process the nuts produce a caustic liquid that irritates the skin. Without hand protective gears the women are subjected to harsh working conditions.
Some workers say inhaling dust covering the shell irritates the throat, and those involved in the initial roasting process complain of tight breathing and chest pain. ''We are only given hand cloves once there are visitors but when they leave, we go back to the old way," says a laborer at a nuts company we interviewed on a conditions of anonymity.
The county government has called for a crackdown on factory operators who violate labour laws. Health executive Peter Mwarogo said: "Public health officers shall continue conducting routine inspections of all industries with the purpose of educating workers and issuing compliance notices to owners."
Tourism and Trade executive John Raymong Ngala termed the plight of cashew nut workers unfortunate and insisted the department is planning to meet investors to discuss the labour issues.
Related Topics