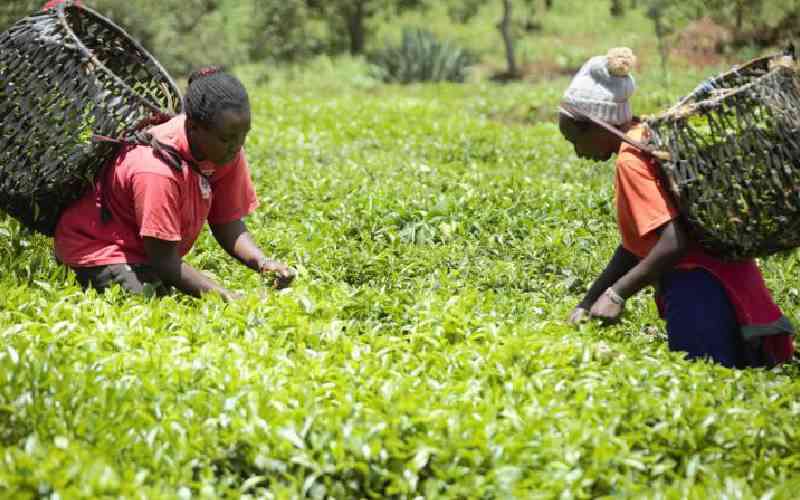 Tea farmers in the Mt Kenya region will receive Sh1,765,055,366 for their mini bonus out of the Sh5.5 billion released by the Kenya Tea Development Agency (KTDA) on Thursday.
In the period between July 1 and December 31 last year, the growers delivered 366,198,843 kilogrammes of green leaf for processing in tea factories.
Murang'a County has 10 tea factories and farmers there will take home Sh671,613,542 million, with those from Ngere and Kiru getting Sh137,735,289 and Sh55,285,500 respectively.
The payment was announced by Agriculture Cabinet Secretary Mithika Linturi, accompanied by KTDA directors led by their Chairman David Ichoho.
In the mini bonus payment released by the directors, farmers affiliated to Ngere, Mungania, Rukiriri and Kathangiriri got the highest rate of Sh10 per kilogramme of green leaf.
In the payment rate for Murang'a factories, Makomboki, Nduti, Gacharage, Njunu and Githambo will be paid Sh7 per kilogramme. Kanyenyaini, Kiru and Gatunguru will be paid at the rate of Sh6 per kilogramme.
Yesterday, chairman of Aberdare Tea Farmers, Wambugu Gachunji, lauded the move by KTDA to release the awaited mini bonus. He said farmers feel relieved after receiving the payment alongside their monthly dues.
"It has been a long wait as the farmers are preparing their children for school in the coming days," said Wambugu, a farmer affiliated to Kanyenya ini factory.
KTDA Zone Two board member James Githinji said Ngere tea factory excelled in getting the best payment nationally, owing to best management and farming practices. "Our product attracts buyers in the market, thus better returns," said Githinji, adding that prudent management and consistent farmers' meetings have yielded fruits.
In Nyeri county, farmers at Gitugi and Gathuthi tea factories will receive the highest payments at Sh8 per kg, while Ragati, Iriaini and Chinga will each pay out the mini bonus at Sh6.
Story written by Boniface Gikandi, Phares Mutembei and Kibata Kihu
Related Topics