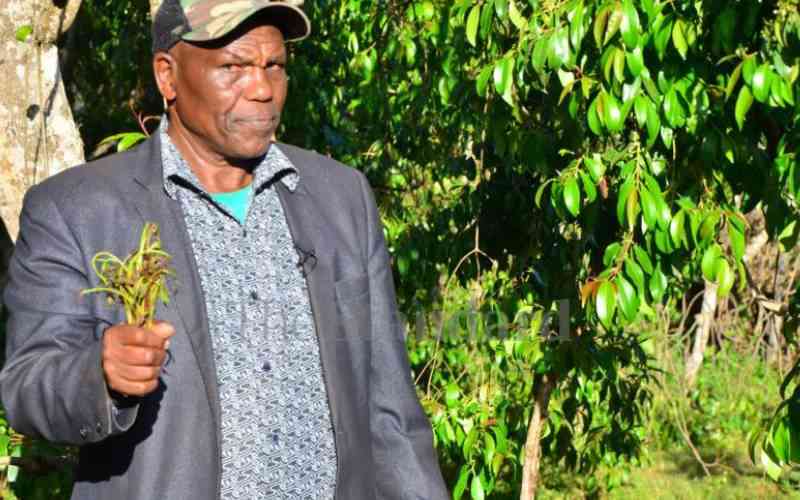 Miraa farmers in Meru have asked the government to allocate funding to increase production as a way of combating climate change.
The farmers said they had the potential to contribute to climate change mitigation efforts by sustaining the miraa trees for increased production.
Kiriamana Tharicia, a large-scale miraa farmer said he and thousands of other farmers want to participate in realising President William Ruto's target to plant 15 billion trees by 2032.
Mr Tharicia said in Igembe, the main miraa zone, and parts of Tigania had a large area under miraa trees which they need government support to sustain.
"Miraa trees cover a large area but to sustain them for environmental conservation and income generation purposes, we need more water for irrigation," Tharicia who has 600 miraa trees said.
He noted this will increase production and promote food security and miraa farms can be cultivated into mini forests.
Meru County Agriculture Officer Paul Kinoti said miraa trees have the potential to address climate change.
"Miraa is a good agroforestry tree, coffee, and all these fruit trees are in the same category and play a big role as conventional trees. They are also good in carbon absorption," Kinoti said.
However, he noted that some farmers were planting other types of trees in the wrong manner.
"There is a situation where people plant along the boundary without considering their neighbours, without what we call spatial tree planting. At the end of the day, the farm becomes a forest and crops cannot take off properly because of the cover of trees," said Kinoti.
Related Topics