Home
/
Bridal
He jumped out of a plane ... then proposed to me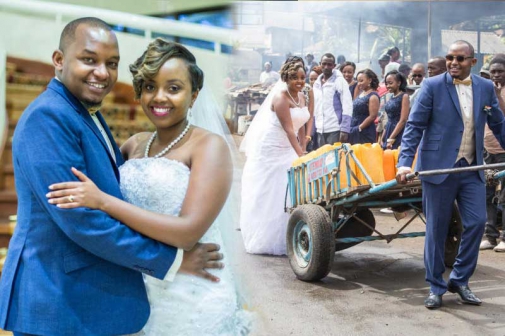 BRIDE: Valentine Njeri
GROOM: Nimrod Maina Njeru
DATE: December 12, 2016
GUESTS: 1,200
VENUE: International Christian Centre, Nairobi West/ Imara Daima
PHOTOSHOOT: Ole Sereni Hotel and Nairobi West Shopping Centre
FIRST MEETING
NIMROD: I was emceeing a church service and I asked the first-time visitors to wave and we all celebrated them. I invited them to feel free to join any Bible study group after church. Later at Bible study, when we were going about our discussion for the day, a stunning young woman joined us and I couldn't help but throw occasional glances at her.
VALENTINE: I had been invited to the church by some friends. The emcee for the day was very eloquent and had a great sense of humour. After church, I immediately knew which Bible study group I wanted to join. I joined his group and noticed that he kept staring at me. I made sure to leave very quickly after the session ended.
FIRST DATE
NIMROD: I asked her out. I wanted us to go ice skating and not the usual coffee dates but she showed up in a stunning red dress. I was in jeans; I deserved to be bro-zoned. I quickly salvaged the situation and walked into the nearest Java Coffee Shop. I then told her there was a place I would like her to take me and she obliged. Upon arrival, she resisted skating but I could see that she wanted to jump onto the ice rink. I reassured her that everything would be alright, no matter what happened and I made sure I was the first to fall. She fell so many times and I fell for her!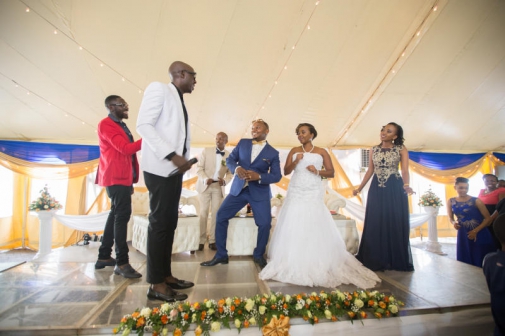 THE PROPOSAL
VALENTINE: He showed up at my home on a Saturday morning and asked me to pack clothes for two days. I had no idea where we were going but my sporadic self was too excited to care. We drove to the airport and took a flight to Diani. After settling down, we drove out to Skydive Diani. That's when it dawned on me that we were about to tick off an item in our bucket list; skydiving.
The adrenalin was too much for me to think of a proposal waiting to happen. Maina jumped out of the plane first and I followed him after 30 seconds. The free fall felt like death was swallowing me alive but once the parachute was released, I was able to calm down and that's when I saw the writings on the beach, "VALENTINE, WILL YOU MARRY ME". I was literally soaring on Cloud 9 as I shouted, "Yes I will!". We slowly landed on the beach (my instructor and I) and there He was, the man of my dreams down on one knee with a ring for me.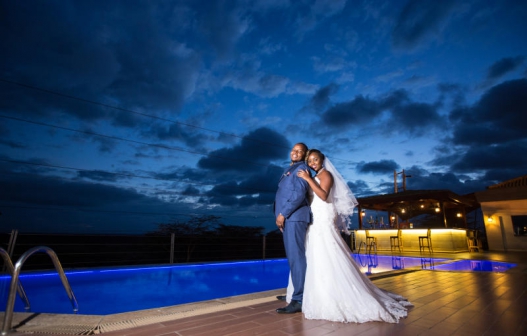 THE BIG DAY
VALENTINE: Initially we had differring preferences regarding the number of guests to invite because Maina is a super extrovert and I am an introvert. I wanted a small wedding of about 400 guests and he wanted a political rally; but we quickly came to an agreement. It also wasn't easy to sleep as too many thoughts and emotions rushed through my mind before the wedding day. Morning came so quickly and the moment I heard the ladies from Maina's side of the family arrive and start singing outside our gate, my heart skipped a beat. The big day was finally here!
NIMROD: I must say it was hard to get some sleep the day before the wedding. There was too much excitement mixed with anxiety but somehow I managed to get some rest. I was up early and the groomsmen began to check into my house and the party began. Being a public holiday, there was no traffic and we got to the church in 20 minutes. We then headed for a quick breakfast and came back on time; a crazy lot we were.
MEMORABLE MOMENTS
NIMROD: Unveiling my bride was a stunner for me as she was so beautiful; I almost forgot the flow of my vows. Seeing her blush was simply unforgettable.
VALENTINE: Just after we were announced Mr and Mrs Maina, there was a loud pop sound and confetti exploded everywhere. It felt magical quite like a Disney movie; I didn't expect this as Maina arranged it secretly. During the reception, Sauti Sol surprised us. They showed up in style and performed my favourite songs. I was speechless and excited at the same time.
WORDS: Ivy Wamalwa
PHOTOS: Courtesy
Related Topics