Home
/
Bridal
How a spoon helped us fall in love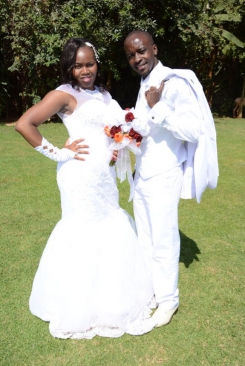 BRIDE: Damaris Wambui Kimamo
GROOM: Erick Omondi Otieno
DATE: AUGUST 15, 2015
CEREMONY: St John The Baptist Catholic Church
RECEPTION: St Marys's School Lavington
BUDGET: Sh700,000
FIRST DATE
Damaris and I met in campus (Kenyatta University) she was in second year and I was in third year. I went to visit a mutual friend and hey! there she was......I noticed her among the other two girls as she was the only one eating with her hands as the rest were using spoons. That simplicity attracted my attention and when I keenly looked at her she was gorgeous.
THE PROPOSAL
I proposed to her in September 2008. And for four years I was looking for the right moment to do it because I feared how her reaction would be. She is so unpredictable at times, so I had to be careful. I remember I bought the engagement ring on a Saturday, chocolate and roses but when I got home she was not there so I hid them as until she came back. When she returned, I realised she was in a foul mood but I asked if we could go out. We went out and on Sunday I woke up early, cooked breakfast and served her in bed. She was excited and that psyched me up, I went for the ring, roses and the chocolate and asked if she would marry me...she said yes and here we are.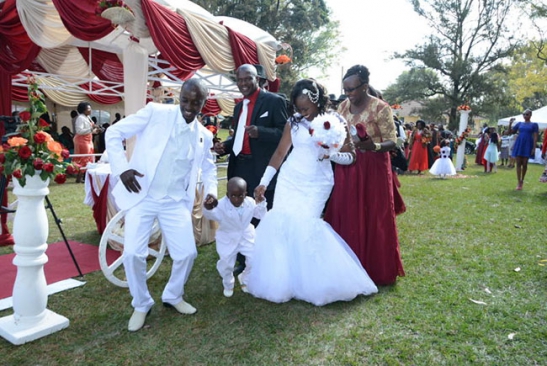 THE DRAMA
When she was five months pregnant with our son, we paid her parents a visit with my elders. We had it rough there but we got some breakthrough when they accepted to listen to us. They made a lot of demands, we partly gave them what they wanted and planned to return later. Earlier this the year we went back to her home, it wasn't easy either but we agreed at some point. They demanded 99 goats to finally gave us their daughter. On May 16, 2015 the ruracio took place. We went late, were rained heavily and things were done in a hurry. That played on my part as negotiations were done quickly. This time I had a good spokesman and he made things run faster. The elders accepted and she was handed to me. Immediately the wedding plans begun.
The tailor who was making the best maid's dress disappointed us as until the eve of the wedding he hadn't finished making the dress, we had to look for a plan B.
Convincing my mum also to allow me have a catholic wedding was such a big deal as I'm an SDA. She however understood and gave me her blessings.
WITH HINDSIGHT
We set the date on August 1 but when we were doing the bookings we realised all the venues were fully booked and so we settled for August 15, 2015. We came up with a committee of friends and colleagues and started the meetings in June every Fridays. The members played a bigger part in identifying the service providers which they know and close to them so as to avoid disappointments.
In everything we did we had to put God first.
MEMORABLE MOMENTS
Our son Jeremy Omondi stole the show. He danced in front of us and everyone was just looking at him.
PHOTOS AND INTERVIEW BY:WILBERFORCE OKWIRI
Related Topics