Esther Muchene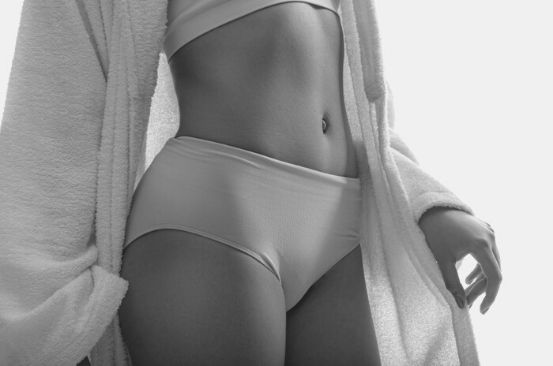 It's not possible to go commando every single day. There are times where you'll have to wear underwear especially when it's that time of the month. Undies also come in handy because they protect your lady parts from too much friction, infections and they handle the sweat and discharge.
It's clear that we can't run away from panties but, what about the VPLs aka visible panty lines? The thing about them is VPLs can turn a classy outfit into a ratchet one real quick.
These are five ways you can avoid that fashion fail.
1. Always choose the right size
This applies to panties and your outfits as well. Wearing clothes and/or panties size larger or smaller than your actual size will not only make you uncomfortable and not put together but it will leave your panty line visible. Whenever you go shopping, ensure that you have your correct measurements to avoid such scenarios. It's common with online shopping because it's hard to gauge exactly what you're buying until you get it.
You should also take note when your weight fluctuates because some panties and clothes won't fit the same.
Another helpful tip is to buy new panties every six months, because the elastic wears out causing them to stretch permanently.
2. Stock up on thongs
You can buy classic thongs, G-strings or even stick on thongs if you like. These are a great alternative to ordinary panties when you want to find that midpoint between going commando and wearing traditional panties. They also come in handy when you're wearing a tight or revealing outfit. Thongs aren't necessarily an everyday thing but it doesn't hurt to own a few.
3. Try seamless panties
Seamless panties are a timeless hack when it comes to panties. The edges don't have a thick lining or seams meaning they can be easily disguised no matter what you're wearing. They won't sell you out if it's that time of the month either or even on those days when you're not in the mood for wearing thongs.
4. Stick to thicker fabrics
Most light fabrics don't look good at all. This applies to jumpsuits, dresses, tights, pants, gym shorts, practically everything! They tend to highlight all the unflattering areas, which draws attention in the wrong way.
It'll be hard for people to ignore the silhouette of your panty peeking through these clothes. Honestly, even the seamless panties can't survive these materials.
Buy durable versions of the items you want because they'll last longer and you won't face the embarrassment of VPLs.
5. Avoid bright colored underwear
There's nothing wrong with brightly coloured underwear if you're wearing something opaque. We all have one or two brightly colored panties that we like because they're cute. Nevertheless, brightly coloured underwear can be, more often than not, visible through your clothing even the darker ones. People will be able to see your bright underwear through your clothing from a mile away. Some colours will still shine through in daylight no matter how much you try to hide them.
Stock up on neutral panties and nude colors which blend well with white.
?