ALSO READ: Are you considering starting a mum blog? Seven things you need to know
It is never a dull moment on Twitter. Kenyans have a way of cracking our ribs with the slightest chance they get. Just the other day a Twitter hunkie posted his photo the social media platform and the comments that followed are proof that Kenyans are just born comedians.
Here are some of the replies that caught our attention: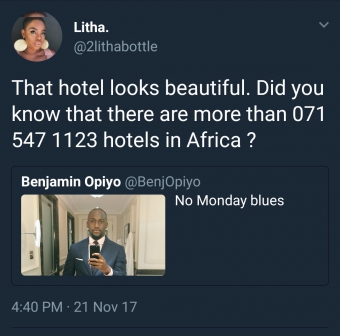 Hi Ben, my friends call me Debbs but you can call me tonight — ?? ????????????? (@Debbs_Williams) November 21, 2017
Dude, you may wanna use that phone to call the fire department, 'cause you're smoking hot! — Del Toro (@KattiePearl) November 20, 2017
@catmungai when they say « kula kwa macho » I think this was the specimen they were referring to ????????

ALSO READ: Naomi Campbell: The OG Black supermodel — Olive Wahü ???????????????? (@OliveWahu) November 21, 2017
U hot and everything but I think u lacking some vitamin ME! ???? — Phumla Ntlhophi (@PNtlhophi) November 22, 2017
So on the sixth day God decided to bless us with candy.....Damn I can't explain... Now this is a creature in God's image... Nyinyi wengine ni. ...etc. ???????????????????????????????????????????????????? — deviar deveraux (@AbubakarLynn) November 21, 2017
Haha Hii sasa ndio inaitwa turnout. wacha hio 38% ya Chebukati — BYRON™ (@byron_kr) November 21, 2017
Do not miss out on the latest news. Join the Eve Digital Telegram channel HERE.