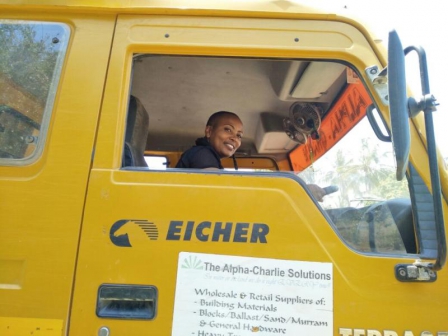 Caroline Gikunda is a 35-year-old mother of one who is the proprietor of The Alpha Charlie Solutions, a company that supplies and transports building materials such as sand, ballast, bricks and roughstones She gives Sylvia Wakhisi insight into her two-year entrepreneurial journey
MY BACKGROUND
After high school, I joined the University of Nairobi for a Bachelor of Science degree in Mathematics and Chemistry. Shortly after graduation, I got a job but quit after a few months to start a business with Sh3,000 that I had saved. I would buy Maasai blankets and make nice beaded shawls out of them. I would make three pieces of shawls from one blanket and I was able to earn a living. I would also buy raw materials and make liquid soap which I would sell at Sh300 for a five-litre jerican. I did this for a year till I secured a job but after working for two years, I resigned and relocated to Malindi from Nairobi, a decision that shaped my destiny. In Malindi, I worked at a resort for a year till 2010 when I settled for self-employment and found more satisfaction.
THE IDEA
READ MORE
After a nasty experience while putting up a building in 2013, I decided to indulge in the supply and transport of building materials. Getting the building materials was an uphill task. I would pay a deposit to have materials delivered to the site but the goods took too long to arrive. Sometimes they never did.
Somehow, it was impossible to ever get the contacts of the owners of the trucks. One had to deal with dodgy drivers who had to milk off some deposit from a client before delivering the materials. On the other hand, they never kept time and would sometimes switch off their phones, making it even more frustrating. The worst part was paying for a particular quality of product and having a different quality delivered. Following up was another nightmare with rude drivers hurling insults and reminding you that the owner of the truck never had you in mind when he was buying it.
That was my wake-up call. I thought to myself that people constructing or planning to construct in my neighbourhood of Malindi and beyond deserved some polished, quality products and services. There was a clear gap in civilised services and I decided to fill that gap.
WHAT HAPPENED NEXT
The next step was to actualise the idea. Money had to be found, and that amount of money could only come from a bank. I applied for a loan and to my delight, the first bank I approached was convinced and approved it.
RUNNING A STARTUP
In the beginning, it was difficult. To be precise, in the community where I live, a woman is not highly regarded and by joining this heavy transport and construction industry, I was creeping into a man's world. Coming up with a positive solution to shoddy services that had for a long been the norm was not taken easily. It was difficult to change people's perceptions, especially that I am a woman. But today, I am grateful to say that the storm has passed.
WHERE I AM NOW
The fact is I am not in the position I used to be in sometime back. I have moved a step ahead, but I am not yet where I want to be. It's a journey I am walking every day. I am trying my best to see to it that my today is better than my yesterday, and my tomorrow is better than my today. So far, I have changed the standards of this industry in my neighbourhood. This is my biggest achievement. People in the construction industry in Malindi and Kilifi now have a lot of courtesy and the quality of products delivered is almost guaranteed. You will hardly order grade one blocks and have grade two blocks delivered. This to me is healthy competition. Most truck owners have exposed their contacts or those of their management teams hence a client with a complaint can get answers or feedback directly from the truck owners. The prices have been managed too. Clients are no longer suffering from inflated prices by rogue drivers and brokers. The client can now negotiate with the owner whose contacts they can access from the trucks.
MY TIP
To every upcoming entrepreneur, stay alert, look out for opportunities and stand in the gap. Dream big. It costs you nothing to have big dreams. When you decide to do it, do it differently and stand out from the crowd. Offer first class services and products and make sure your clients are treated as first class people. Honour them, keep your word and build trust with your clients. If there are delays in delivering services or products due to unavoidable circumstances, don't let your client be the first to call. Call them instead and assure them that things will be OK. Once you gain your clients' trust, you will stop looking for work and instead, work will look for you.