Josaya Wasonga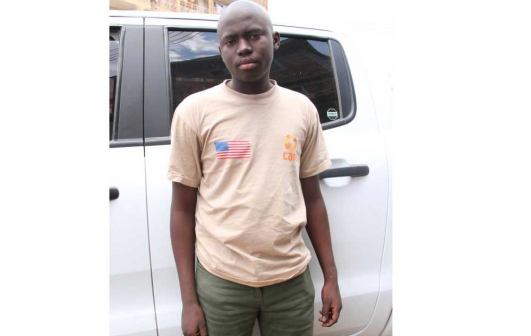 Frederick Odhingo, 16, has acute leukaemia. Last month, he was discharged from hospital, not because he is cancer-free, but because doctors say there is nothing more that they can do to help him.
"Sijui ka nitaona kesho" (I do not know if I will see tomorrow) is a lyric from Nyashinksi's crossover song, Mungu Pekee. These lyrics are a reality check for me, and they are my phone's ringtone. Each time my phone rings, those four words remind me of the reality facing me.
My issues started with chest problems in 2015 when I was in Form One. My parents bought me some drugs and that eased the pains somewhat. In 2016, I started turning pale and my parents took me to a doctor in Homa Bay. The doctor said that my condition was caused by lack of blood. I was given medication to help with the blood condition, but the doctor also advised that I should have a blood transfusion.
We sought a second opinion from another doctor who, on examining me, found that I had nodules in my neck. He recommended a biopsy.
Not willing to take any chances, we came to Kenyatta National Hospital to see a haematologist. It was this specialist who gave the diagnosis of acute leukaemia.
He found that I had chronic abnormal enlargement of the lymph nodes and only three litres of blood in my body. An average adult body has about five litres of blood. He recommended that I get a transfusion. I also had chemotherapy and radiotherapy scheduled. The chemo was on and off, and it was followed by expensive medications. In total, I have had 11 courses of chemo and 10 sessions for radiotherapy.
Side effects
The side effects of chemo are vomiting bouts, loss of hair, rashes all over my body, blackening of fingernails, loss of appetite and cut-like marks on the body. And because of being constantly hospitalised, I am in Form 2, when I am supposed to be in Form 3.
We have used up all our medical insurance. Two months ago, doctors discovered that the cancer had recurred, and thus begun the treatment sessions again. I had been responding well to treatment, until the relapse.
Chemo doesn't work anymore
The doctors have told me that no treatment or chemo can help me now; only a bone marrow transplant can save my life. Bone marrow transplant is not locally available in Kenya. The two affordable options are India and South Africa, and we have opted for India.
I am currently stable, but I need urgent referral to a stem cell transplant for further evaluation and management. The doctor gave me three to four weeks from the 14 August, 2017.
My reality
I know I need urgent treatment, but I also know that only a miracle will help. My mother is a primary school teacher. My father has no stable source of income. So far, toward my treatment, we have spent about Sh 2 million. The cost of the transplant is Sh 10 million. This includes transplant costs, air tickets and accommodation for patient, donor and caretaker.
My ringtone reminds me that the only person I should fear is God; not disease or death. It also reminds me that tomorrow is not guaranteed.