Wanja Kavengi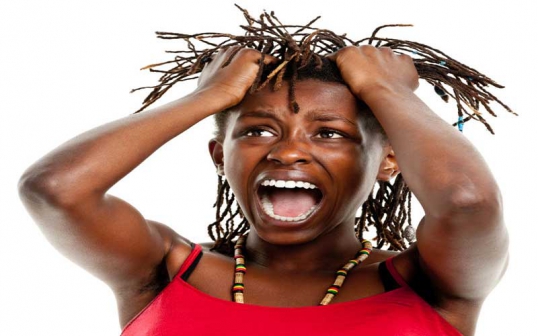 ALSO READ: My word: Take a moment to listen
I live in a building called a plot, where houses are squeezed together like teeth. Meaning that you can smell what everyone is cooking, and can hear (and participate in) conversations being held nine houses away. Here, we hang 'netis' on our doors to prevent nosy neighbours from having a peek inside our houses.
And usually, every neighbour is nosy. The houses are numbered. Incorrectly. Someone dipped their finger in a can of paint and used it to sloppily number the houses on the top of the door frames, and you can see the streaks of paint that trickled down as the numbers were being written.
If the landlord lives in the same plot, their house is the only one with both a wooden door and a steel door at the entrance, for security, and also the only house that has a kitchen and cable TV. It's up to the tenants to use their creativity to fix a kitchen for themselves somewhere in a corner of their single/double rooms. Also, the landlord's wife is feared. She wears a serious face and looks at everyone as if they have outstanding rent arrears.
Well, they all have rent arrears. She gets her 'vitenge' made by a tailor who lies that her materials are from Nigeria and her 'leso' from Tanzania. Rumour has it that she beats her husband and he gives her all the money he collects as rent. But no one knows for sure.
Since you share the same power meter, when two people separately use an iron at the same time, the plot's main switch goes off, causing a blackout in the entire plot. When this happens, an angry tenant will rush to the veranda and start to loudly hurl insults at the unknown criminal. Another highly inconvenienced neighbour might join in and express their disgust for the culprit.
Main switch
The crook is never caught but everyone will suspect someone, usually the person they hate most. The main switch is located inside a locked, red metal cage built against a wall, at the farthest end of the veranda. The caretaker/landlord is the only person with the key. If he is not around, the tenants will live in darkness until he returns.
ALSO READ: My Reflections: You've captured my heart
Someone will pour dirty water that has traces of spaghetti, sukuma wiki and ugali on your doorstep, soaking your slippers and 'jiko'. You will suspect the woman who refused to unhang her dry clothes so you could hang your wet clothes, even though the clotheslines were hers. And also because you are sure you saw her child eating a hot mosaic of spaghetti and beans, swimming in brown watery soup, at their doorstep.
You then stand facing the general direction of her door and loudly announce that your door is not a garbage pit and whoever poured the dirty water should rectify that mistake before you cause damage to them. No one responds. So you do the cleaning yourself.
There is a communal tap on the veranda, where people go to wash clothes or fetch water or wash utensils. You will take your rectangular 'mtungi' to the tap to fill up, then rush to your house to do something quick. Three minutes later, you will return to find your half-filled 'mtungi' tossed aside, and another 'mtungi' placed under the tap, a woman standing by it with her arms akimbo.
You will look at the woman, thinking, what the hell, lady? I was here first. How dare you remove my 'mtungi' before it fills up and place yours? Do you have an emergency and need water ASAP?
And the other woman will look at you, unmoved by your piercing glare, and appear to think: I dare you to challenge me. And because 'hutaki ujinga', you will grab her 'mtungi', toss it aside, and place yours under the tap. And a fight will ensue. Braids will be pulled. A weave will be yanked. Floppy tits will fly. Slippers will be thrown. Insults will be exchanged. You will promise to finish each other. Neighbours will gleefully watch the drama through their windows.
And then a skinny bachelor who likes listening to 'riddims' will have enough of it and separate you two. But you will remain enemies for as long as you are neighbours.
There are communal bathrooms too. You will carry your bucket of water and soap only to find that the person who bathed before you did not bother to sweep away their dirty, whitish bath water. And when you have stress and a migraine, you can count on the kids of the plot to gather on the veranda and play screaming and shouting games to enhance your misery. And pegs, dusters and brooms 'get lost' a lot.
In my plot, the veranda is small. It will take several tries to have a car barely fit in, and there will be hardly any space left for people to walk past. If you want to go outside the plot, or just near the gate, you will have to squeeze yourself between the car and a wall. This will result in grazing your skin and/or tearing your clothes on the backside.
The squeezing is painful, so it will take a while to get through because you will need to pause every few seconds to wince and confirm that your skin is still intact. Meaning that there will be a build-up of human traffic; a queue of neighbours waiting for their turn to get through.
This also means there will be heated disagreements and verbal wars between those coming in and those going out, while deciding who between the coming-inners and the going-outers should pass first.
Gate keys
The caretaker is the custodian of the gate keys; the bigger gate. So if he is not around, the car will have to live on the veranda, and those who are physically large and cannot squeeze between the car and a wall like the rest of us, smaller ones, will have to stay indoors or outdoors (depending on what side of the plot the car found them) until the car 'leaves'. But the good thing is that no one in the plot has a car.
My plot neighbours a storey building with a pub on the ground floor whose stenchful toilets can be smelt even if you have a nasal impairment. The first floor houses a popular and busy lodging, the second a noisy church that wakes people up at 6am to hear the amplified voice of someone saying, "One, two... one, two... mic testing, one, two..." The third floor has a secondary school with a total of 13 students and two teachers, and the last floor the office of a 'mganga hodari toka Tanga.'