Irvin Jalang'o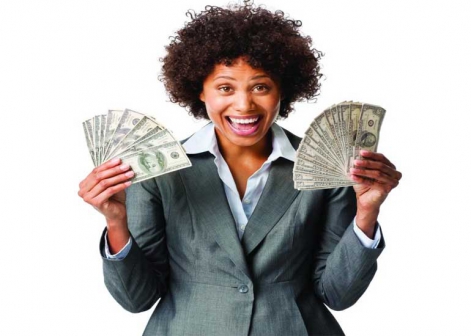 Last Saturday at around 3pm, Salome Aluoch strode into a popular pub along Lang'ata Road.
Moving through the cavernous room as though she owned it, she reached at the bar counter where her friend Anthony Ouma and I were waiting.
She was smiling from ear to ear and the glittering studs on her earlobes were distracting us from her charming smile.
"My guy!" she bellowed as she joined us at the counter. We were waiting to watch the Arsenal vs Hull City English Premier League tie.
By all standards, Salome looks and acts like most women: her nails are properly done, her phone has a pink back cover with some glittery art on it and she drinks white wine and holds her glass graciously, like a woman with finesse should.
But she is a woman who is swimming in a man's world -- of sports betting.
Salome understood the odds of the match we were about to watch. She had placed a bet of Sh4,000 on a goal being scored by Arsenal in the first half, and in a separate bet, she had wagered on Arsenal winning the match.
"Anthony here inducted me. In March last year, he didn't have money on his M-Pesa and he needed to place a bet. It looked silly, but in two hours' time, he sent me my money and had enough left for the evening," Salome says. "I was intrigued. I think the monetary aspect, and how this money just came so quick, made me try my luck."
After she showed interest, Anthony added her to a WhatsApp group of betting enthusiasts, where they discuss odds, sure bets, and tips. For her, it's nothing more than a profitable pastime. Unlike her male friends, she owes no allegiance to any team. Fanaticism is not her thing. She says that she does not watch the game, just bets.
"The maximum amount of money I have placed as a bet is Sh7,000, and I got Sh21,000 in return. It was a double bet, and I was lucky," Salome says.
Clearly, an outdated and outgrown notion of masculinity is serving a generation of young women favourably and Salome, 29, a banker who is married and has a 3-year-old daughter is not alone.
Olivia Wangui, 32, is an unmarried mother of two. She is both a fan of the game and an avid betting customer. She is a pastry chef in a popular restaurant along Moi Avenue and says she started sports betting last year during the much-hyped Mayweather-Pacquiao fight.
She says she placed a bet, and on winning almost double the Sh2,000 she wagered, she looked for more games to place bets on.
"There's this Facebook group called Betting Tips and I paid Sh1,000 to join it. They share tips, and tell you where to place bets. We are almost 3,000 members and there are quite a number of women there as well," Wangui says.
She adds that when the last football season ended, it was a depressing time for her because she was used to making money from her sofa.
"I wouldn't have a problem if my son decided to gamble in the future. I'll just pull a stool and make sure he places the right odds," she says laughing.
Betting is largely viewed as a thing for men, says Irene Ndanu, also a betting enthusiast. Unlike Wangui and Salome, Ndanu does it secretly and would never want people close to her to know about it.
A salonist in Nyayo Highrise Estate in Nairobi, she knows the stigma attached to betting especially when it comes to women.
"I hear women complaining about their husbands and boyfriends, so I would never want to imagine people close to me going through what they endure. I hear women here talk about it, I know betting is addictive.
"My husband does not know that I bet. It's been three months since I discovered it, but I cannot tell him. I place bets when I am at work, and it feels safer that way," she says.
She says a few close friends, and two of her staff members know she follows football but not that she places bets on games. "It is not a dishonest practise, but people just dislike it," Ndanu says.
That is probably the reason the three women we spoke to did not want to be photographed.
But do they think they will stop? Salome says she is in it for the long haul because unlike other things, betting gives her fast money.
"Of course there are bets you lose. But I place multiple bets separately and I have never failed to make money on any given weekend," says Salome. "It is really hard to stop."